Show Special 2010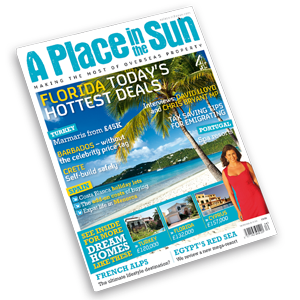 In this issue...
The show special 2010 issue of A Place in the Sun magazine features interviews with former tennis ace turned developer David Lloyd and the Minister for Europe, Chris Bryant MP on about some of the issues facing overseas homebuyers.
We showcase some of the hottest deals currently available in Florida and give you our top tips for saving on taxes when emigrating. Property expert and former Apprentice James Max tells us why he bought a property in the French Alpsand we continue our tour of Turkey with a visit to Marmaris to see what's on offer from £45k.
We show you how you can own a property in Barbados on a budget and how to buy into a health spa resort in Portugal. There's tips on self-building in Crete from Brian Saunders, star of Channel 4's A Place in Greece and we review a new mega-resort on Egypt's red sea.
Plus there's the usual news from the world of overseas property and comment from television presenter Amanda Lamb.