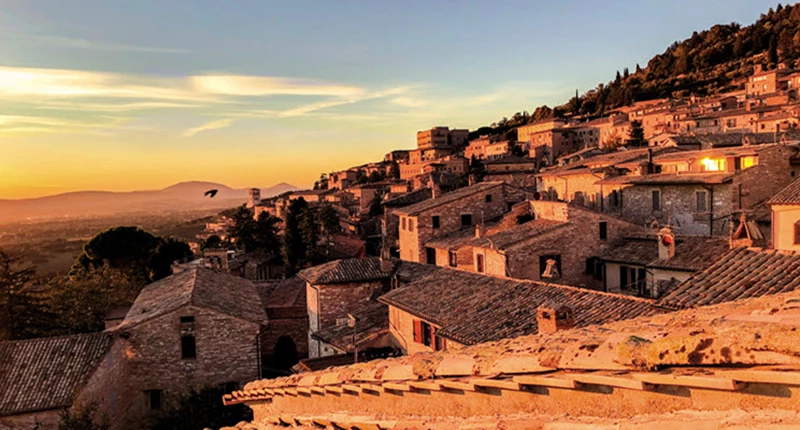 The gentler, less gilded neighbour of Tuscany, Umbria enjoys a lower profile and seems less troubled by tourism. The "green heart of Italy" doesn't have an endless stream of visitors plying between their checklist of big-drawer Tuscan Renaissance cities, just miles of undulating hills carpeted in sunflowers, tobacco or untamed bosco (woodland).
This low-key and still highly agricultural way of life is welcomed by home-hunters who don't want to find every single farmhouse renovated by a foreign owner. According to Istat, the Italian National Institute of Statistics, in January there were 97,541 foreigners living in Umbria, up by 10.7% since 2012. In Tuscany, the respective figures were 417,382, and 29.3%.
Perhaps a number of high-profile homeowners such as the musician Ed Sheeran, the actors Colin Firth and Ralph Fiennes and the film-makers George Lucas and Mike Figgis love it for its empty roads, where farm trucks loaded with crates of freshly harvested olives are the biggest feature during the autumn. The region has its own share of charming Etruscan towns including Orvieto, Spoleto and Perugia, with its two annual jazz festivals big crowd-pullers.
Umbria's affordability also appeals, says Nick Ferrand of Abode, Savills' Italian associate agency: "Over the past three years [since the EU referendum] the market has changed completely. Our average sale last year was around €500,000 and there are far fewer British buyers spending over €1 million."
The exchange rate aside, their money does go farther than in 2007. "At the peak of the market, renovated properties were €2,500 to €3,500 per sq m, but now they are €1,750 to €2,000 [about half the price of Chianti in Tuscany, despite prices having fallen at least 30 per cent there too]. Four months ago, I sold a two bedroom property for €140,000 that was on the market for €250,000. The English vendor was keen to sell quickly."
Possible deals aside, he suggests that Umbria also offers the advantage of flexible planning rules. "Although every buyer should verify this, generally under 'permitted development' you can add up to 100 sq m to your home and build a swimming pool, unlike in Tuscany where pools have been banned in the commune of Pienza [Siena province]."
With most buyers keen to rent out their homes to cover running costs, a pool would be a great addition to a beautifully restored typical Umbrian farmhouse in Umbertide, in the Niccone Valley, where it's possible to dip in and out of northern Umbria and Tuscany from the strada (highway).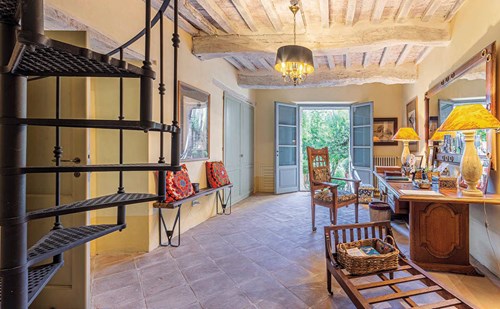 Access can be an issue for some buyers in Umbria. While some properties can be fairly remote, reached by gut-churning gravel tracks winding up hillsides, others might be less easily reached by airports. The eastern side bordering Le Marche (an even wilder, less developed region) is more isolated, with Perugia (served by Ryanair) the main option. The west side bordering Tuscany is popular because of better motorway access up to Florence or Siena, or south to Rome on the E35. Here, below the Niccone Valley, is Lake Trasimeno, surrounded by a cluster of charming hilltop villages. "South of the lake, Città della Pieve and Panicale are popular," says Karen Roos of Casa Tuscany, an agency that sells properties in Umbria too. "Città della Pieve is a lovely town with regular festivals, shops and restaurants and is great value. You can get a two-bedroom apartment in the town for around €100,000, but one with outdoor space will be nearer €200,000."
Like Ferrand, she agrees that buyers have changed their priorities in the past five years and are now seeking to be close to amenities rather than isolated on the top of a hill.
Renovating properties is less popular than it once was. Renovating costs have increased to at least €1,500 per sq m, often making it cheaper to buy an already-done resale property than a fixer-upper. However, the company Living in Umbria will source and project-manage renovations if you do fancy a tumledown wreck.
"Property prices in southern Umbria are excellent value for money, with Terni, Narni, Amelia, Todi, Spoleto and Otricoli popular," says Corinne Ann Matthews of Living in Umbria. "There's also the advantage that Rome's two airports (Leonardo da Vinci and Ciampino) are only about an hour away."