Download our Free Guide to
Italy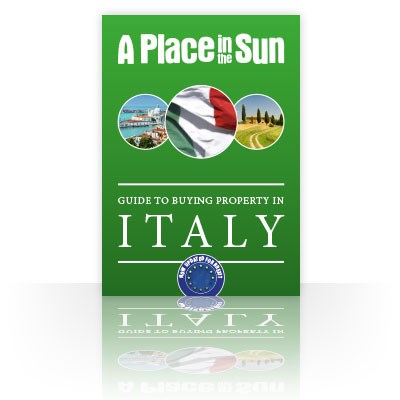 Updated: Summer 2015
A Place in the Sun is the UK's leading overseas media brand, with a hit Channel 4 TV show, monthly magazine, twice yearly live exhibitions and an advice-driven overseas property website where you can search from thousands of properties for sale.
A Place in the Sun produces a series of free guides on buying property abroad to help you make your dream become a reality, safely.
If you're thinking of buying a property in Italy, this is the guide for you. Whether it's idyllic village life in Tuscany or the hustle and bustle of Milan that grabs your attention our Italian property guide has the information you need.
What's in the Italy Property Guide?
Brexit and your holiday home – it's brief because nothing has changed and Brits will always be able to buy and enjoy property in Italy, some of the detail may change and we will have more when it is known.
Brexit and living permanently in Italy – if you're thinking of living in Italy permanently then now is a good time to make the move and acquire residency rights.
There's a run-down of the popular areas to buy a property in Italy, including 

Abruzzo, Basilicata, Calabria, Lazio, Liguria, Le Marche, The Lakes, Puglia, Sardinia, Sicily, Tuscany and Veneto

The guide also containts a helpful legal briefing on the main points to consider during the process of purchasing your property and what costs you can expect to pay and when.
One service that is often overlooked is transferring your money to Italy, so we are pleased to have had the support of our online currency partner Smart Currency Exchange, and also the information resource the Overseas Guides Company, who have provided expert insight for our property guide.
We hope our buying guide to Italy will inform, enlighten and set you on your way!
Download Guide here
---
By downloading this guide, you agree to be contacted by the guide's sponsor, the OverseasGuidesCompany and A Place in the Sun. You will be able to opt out of each type of email communication you receive by clicking the 'Manage your subscriptions' link at the bottom of the email.