Free Downloable Guide on How & Where to Buy a
Property in Italy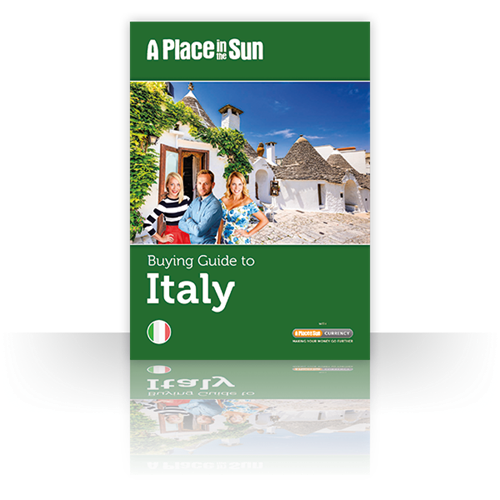 Currently positioned fourth in our 'Top 10 Best Places to Buy Abroad' index, it's clear that your appetite for property in Italy remains strong, with many people wanting to purchase holidays homes or move there for good.
If this applies to you and you'd like your dose of Bella Vita, then our free and independently researched Italian property buying guide can help. Whether it's the idyllic village life in Tuscany or the hustle or bustle of Milan that grabs your attention, then A Place in the Sun is the perfect place to begin your property research.
You can expect to find the following information in our Italy guide:
An up to date report on the Italian property market, where we identify who is buying where and the type of budget you need to buy a property in Italy
An overview of the popular property hotspots in Italy, including Tuscany, Abruzzo, Puglia, Sicily, The Lakes and Sardinia, plus more
An overview of the different property types available in Italy, from lake houses to apartments, to townhouses.
Where to find the cheapest possible properties for sale in Italy
Success stories from real-life owners of Italian properties, who provide their stories, tips for purchasing and pitfalls to avoid
How to work efficiently with Italian estate agents
Information on retiring to Italy from the UK, healthcare and other retirement factors
Information of living permanently in Italy
How to generate income from rental opportunities
Plus, much more…
Our Italy property guide also features insights from the current and past presenters of the popular TV show, Jasmine Harman, Jonnie Irwin and Laura Hamilton. They'll be on hand to share their experiences of helping aspiring house hunters just like yourselves.
To grab your free digital copy, all you need to do is fill out the form on the right-hand side of your screen!
Godere!
Other useful links and resources:
SEARCH: Find a property for sale in Italy
READ: Articles and news stories on buying in Italy
MEET: Italian property agents and experts at our next Live show
Download Guide here
When do you intend to buy? *
---
If you want to know more about how we store, secure and use your personal data, including website cookies, please take a look at our Privacy Policy.