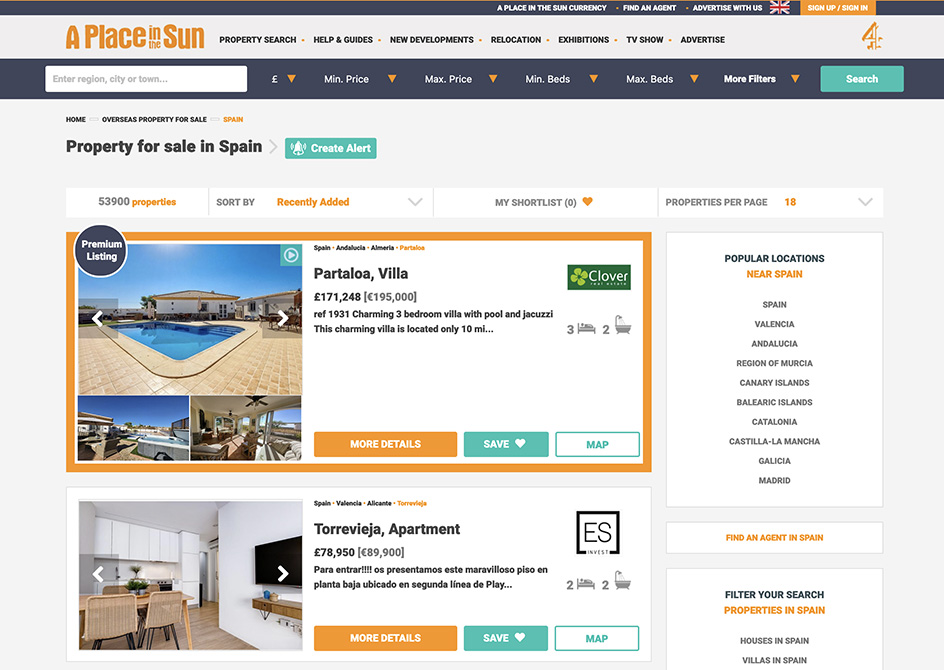 A Place in the Sun is the perfect place for overseas estate agents to advertise their properties to a motivated audience of British buyers. 6.1 million* overseas property hunters visited aplaceinthesun.com in 2022 to search properties and find out how to buy property in their favourite country.

Advertising with aplaceinthesun.com gives you:
Property listing on aplaceinthesun.com
Up to 60 photos per listing
Full property description
Key features list to emphasise the best points of the property
Map of property location
Your logo on all your property listings
No commission to be paid on a sale
Very easy process to add your listing
Manage your listing 24/7 online via our Sun Centre
Properties uploaded manually or by XML feed
A designated Account Manager to look after you
Agent profile page with a link to view all agent properties
Enquiry contact info is sent directly to you & not to other agents
Weekly analytics report showing how your properties have performed
'See us on aplaceinthesun.com' logo window sticker for your agency
*Jan 2022 to Dec 2022
Our fees
Prices vary depending on the number of properties you wish to advertise and where your properties are located. For more information fill in the 'Advertise With Us' form on the right and one of our friendly Account Managers will be in touch.
Testimonials
---
"We have listed our properties on the A Place in the Sun portal for a number of years and are extremely happy with the results. The team at APITS are always available to help and assist with any queries. I would have no hesitation in recommending this excellent portal." - Chris (Mercers)
---
"Just to let you all know at A Place in the Sun how very pleased our group is with your marketing for agents recently, it definitely attracts the better quality, more genuine potential buyers than any other similar Spanish web portals. The changes & recent updates to your property website is certainly working well for us with many good quality daily leads being generated for our Tele-Sales team.
I firmly believe APITS is without question the market leaders for generating a constant supply of good quality, genuine potential buyers and after 32 years in the Spanish Property business, I think and hope I speak with some authority." - Bob (Spanish Legal Homes)
---
"We have been advertising with APITS for many years and week-in / week- out we get a regular good number of leads, the quality of the leads we get from APITS are consistently better quality than with most of our other advertising partners and portals.
The team at APITS offer great support both technically and commercially to make sure that our listings are seen by the maximum number of visitors to the website" - David (French Property Network)
---