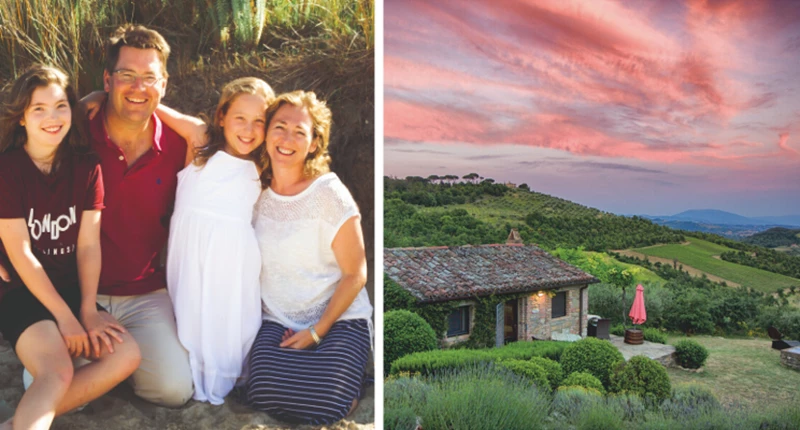 How do people choose where to live abroad? Is it most often where they love going on holiday every year? Or perhaps a place with family connections, fond memories of a honeymoon or to follow in the footsteps of friends who have already made the move.
For Chrissie Todd and David Lang it was a question of asking fellow travellers they met in South America to name their favourite country.
The couple met while Chrissie was journeying across Australia, enjoying a life of travel and adventure. However, just a few years later the couple found themselves holed-up in a flat in Barons Court, west London, from where Chrissie commuted across London to a demanding job in finance.
As soon as they began to feel trapped, Chrissie cashed in her company shares and used the air miles she'd accrued at work to fly them both straight to South America – and it was from this exciting vantage point, thousands of miles from the UK, that they decided to take stock of their lives.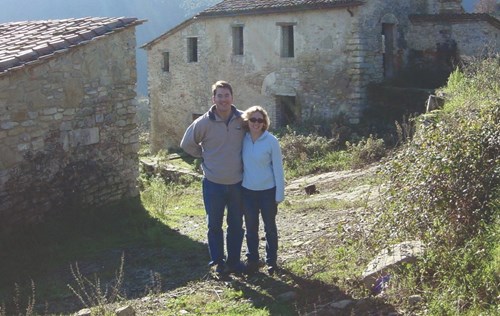 "We knew we couldn't keep globetrotting forever, and we did actually want to settle down," explains Chrissie. "But we also knew that, for us, the idea of 'settling down' had to be more than nine-to-five lives in a British city."
The couple were certain their future lay outside the UK, and they also knew that whatever they did next in terms of earning a living, they wanted to do it together.
"The problem was we weren't sure exactly what to do - and we were even less certain about where!" David chuckles reflectively. "So while we were journeying around South America we just started asking all the interesting and experienced fellow travellers we met about which country in the world they'd most enjoyed spending time in, and where they'd like to return to, or even live."
"We got a whole host of different answers, from Canada to India, and for an equal number of good reasons," continues Chrissie, but the country that kept cropping up again and again was Italy.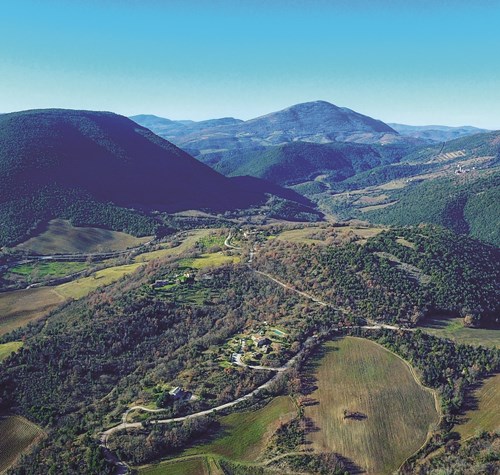 "The culture, food, weather, scenery, people, pace of life, Italy seemed to tick a lot of boxes for a lot of people, and it started sounding pretty good to us."
It wasn't quite a 'light-bulb moment' but as David, recalls, "We were staying in a wonderful 16th century ranch in Mexico, very relaxing and tranquil, and one day Chrissie just blurted out 'L"et's move to Italy buy a farmhouse, rent out some rooms, and you can teach at an Italian university.'"
They found an old stone farmhouse accompanied by several outbuildings and set in two hectares of land at the head of a sweeping valley just 20 km north of the famous Umbrian hill towns of Perugia and Assisi, and it's now been their family home for almost 17 years.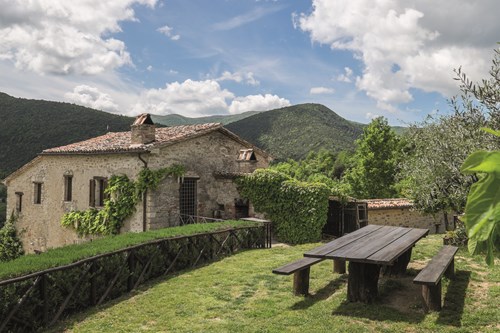 "This was the first place in Umbria we came to see, and we immediately knew we'd found what we were looking for," recalls Chrissie. "The outbuildings would make wonderful self-contained guest accommodation separate from the main house, which was even better than we hoped, and the location was, and still is, breathtaking. On top of which Perugia turned out to have a good university, ideal for David's lecturing."
Fired with enthusiasm the couple arranged a mortgage and also prepared to part with much of their savings for the €250,000 property. But, when they finally took ownership, arriving to begin their new life at the farmhouse, on a dusty, blazing August day in 2003, it soon became apparent that the project to transform the building into a home and the outhouses into luxury accommodation would probably cost them the same again.
"It had never been anything except a true rural farm," explains David. "It had been uninhabited for several years before we a arrived, and there no proper plumbing or electricity. Before we even began searching for competent local builders, the first thing we realised was we'd need to find extra financial assistance."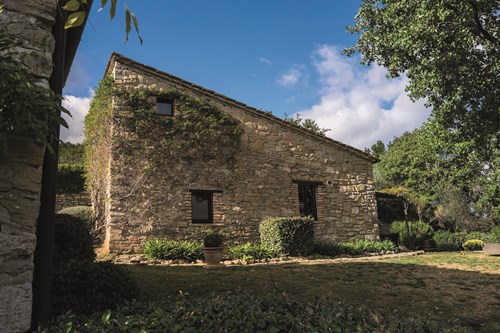 The couple's experience in finance and business economics swung into play at this point, yet even with the benefits of this combined skill set things were far from plain sailing. And when, having put together a meticulous proposal, they missed the window for claiming a local grant for tourism ventures (after their accountant filed the wrong documents) David and Chrissie realised they'd have to apply for a second mortgage to complete the renovation - and prepared to sell up.
"The whole thing suddenly just felt like madness," says David. "We had the local agent, who by then had become a friend, around to revalue the place - but instead, he told us in the most sincere terms that we were on the right track, and to take courage and persevere!"
It was undoubtedly the pep-talk they needed, for today the couple are the proud owners of a stunning six-bedroom family farmhouse that plays home in fine style to the couple and the two daughters (Elisabetta, now 14, and Lucia,12).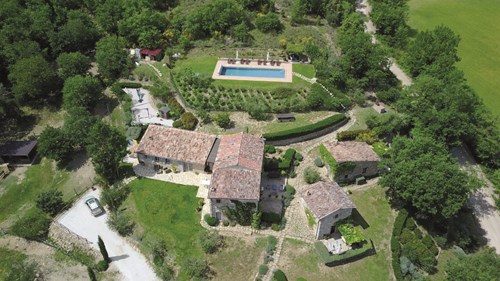 Meanwhile their three converted outhouses continue to welcome a steady stream of new and returning guests.
Although Brexit has taken a recent toll on bookings from the UK, things are still looking better than ever as David explains. "Thanks to a lot of generous word of mouth recommendations, we've steadily grown our international clientele over the years, so although we were 20% down on British visitors last year, that was more than offset by welcoming guests from 50 other nations."
"We also have some lovely returning guests," Chrissie continues, "including the British ambassador in Rome. In fact meeting so many different, lovely and interesting people is one of the true perks of this business."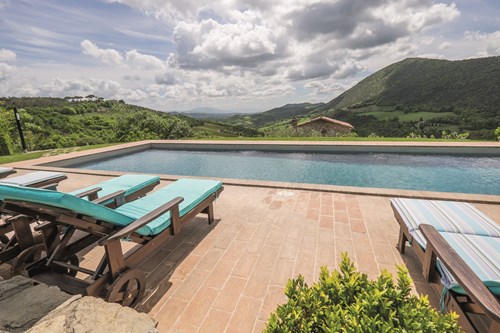 It's also easy to see why so many people return here. The welcome couldn't be warmer, with Elisebetta and Lucia just as happy to employ their bilingual abilities on behalf of guests as they are to demonstrate their pizza-making skills on the weekly pizza nights held over summer around the new outdoor oven.
Then there's the spectacular view across a valley quilted with forests and fields, vineyards and olive groves, speckled with old farmhouses and ancient roman remains, an enchanting environment in which you'll find amazing walks, truffle hunting tours and local winemakers offering tastings from their cellars.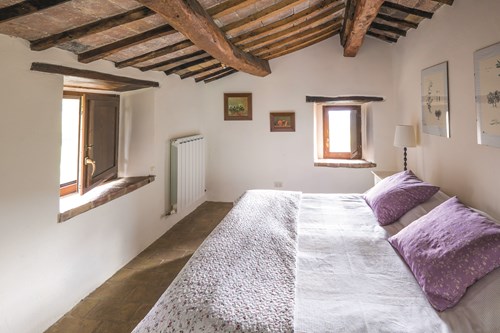 Some of this is thanks in part to the influence of Chrissie and David themselves, a couple with a natural charm. When he's not helping to looking after the girls or new guests, David lectures Business English at Perugia University, a historic educational establishment that was founded in 1308, where he's worked virtually from the moment the couple arrived here.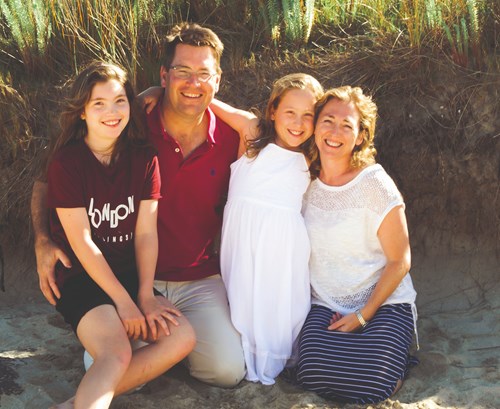 "It's been a wonderful experience, although I did feel a little guilty to start with, as it seemed like I was getting paid to develop my Italian as much as explain business English. However, back then with the renovation bills arriving thick and fast, the job was essential – now I do it as much for the enjoyment and the friends."
"We certainly seemed to have settled here," reflects Chrissie, "and in exactly the way we wanted. David and I have always had a taste for adventure, and here we find a fresh one on our doorstep almost everyday."
Download our free guide to buying a property in Italy below