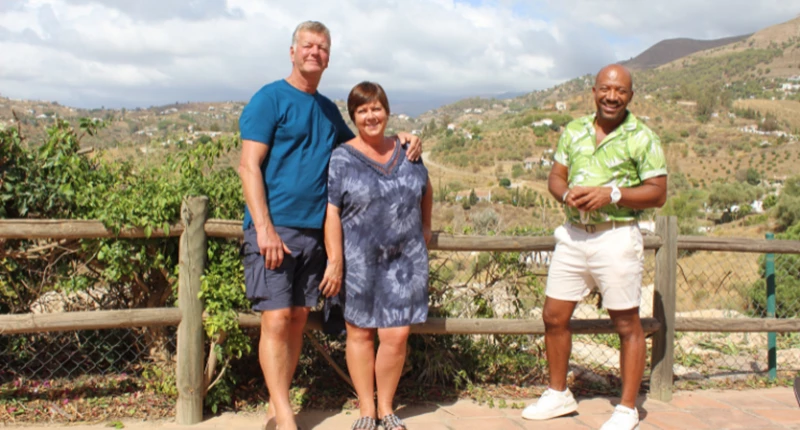 "The vendors didn't end up getting their suddenly inflated price."
Maria and Paul from St Leonard's on Sea in East Sussex want to go and live in Spain. They flew out to look at properties in the pueblos blancos behind the Costa del Sol with Craig Rowe in October 2022. But after finding the finca of their dreams, the episode ended with the vendor somewhat greedily upping their asking price from £303k to £339k. What did they do next?
Well former policeman Paul and Maria, who still works for the police, stood firm. "We kept in touch with the estate agent and found out it hadn't sold at the inflated price – it just wasn't worth that much," says Paul. "We had flown out again to Spain in January and looked at some more properties, but nothing else could match up to the finca near Competa."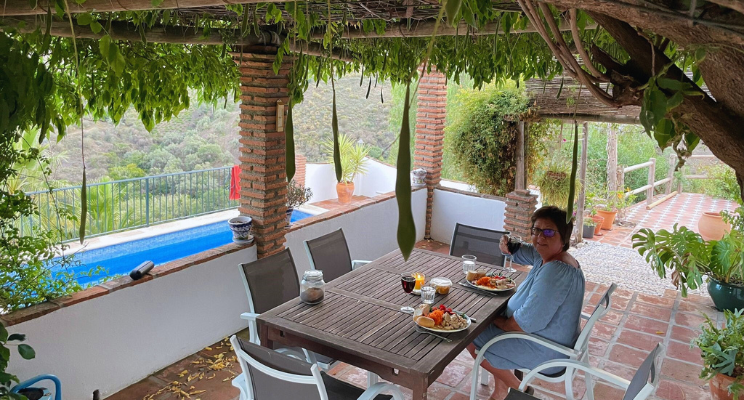 In May they came to an agreement with the vendors, via the agent. "We agreed to meet them halfway," says Maria. "It wasn't very ethical of them suddenly raising the price like that, but we did really want the property, and could imagine living there, which would justify us stretching ourselves to paid more than we'd planned."
That aside it's all been good. They were happy to take the furniture left by the previous owners so they didn't have to go out on a big spending spree. "We are going to put in a new kitchen and have the pool re-tiled and the steps widened, but otherwise it's pretty magical as it is," says Paul. He was impressed at how speedy the conveyancing process was.
They love the pool and peaceful surroundings so much they go to the beach – 30 minutes away at Torre del Mar – less than they thought they would. They love the fact there are no neighbours to see them – though they do like a naturist beach now and again, as their holiday snaps suggest.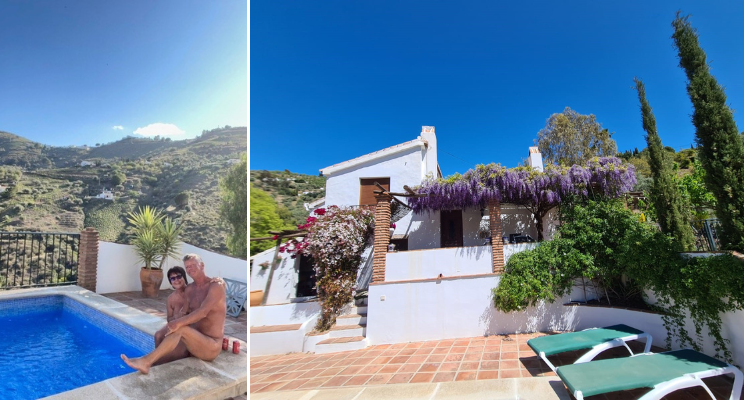 Paul is going to buy a motorbike in Spain – a Triumph 900 – and they need a new car – a 4x4 – to navigate the windy tracks up to their house.  Avocadoes grow in their garden, often a subject of discussion when they are down in the local village.
Read more:
They can get cheap flights out to Malaga easily from Gatwick but they just can't want to move out there full time. Even in winter – when they flew out earlier this year – it was short sleeve weather. The only thing that has delayed them is the fact that Paul's been waiting for a heart operation on the NHS – and it should be done by the time this is published. "We'll apply for a Non Lucrative Visa when he's done recuperating, and I will look forward to retiring too," says Maria. "We now know we wouldn't have found that property on our own so we are very grateful to the researchers at A Place in the Sun."