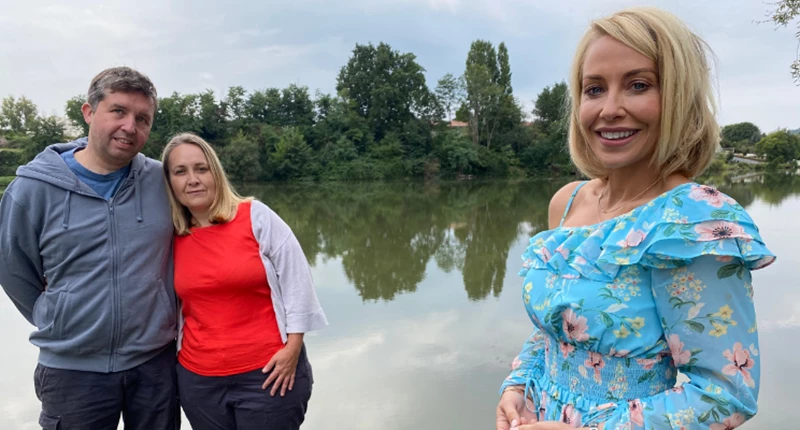 "Every day on the house is hard graft… but I feel so content."
Zoe Saunders-White and Neil are what Laura Hamilton dubbed a "DIY power couple'. The couple who were then based in Herts but now back in London dreamt about a new life in France with a renovation project and gites. In October 2021 they went out to film in southwest France looking for 'genuine help and not TV fame' to find project. With Zoe so determined to bag property number five in Duras that they didn't even 'sleep on it' and ended up paying the asking price of £250,000 to take it off the market. Has it turned out to be a good move?
When we catch up with Zoe, who is in France, she says she's staring at a huge wooden beam and wondering what to do with it. That was after admiring some pointing she has been laboriously doing the day before. Welcome to the reality of a very big renovation job.
"I was so optimistic that we'd do each part of the property every three months but I was so wrong," says Zoe, who's just turned 50. "But I feel so content – every day I feel like I have achieved something, which is so much better than when I did that every few weeks as a project manager in IT."
Zoe and Neil are dividing their time between France and London, doing up their new home.  The only real big surprise when they completed on the property in February 2022 was that they'd inherited four cats from the previous owner, who'd been transferred to a care home. "It was also winter and bitterly cold. We sat around a roaring fire with our four new pets.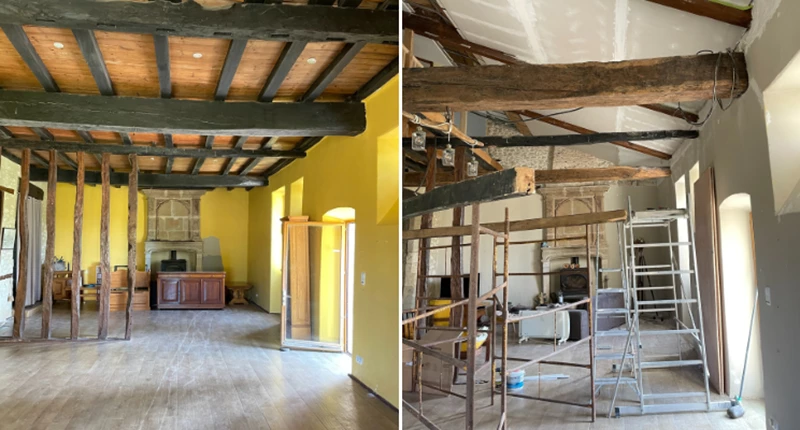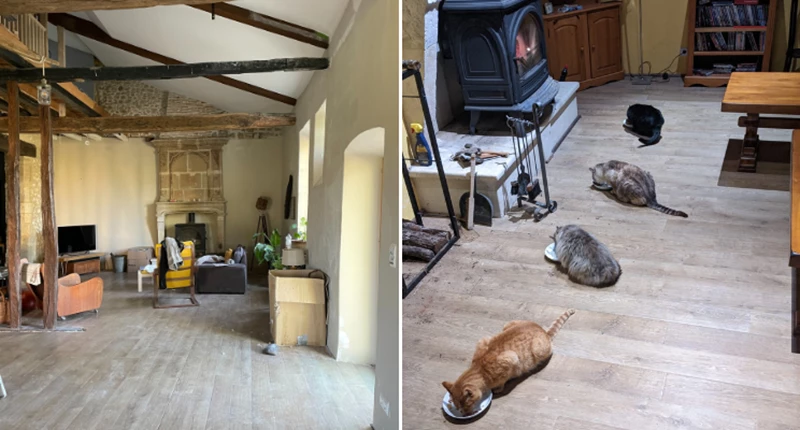 "Our romantic notion was that we'd do up the cottage and be moved in within a couple of months. Instead we first tackled 'emergency' repairs – leaks, blocked gutters and holes – and then we started the cottage. We found lots of 1970s cement covering up the old limestone walls – and when stripped off you find it's rotted. We have spent months stripping off the old cement. Now I am repointing the walls with a mixture of sand and lime. I have (luckily) discovered I like re-pointing. It's quite mindful. But every day is hard graft."
This has clearly saved them a lot of money she says, when asked, in true Grand Designs style, just how much have they gone over budget? "Repointing costs €90 a square metre by a professional."
She says she and Neil have quite defined roles: 'He's destruction and demolition. I'm making good and pretty!"  There's not been much scope to make pretty yet – they found the walls of the big yellow living room riddled with woodworm. Her helpful British neighbours, Hugh and Janey, told her not to worry about this – it's pretty standard in old French homes.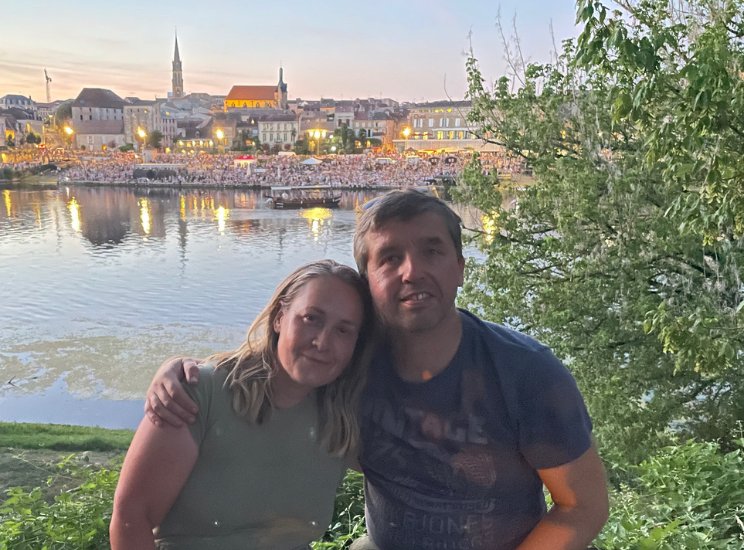 "They've been super helpful in giving us advice as we are trying to do everything ourselves," says Zoe. "We are learning French and at our classes, everyone else seems to be renovating too so our vocab lists are full of plasterboard and building terms."  
But have they had a chance enjoy other aspects of French life? "In the summer we made a point of showering and then heading off to a Soirée Gourmande (evening market) in the villages where we could enjoy a glass of wine and great local food. We have also done a lot of kayaking. I found the Covid period very tough [in the UK] and this has been so good for mind and body. I feel very content."