November 2010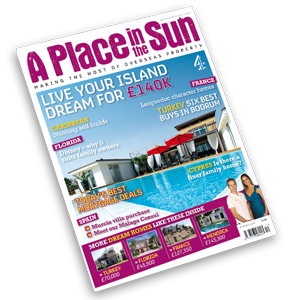 In this issue...
The November issue of A Place in the Sun magazine helps a reader with their heart set on a pricey pad in Ibiza look at some other property options in the Mediterranean isles of Menorca, Mallorca and Sicily and a wildcard property on the Atlantic island of Maderia.
We find out all the buying and running costs of buying and owning a typical property in murcia, Spain. We meet the Brit running a pub in Mallorca and the Drummonds from Surrey who are making a success of letting their apartment in Vittoriosa, Malta.
There's a more affordable route to owning your dream pad in the Caribbean, as we find out when we investigate buying a plot of land and building your own home in this sun-drenched destination.
If you want to do your bit to contribute to a greener world, read our list of ten things you can do to make your house abroad more environmentally friendly and find out how careful planning can ensure you don't overlook the necessary tax issues surrounding inheritance of your overseas home.
As well as comment from A Place in the Sun: Home or Away? presenters Jasmine Harman and Jonnie Irwin, ask the experts columns on everything from finance to currency, lettings to deposits there's the usual round-up of hundreds of properties for sale from around the globe.