November 2009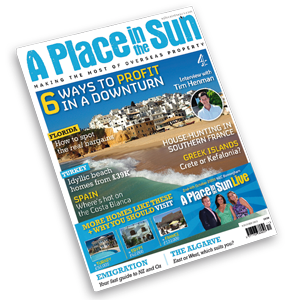 In this issue...
Believe it or not, making money in a downturn can be a piece of cake. In the latest issue of A Place in the Sun magazine we outline six ways to get the money rolling in.
We pick five hotspots on Spain's Costa Blanca and show you the cheap way to buy and own part of a property – fractional ownership – is now available in Spain.
There's the latest news in overseas property, including the new indispensable service to help you out in a crisis overseas, new flight routes, and a preview of exclusive bargains at A Place in the Sun Live.
We take a look at a selection of affordable properties on the east and west Algarve and find out why Turkey is fast catching up with Spain as our most popular place to buy property.
There's an interview with Tennis ace Tim Henman and we help the Asher family with their hunt for a property in the south of France with that certain je ne sais quoi.
There are hundreds of properties for sale and expert advice on finance, legal, emigration, mortgage and currency issues and the regular comment from Jonnie Irwin and Jasmine Harman.