Autumn 2017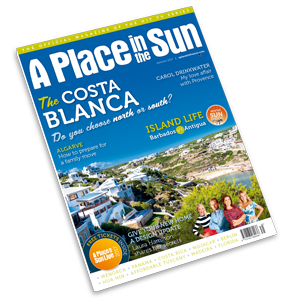 Our Autumn 2017 magazine issue is out now!
In this issue...
Giving your Spanish property a quick makeover: Lyne and Jon Scopes bought a two-bedroom property on the Costa del Sol on our TV show for £100k. They share their tips on how hey transformed it into a light, bright (and fully booked) rental form of accommodation.
Plus, our very own Laura Hamilton gives you her tips on how to give your holiday home the edge...
A closer look at Menorca: Our editor Liz Rowlinson has been taking a closer look at the laid-back Balearic island of Menorca, where your money can go a lot further
Affordable Italy: We take a tour around Italy in a bid to find affordable homes in the Tuscany region for less than £300k. This is certainly worth a read!
Where to buy on the Costa Blanca: As the Costa Blanca continues to be ever-popular with British buyers, do you decide to head north or stay south? Richard Way provides some insights into this stunning region of Spain
Moving to Portugal: We explore how Richard and Amy from Cumbria managed to relocate to the Algarve stress-free with their son, James. If you're looking buy a property in Portugal, their guidance is essential reading