Some of you write to ask whether our TV property hunters ever found a place in the sun to call their own. So we decided to track down the latest success stories from Spain, France and Portugal to see how things are going a few months on from their TV appearance.
Murcia, Spain | Rena Sodhi
With a wonderful job running a charity, plus a hectic social life in London, Rena Sodhi had it all, except the sun! Dreading another English winter, Rena applied to A Place in the Sun in October. By 1st February her apartment in Mojacar in Murcia, Spain, was ready.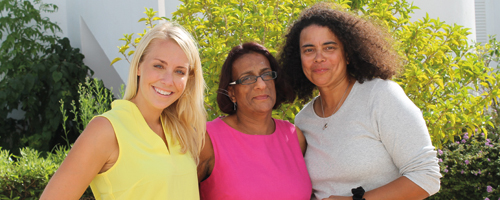 "I had never been to Mojacar before, but a close friend said it was beautiful and I would love it. I did. I wanted a roof terrace to get the sun all day, my partner Donna wanted a sea view and my sister wanted horses nearby. Quite a list for our £120,000 budget, but I was serious; I was going there to buy, not mess about.
I hadn't expected it to be so much fun though! I paid £138,000 for an apartment I absolutely love. Three bedrooms, two bathrooms, huge roof terrace with sea view and you just go down the steps to the beach.
Our superb estate agent, Sam, organised a local builder Pedro, and in eight weeks he refurbished all the bathrooms, a new kitchen, ripped out rotten cupboards, retiled and repainted everything. Pedro would even take us to a tile shop and stay there for two hours with us.
I want it to be like an open house for my sisters and friends to use. I've already started Spanish lessons and plan to learn salsa dancing and tennis. We have visited the Alhambra in Granada, but want to go back, and we still have the national parks to explore. I have such a busy life in London I don't want to move here permanently, but this way I can get a dose of sunshine every month."
View other properties in Murcia, Spain >>

Poitou-Charentes, France | Katy Sparks
With three sisters and a brother, each with their own holiday home requirements, A Place In The Sun faced a tricky challenge with Katy Sparks in the Poitou-Charentes region of France. But two months after buying a picture-postcard cottage in Ruffec, we have one happy family!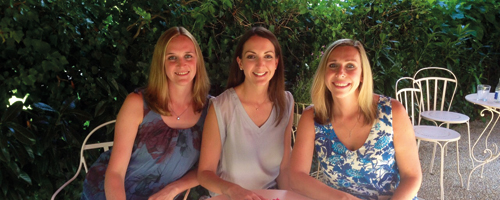 "My dad was buying a house for me, my two sisters and brother, but I was very sceptical that the team would find us anything we liked in France for our €95,000 budget. Firstly, one sister and my brother thought they would prefer Spain. My brother needed three bedrooms for his children and somewhere quiet, while my sisters don't have children and wanted somewhere lively!
We had already been looking for a year and thought we had seen just about everywhere. But in fact the team found us loads of wonderful houses for us and it was really hard to make a choice. We eventually chose one that met all our criteria and was incredibly pretty, and we completed on 9th January 2015.
We've been down with furniture - there's quite a lot of house to fill - and we have found that it has really brought us all together as a family. Our dad is thrilled!"
View other properties in Poitou-Charentes, France >>
Vendée, France | Paula Brown
Paula Brown, approaching retirement, asked herself, "Do I really want to have lived in Northamptonshire all of my life?" A year later she owns a cottage in the Vendee, France and is preparing to go into business as gite-owner.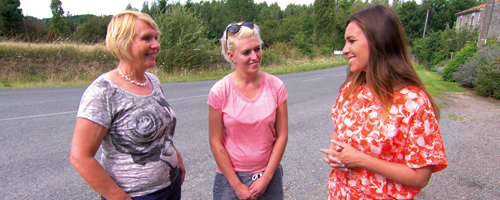 "I knew as soon as I walked inside I knew it was the house for me. Which is funny, because if I had seen it on the internet I wouldn't have gone to see it. It's a traditional cottage on the outside, but the inside has been beautifully modernised.
It is in the village of L'Absie, 90 minutes from La Rochelle in the Vendée. I had had two properties fall through, and the seller wouldn't bring it down to my £80,000 budget, so I was prepared to walk away. We were packing up to come home, when the owners called to say they would bring it closer to my budget. Sara the presenter quickly worked out all the costs and I said, 'yes, okay'. It was all quite emotional really!
The cottage has a barn adjoining it, which in total will give me five bedrooms when converted - so I can supplement my pension with the income from the gite. It's all around £25,000 over budget with the building work, but the recent pension changes mean I can convert a pension to cash and use that - quite a good investment if you ask me.
The idea was that my daughter Mica would help me run a dog-friendly B&B or gite, but a newly arrived man has put paid to her moving down with me!"
View other properties in Pays de la Loire, France >>


Find out more about appearing on an episode of A Place in the Sun here >>
Originally published in the A Place in the Sun magazine - Issue 122