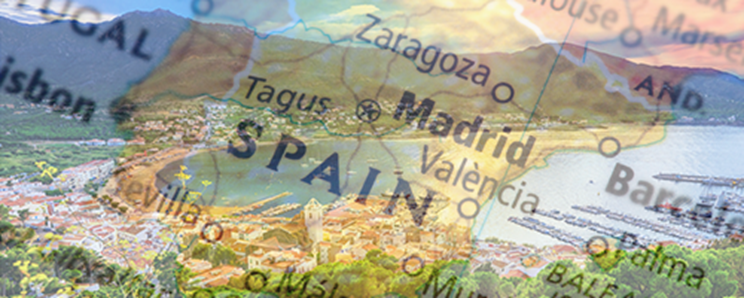 Sales volumes might have been increasing for ten consecutive quarters in Spain and confidence is very much back in the market. But the good news is that property there is still very affordable compared to many of its neighbours, and also prices are not back to their 2006 peak either.
It's still a great time to buy in Spain - even when taking into account a 10 per cent drop in Sterling against the euro - with some vendors very willing to negotiate out there, but also some low mortgage rates back in the market.
If you are seeking a resale property you may also find motivated sellers through local word of mouth or an agent - these might be Spanish vendors struggling to cope in a static Spanish economy, or British owners upsizing or downsizing (quite common scenarios amongst full-time expats) or returning to the UK.  
Just remember to consider purchase costs, use a foreign currency broker, negotiate hard and never buy on price alone. 
Getting a bargain in Costa Blanca
South Costa Blanca is expat country with beach and golf resorts in Torrevieja and Orihuela Costa. It's highly popular for a reason - it's easy to reach and it's easy to find inexpensive properties, including a new generation of contemporary style new-builds, though of course the real bargains will be amongst slightly dated resales.
North of Benidorm the landscape is lusher and the culture more traditionally Spanish, with some dazzling fishing-village/resorts such as Calpe and Altea. Denia has been a real spot in the past few months, along with the nearby Jalon Valley if you want to go inland.
Show me a bargain
In Orihuela Costa one-bedroom apartments are €50,000 to €70,000, townhouses under €100,000 and villas with pools less than €200,000. The hard part is finding something that doesn't feel squashed in, as so many do.
For more space at a bargain price go inland to the Hondon Valley for a farmhouse with land for €125,000. Or drive past Alicante and Benidorm to the very north of the Costa Blanca around Denia where you're too far from the airport for some buyers. Whilst Denia itself has increased in price a little, look to nearby villages such as Pego, La Xara or El Rafol d'Almunia for apartments or townhouses below €50,000.
Top tip
The extremities of the Costa Blanca have the best bargains. For a real bargain look at Oliva. Strictly speaking it's a kilometre or two north of the Costa Blanca, but there are two-bed apartments in a lively and unspoilt Spanish town there from just under €40,000.  The same might be said if you head south into Murcia.
click to search property on the costa blanca
Getting a bargain in Murcia
Where the Spanish coastline turns from east to south, the weather warms up and property gets cheaper. Even in well-heeled enclaves like the famous sporting resort of La Manga the luxury is more affordable than in some costas.
There are attractive fishing villages and the city of Murcia, but mostly it's purpose-built-resort territory, dedicated to relaxation around communal pools and golf courses.
Show me a bargain
Between 2004 and 2006 agents brought inspection trippers here by the planeload, persuading some to buy one property for themselves and more for investment. Many defaulted after the crash and are now being sold as fantastic bargains.  Murcia is one Spanish region defying the sales growth trend.
Polaris World's resorts have never-lived-in apartments (and lots of them) from €60,000. The La Torre golf resort is the most popular, around 15km inland from the coast.
There are also some attractive seaside villages and towns such as Sucina, Santiago de la Ribera and Aguílas, but bear in mind that they're quiet in winter. Townhouses here start at around €110,000.
Top tip
If an agent tells you that a new infrastructure project is about to rejuvenate an area and bring untold riches, be sceptical if it's in Murcia. A Place in the Sun magazine began in 2004 with a feature about the new Paramount theme park and airport near Murcia. We're still waiting for it. The same can be said for Murcia-Corvera International Airport (began in 2008, still not completed).
click to search property in murcia

download our free guide to buying a property in Spain
Getting a bargain in Almeria
A less developed tranche of Andalusia than the Costa del Sol, Almeria offers stunning coastline of nature reserves with long sandy beaches and authentic, Moorish style towns and villages.
It's popular with various nationalities and is is tiped as the number-one place to watch in Spain during 2017 – for its affordability and also growing tourism. The average property price is only €129,000.
Popular spots include the capital city Almería – famous for its well-preserved Moorish heritage, Mojácar and Vera and resorts along the Costa de Almería.
Show me a bargain
The traditional hilltop town of Mojacar is a hot spot but it's a little expensive  (for Almeria) as a result. That said you can get a three-bed villa with a pool there for €299,000, a three-bed apartment for €150,000 or a one-bed property for €75,000.
Vera Playa – the beach area of Vera – is also a good value and a popular location. There you can get a good choice of two-bed apartments for around €60,000 to €70,000.
Another option is a characterful cortijo (or farmhouse) in the hills – you can get a small one for around €250,000, depending on the state of the renovation, although nearer €400,000 for a larger one with more land.
Top tip
Be a little careful about buying in rural areas – there are lively expat communities in the Almanzora valley, Arboleas, Zurgena and Albox but there have been a few issues in the past about properties built without the correct permissions. As always, get your lawyer to do those checks on the property for you.
click to search property in Almeria
Getting a bargain in Costa del Sol
Most come to the Costa del Sol for the bling, not the bargains, and prices here were the first to start rising in 2014. It has everything – winter sun, the world's best beaches and tourist infrastructure, plus that slightly wild Andalusian culture on the doorstep.
Resort towns like Nerja, Torremolinos, Fuengirola, Marbella, Puerto Banus and Estepona are an international melting pot so you'll be sharing the golf course and fish restaurants with Russians and Chinese as well as the northern Europeans (and the Spanish of course, they love it here too).
Show me a bargain
How does €90,000 for a two-bedroom resort property in Estepona grab you? Or €150,000 for one in Los Monteros, a prestigious area of east Marbella? All were available within a few minutes of looking, so don't assume you can't afford this costa.
As with the Costa Blanca, some of the best prices can be found at the furthest tips of this costa, both west around Manilva and Duquesa Marina, and east towards Nerja and Torre del Mar where you can find townhouses for just under €200,000 and smaller villas for just over. 
Top tip
When buying within a community or resort bear two things in mind: what are the service charges (general rule of thumb: you get what you pay for in terms of quantity) as some can be hefty in this area; and how well is the development managed? Get your lawyer to check the latter before you buy.
click to search property on the costa del sol
Getting a bargain in the Canary Islands
The choice of winter sun destinations gets shorter with each bit of unrest in North Africa and people are looking again at the seven islands of the Canaries. They have good transport links to the UK, year-round warmth, reasonable prices, rental potential and a strong expat community.
Each island is different so you can match the island to your interests, personality and budget. Party-loving, cheap-and-cheerful, Brit-friendly Tenerife has come into its own during 2016 and remains the top choice.
Meanwhile Lanzarote has managed to re-brand itself by becoming a fashionable hipster hangout (in parts), and wonderfully dozy little La Gomera looks like a chunk of South America towed north.
Show me a bargain
Lanzarote has fewer properties and tends to be more expensive, because it has a history of being meticulously planned, but you can get an apartment for around €60,000.  On Tenerife you'll a larger selection of one-beds and studios for €60,000 but not in the popular resort areas of the west coast. You'll need around €100,000 for a studio in the big-name resorts such as Los Cristianos or Los Gigantes.
On Fuerteventura, you can get a one-bed apartment from around €80,000 in the popular resort of Corralejo whilst the average two-bed apartment goes for €120,000 on the island. In Gran Canaria you can get a good-sized villa with sea views for little more than that.
Top tip
Rentals can be very lucrative in the year-round resorts of the Canaries but consider long-term lets for two reasons if you are buying as a long-term investment. Firstly, the Canarian government has been imposing restrictions on short-term (or holiday) lets within developments, but also long-term lets are popular with the northern European "snowbird" market and can be less hassle.
click to search property in the Canary Islands
Getting a bargain in the Balearics
Bargain and Balearics don't always go together in the same sentence, we know, but if you look away from the fashionable areas, there are pockets of much better value. The Balearics have, like the Canaries, been benefitting from a boom in tourism as a very safe and well-established summer destination, whether for families or the young, party crowd. 
Choose between the bohemian vibe of Ibiza, still by and large the most undeveloped of the three main islands, although it's now the go-to destination for the super-rich every summer.  For families, the fabulous beaches and slow pace of Menorca are hard to beat, and it's the most well supplied by flights by some stretch is Mallorca.
From the year-round city of Palma, to golf developments, marinas and world-class sports facilities, and a mountain range to explore too, Mallorca offers something for everyone. Prices have already been increasing in the sought-after south-west, so look elsewhere on the island for bargains.
Show me a bargain
In Mallorca, the east coast tends to be more affordable than the south-west, south and also the north.  You can get a studio resale apartment for €100,000 in many popular areas such as Puerto Pollensa or Santa Ponsa - there's the odd bank-owned property lingering - but €150,000 will give you much more choice. You can get new-build apartment on the east cast for just over €200,000.
In Menorca, prices have been slower to recover from the Spanish property downturn – there are reductions everywhere, from small apartments for €125,000 in Son Parc or Mahon to one for €150,000 in the big resort of Cuitadella.
Even in Ibiza, which has become the most popular beach party location in the Med in recent years, it's possible to buy an affordable resale apartment away from the popular resort spots of the south or west coasts.
New-build villa projects tend to focus on the higher end of the market and newer apartment schemes are few and far between so go for older properties in good locations to which you can add value.  In the popular family resort of Santa Eularia, for example, you can get small apartments for around €150,000.