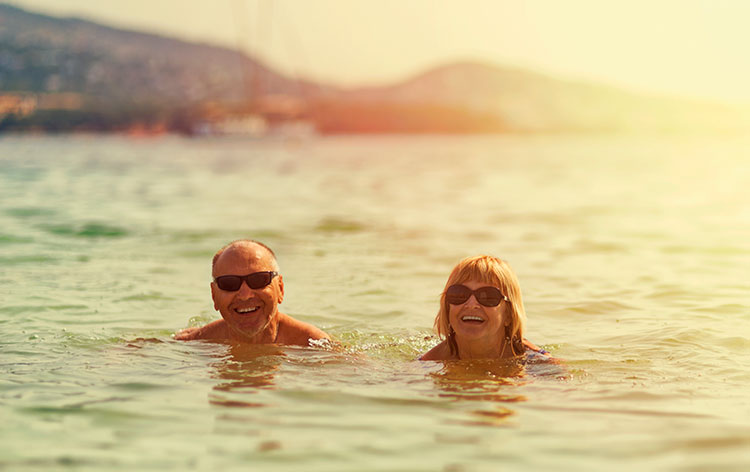 Spain is home to the highest number of Britons living abroad in Europe, around 310,000 (officially registered).
A large percentage of Spain's British population are retirees, based primarily in and around coastal resorts in the Costa Blanca, Costa del Sol, Canary Islands, Balearic Islands, Costa Brava and Murcia. It's hardly surprising given the country combines just about every ingredient most people want for a perfect retirement.
Affordable homes by the sea, low living costs, a fantastic climate, entitlement to state healthcare (for pensioners), fellow Brits to mix with and excellent air access from the UK – not a lot missing!
But making a successful move to Spain doesn't come without preparation and careful management of your financial situation. To get you started on the right track, below we outline the keys areas of settling in, transferring your pension, living costs, inheritance tax, wills and any other bits of paperwork.
Transfering your UK pension to Spain
Retirees living in Spain who are in receipt of a UK State Pension can opt to have their monthly payments paid into their bank or building society account in the UK or their bank account in Spain. For the second option, you'll need the international bank account number (IBAN) and bank identification code (BIC) numbers for your Spanish account. But remember, having your pension paid directly into your Spanish euro account means you will have no control over the exchange rate used for the transfer.
Many expats prefer to have their pension paid into their UK account in Sterling, and then use a currency transfer specialist to send euros to their Spanish account. Exchange rates offered by currency specialists are better than those you would receive if your pension was sent direct to Spain through a UK bank, as would be the case if the Government sent it direct for you.
Currency specialists also allow you to fix an exchange rate for future transfers. This means you can know exactly how much your pension will be worth in euros as well as Sterling, typically for up to six months or a year in the future, thereby helping you to budget. Currency specialists also offer a personal one-to-one service, allowing you to organise transfers between the UK and Spain over the phone, via email or on-line.
As well as your State Pension, you may have one or more personal or workplace pension plans in place. If this applies to you, it is highly advisable to talk through these with a financial advisor before leaving the UK. They will look at your various pension funds and investments as a whole and offer various tax efficient options for structuring all your assets and funds. For example, it could make sense to transfer funds into a SIPP or QROPS – both with very specific tax benefits and requirements. But everyone's situation is different, so there is no 'one size fits all' solution.
Living Costs in Spain
With some careful planning, day-to-day living remains cheaper in Spain than in the UK. Given most expats in Spain rely on Sterling-based income, what they have to spend each month typically fluctuates with the £/€ exchange rate (although forward buying euros with a currency specialist can minimise this exposure).
One of the first savings you will notice in Spain is your council tax bill. Spanish council tax is known as IBI and paid direct to the town hall or SUMA offices. Based on the rateable value (valor catastral) of your property, rates vary by area and region but generally your annual bill won't be more than a quarter of what it would be for a comparative property in the UK.
In terms of utilities, electricity and water are about the same as in the UK, but expect to pay more for your internet and satellite connections. Gas will depend on whether you are mains or use LPG and whether you use it for heating or just in the kitchen.
It is common to have air conditioning in Spain, which can bump up your electricity bills in the summer, as well as in the winter if you use its heating function much.
Having a swimming pool will add to your monthly bills too – water, chemicals to treat the water and electricity to power the pump are unavoidable, and you may choose to pay someone to look after it for you.
Don't forget, if your home is part of a complex or development, it is likely you will need to contribute to the upkeep of communal areas, such as the pool and gardens, through payment of community fees, which vary according to the area and on-site facilities.
Public transport, including buses and trains, are cheaper than in the UK. In terms of groceries, supermarkets are cheap if you buy local brands – you'll pay a premium for Heinz baked beans and Marmite! Shopping in local markets, not only for food but clothes, can save money. But one of the real delights of living in Spain is the opportunity to eat and drink out cheaply – follow the locals and opt for the 'menu del dia', and it's possible to dine on tasty three-course meals for around €10-€15.
Settling in
Most English-speaking estate agents in Spain will help you get settled in your new home and assist with administrative things like getting all the utilities transferred into your name. It's likely you'll need some kind of job done around your new house at some point – again, your estate agent should be able to refer you to a reliable plumber, electrician, builder or whatever tradesperson you need.
In terms of meeting people, if you're retiring to one of the popular Spanish Costas, such as the Costa Blanca or Costa del Sol, or islands, such as Tenerife or Mallorca, you should have little trouble befriending other British people, as well as other foreign residents. You'll quickly discover where the English bars, restaurants and meeting points are, and there are all types of expat societies and clubs available to you. How much you wish to get involved with other British people is down to you, but it's reassuring to know there are fellow Brits around if you need them.
Reassuringly for expats, the World Health Organisation consistently ranks Spain as one of the healthiest places to live in the world, with one of the highest life expectancies. This is thanks largely to its balmy climate, healthy Mediterranean diet, stress-free lifestyle and quality healthcare. The Costas offer retirees plenty of opportunities to keep active and fit, helping your overall well-being.
By default, you spend more time outside in Spain, and both swimming and walking, often along pretty seafront promenades, soon become daily activities (that cost nothing). Otherwise, the leisure facilities on offer to help you stay in shape are endless – you're never far from a quality golf course, water sports are endless, and you'll find expat clubs for all types of activities, including bowling, yoga, rambling or doing day trips to new places.
In the first few days in Spain, make a point of learning how to contact each of the emergency services, and where your town hall and nearest health centre, hospital and police station are. Introduce yourself to your neighbours – they can be useful sources of local information.
Make life easier by getting a Spanish mobile as soon as possible and setting up your internet connection, so you can stay in contact with friends and family easily.
Spanish Healthcare
British people in receipt of a UK State Pension are entitled to the same level of state healthcare as a Spaniard under the national insurance scheme. This is thanks to Spain and the UK being members of the European Economic Area (EEA), meaning certain benefits are transferrable between the two countries.
Pensioners should start the process before leaving the UK, by applying for an S1 form from the International Pension Centre. Once in Spain, register your S1 at your local Instituto Nacional de la Seguridad Social (INSS) office to receive an accreditation letter, which will enable you to register with a doctor at your local medical centre.
To do this, you'll need your passport, NIE and certificates of local and national residency. In due course you will receive a health card (tarjeta sanitaria), which you present when you use the health service. It's a similar process for recipients of long-term benefits in the UK - just be sure to check with the relevant UK office whether your healthcare entitlements are transferrable to Spain with an S1.
Two things to note: a UK pensioner in Spain (who has registered an S1 form) can return to the UK and receive NHS treatment for free, just like a UK resident; pensioners in Spain can register a dependent to receive state healthcare.
Wills and Inheritance
A priority for anyone retiring to Spain should be putting all the necessary legal structures in place to ensure your assets will pass to your chosen heirs smoothly and with minimal fuss.
Your assets comprise the whole of your worldwide estate, movable and immovable, including any property you may have retained in the UK, perhaps for rental income, as well as your new Spanish home.
It is likely you will already have a will in place in the UK. However, when you purchase your future home in Spain, you should speak to a bi-lingual Spanish lawyer, who will consider your existing UK will and advise on the best way forward. It could be that you will need to make a new will in Spain.
The rules governing succession law for expats can be complex, taking into factors such as domicile, residence, nationality or habitual residence, in order to determine what laws should apply to an individual's estate. Problems get even more complicated when someone dies in Spain intestate, as the country has forced heirship laws.
In an attempt to simplify things within the European Union, in August 2015 Brussels introduced its new Succession Regulation. This affects any British people who own property in Spain, whether it's a second home or your permanent residence.
Under the new rules, the default position for succession is governed by the law of the country in which the deceased was 'habitually resident'. So for a British retiree living in Spain, this would be Spain. Crucially though, the new rules also say that an EU citizen may choose to apply the law of their own nationality, eg English, to the succession and administration of their estates – this must be clearly stated in a will (multi-nationals can choose any of their nationalities).
Most retired Britons in Spain retain their UK domicile status (this is different to residency or habitual residency – speak to your lawyer for more info), which means their worldwide estates will be subject to UK inheritance tax (IHT) as well as succession tax in Spain. Significantly, in Spain succession tax is paid by the person who receives the assets and ownership cannot be transferred until the tax is paid. Also, succession rules and tax rates vary by autonomous region.
Fortunately, like many countries, Spain and the UK offer relief for inheritance tax liability. Typically, this means that inheritance tax is paid in the jurisdiction demanding the highest amount, eg Spain, and a credit note can then be sent to the UK, thereby confirming the tax has been paid and no more is due. To understand inheritance tax thoroughly and find out the most effective way to hold your assets and minimize your IHT/succession tax exposure, get advice from an Spanish law firm that specialises in helping expats, ideally before you leave the UK.
Spanish Tax for Retirees
Retiring to Spain and spending more than 183 days during a calendar year there means you should become tax resident there. This means you will need a Spanish tax identification number, known as an NIE, which you also need to purchase a property.
If you split your retirement between the UK and Spain and are unsure of your residency status, you can work out where you are officially resident using the Statutory Residence Test, introduced in 2013. At some point after relocating, you will need to inform HMRC that you are no longer tax resident in the UK. Failing to register yourself as tax resident in Spain and pay tax there when legally you should, could land you in serious trouble, even if you are continuing to pay tax in the UK on UK sourced income.
As a rule, once you are tax resident in Spain, you are liable to pay income tax there on your worldwide income, which includes your UK state and any private pensions, as well as interest or gains earned on deposit accounts and investments in the UK or offshore. According to the UK Government website, British citizens don't usually pay UK tax on their State Pension if they're not a UK resident – but it's up to you to fill in the relevant paperwork to ensure this. The International Pension Centre is a good starting point.  
At the same time, most income arising in the UK, including rental income continues to be taxable in the UK, albeit subject to the usual allowances. Typically, you must still declare this income in Spain, but thanks to the UK's double tax treaty with Spain, you will be entitled to offset any tax paid in the UK. Not all incomes and gains are taxable in both countries – not getting it right could mean you end up paying more than you need too. There are ways to minimise your tax obligations in the UK once you are no longer resident there.
It is highly likely you will need to file an annual Spanish tax return and declare any assets outside of Spain, especially if you will need to claim any tax relief. It is advisable to get help with filing your annual tax forms in Spain – look around and you'll find an English-speaking law or accountancy firm, or even property management firm, that will offer this service.
On top of income tax, Spain also has a wealth tax, which is designed specifically for residents who hold significant worldwide wealth, so will not affect the majority of expats.
Most importantly, always seek advice from an independent financial adviser with experience of helping expats before you leave the UK. This will ensure you not only follow the correct procedures and complete the right paperwork, but are in a position to take any appropriate measures to minimise your tax liabilities. There are legitimate vehicles you can use to avoid or reduce tax, and the less you pay, the more money you have to spend in your retirement.
Extra Paperwork
As well as any documentation outlined above, as a new resident in Spain you should also obtain your Spanish residency card (Residencia) and your Padron document, which registers you as resident in your municipality.
To register for state healthcare in Spain, which you are entitled to as a UK State Pensioner, before you leave the UK you need to apply for an S1 form from the International Pension Centre, which you then take along to your local Spanish social security office (INSS), after which you can register for a Spanish medical card.
Also, ask your town hall for a pensioner's card (tarjeta de jubilado/ tarjeta de pensionista), which gets you discounts and other benefits.
Other paperwork to consider include home and life insurance, and relevant vet's papers and chips for your pet coming from the UK.