November 2008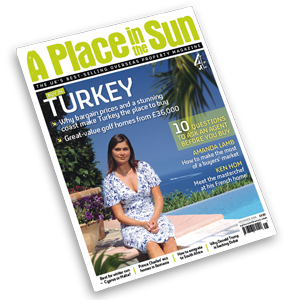 In this issue...
A Place in the Sun magazine looks at why Turkey's glorious weather and golden coastline attracts thousands of Brits every year and its property market is flourishing. We take a closer look at what the country has to offer and identify the best places for you to invest your money.We take the Prices house-hunting in Malta or Cyprus so they can decide which would be the better place to spend their retirement and hear about Prince Charles's investment in three rural homes in Transylvania, Romania in a bid to preserve the area's ancient heritage.
There's sneak peek at celebrity chef Ken Hom's 14th century medieval tower in Lot, France and a guide to emigrating to South Africa, quickly becoming a popular destination for space and sun-deprived British emigrants.
A Place in the Sun presenter Amanda Lamb explains why us Brits could learn a lot from Europeans when it comes to negotiating a house price and for once Jasmine agrees with Jonnie that the UK is the best place to be, for one weekend at least, to visit A Place in the Sun Live at Birmingham's NEC.