June 2012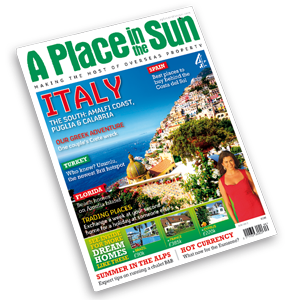 In this issue...
As the summer approaches, and the Jubilee and Olympic games begin to appear on the horizon, many of us are considering renting our properties to overseas visitors. And while the promise of extortionate amounts of rent looks set to turn many property owners heads, there is another option which isn't just for the Olympics - home swapping.
Whether you live in a semi in suburban London or a flat in Manchester, someone from balmy Florida or an equally warm Mediterranean nation could be dreaming of a holiday in your area. Why not consider offering them a week's stay whilst you kick back at their beach house? Find out more inside the issue.
Elsewhere this month, we look at the best places to buy behind the Costa del Sol, explore Southern Italy, visit Amelia Island in Florida and catch up with a Cornish couple who are currently in the process of renovating a wreck in Crete.
Plus, we look at the perennial question of the eurozone, with currency expert Alastair Archbold reporting on why the euro has weakened, what it's likely to do next, and the million drachma question - what would happen if Greece left the Euro?
Enjoy this month's issue.