January 2012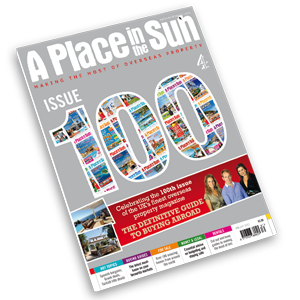 In this issue...
Cheers!

It's not every day that a consumer magazine gets to its 100th issue – in fact 80 per cent of them fail to make it through the first year – so forgive us if we seem a little celebratory.
This month in order to commemorate our milestone birthday we're doing things a little differently. Instead of the usual lifestyle features (don't worry, they'll be back in February) we've put together a comprehensive guide to every aspect of investing and relocating abroad, which you can use as a reference point for the rest of the year and beyond.

Whether you want the latest information on Turkish title deeds, Spanish bank-owned properties or Greek deals, it's here. Need some help on setting up home in Florida? You got it. Or, if you are contemplating a golf property, we've got some excellent guides on this too.
Finally, if you are seeking some practical pointers for moving abroad, don't miss our advice on that too.
And there's also an extra-large helping of the sort of overseas homes we all love to fantasize about, all written by the industry's most knowledgeable property journalists.

In the meantime it just leaves us to wish you a happy new year and to raise a toast to all the best for 2012 (and the next 100 issues…)