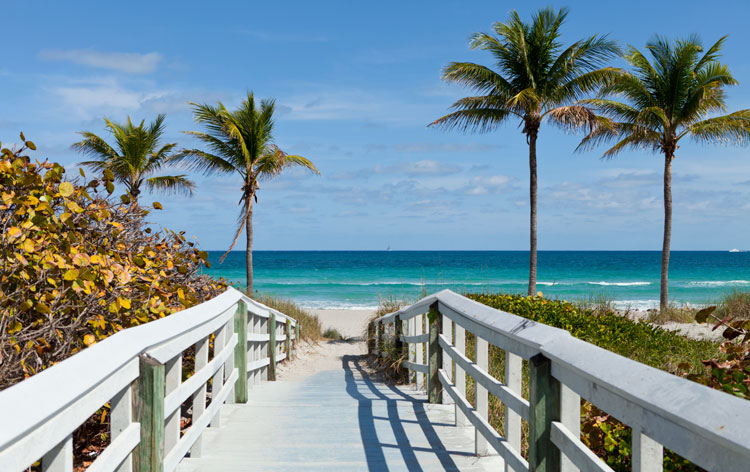 How much planning should be given to a move to Florida?
International removal companies are used to working within tight deadlines and changing dates. In an ideal world six months is a desirable timeframe to plan and execute a move, however as this is not always possible, most can work with less within stricter timings. When you choose a company to ship your goods, they will ask for a provisional shipping date. They will however understand if this changes.
What type of shipping is required?
If you are taking all your household belongings it is likely you will need the sole use of a sea freight container. If you are shipping less there are various options. Half a load of household goods may be shipped to Florida with other products in the same container. If the goods requiring shipping fit in 1-20 cartons/suitcases/bags you may be offered airfreight or excess baggage shipping.
What documentation is required before shipping goods to Florida?
You will need the following:
US Customs form 3299, a removal inventory, Customs Supplemental Declaration for unaccompanied household effect, a Power of Attorney form, a copy of your passport and visa, valuation for Shipment Protection cover, purchase receipts for newly purchased goods.
Are there any restrictions on what can be exported to the USA?
Restricted Exports to USA where approval maybe required.
Medicines & therapeutic drugs (must have prescription and no more than 3-6 months supply)
Alcohol & wine will require a permit (importation is only allowed to certain states, so check)
Bamboo, wicker or cane items
Fishing knives and martial art weapons
Prohibited Exports to USA
Seeds, plants and dried floral arrangements
Raw untreated wood or bark
Food and meats
Endangered animal fur, skins, tusks or ivory
Firearms (purchased and manufactured outside of the USA will require a firearms permit and CANNOT be shipped with household effects, they must be shipped separately through a firearms dealer
What is the shipping time between the UK and Florida?
The transit time between removal in the UK to the arrival of goods in Florida is 2-4 weeks for a full container and 5-9 weeks for a part load.
How long will it take for goods to pass through customs?
Goods usually pass through customs within 7-14 days, but as this is not always the case, keep an open mind. If you are not in the country when the goods arrive they will not be able to pass customs. Along with the previously mentioned Customs Form 3299 you will be asked to complete a supplemental declaration RC-159. Your goods will be subjected to duty and tax when they arrive in America. However, if they have been owned for 12 months or more or you are a returning US citizen who has lived outside the country for the same time period, they will be granted free entry.
What happens on the day of arrival?
A date for delivery will be arranged and the company will need to know if there are any issues involved with unloading in your area. Many international removal companies will unload your goods and help with the unpacking and remove the packing materials. Check however with your chosen company as to whether this is the case.
This information was provided by PSS International Removals
go to back to living in florida page