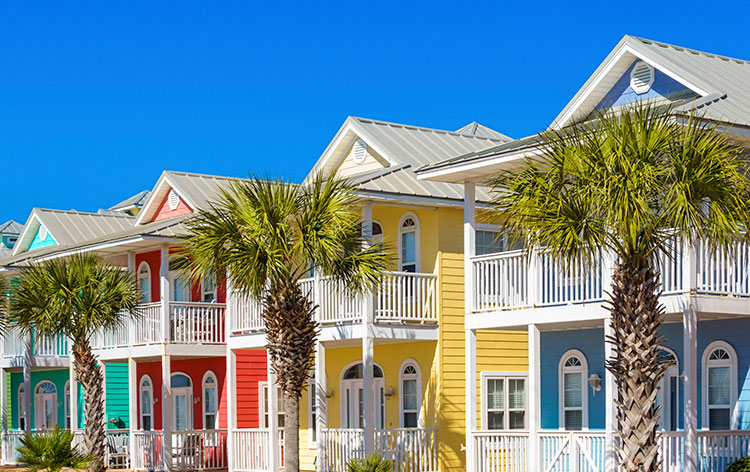 Basic Mortgage Facts
Max 75% loan to value
Max term 30 years
$100,000 minimum loan in Florida and $150,000 in Alabama, California, Colorado, New Mexico, New York and Texas
Rates from 3.5%
The Market
Property sales are expected to total about 5.7 million in 2015, up from 5.4 million in 2014 and 4.6 million in 2011. The recovery is partly thanks to 30-year fixed mortgage rates that remain below 4 per cent for U.S. citizens, down from about 6 per cent in 2008, which is keeping borrowing costs low for buyers.
But today's housing market is also supported by steady job and economic growth, and the country's increasing stability and rise in confidence levels are drawing buyers back to the market.  
In 2022 U.S. home values are expected to increase by double-digit percentage points.
Today's housing market is supported by steady job and economic growth, and the country's increasing stability and rise in confidence about COVID levels. Due to an increase in demand and shortage of properties for sale during the Pandemic, 2021 saw a strong increase in property prices
Is it still possible to obtain finance?
Mortgages are available for purchases up to 75 per cent of the property's value. Most are on a repayment basis, the maximum term is 30 years, and interest rates and loan terms tend to vary depending on the property type and exact location.
Rates currently start from 3.5 per cent for a 5-year fixed deal and 4.75 per cent for a longer term (30 year) fixed deal.
Many of these mortgages have no early redemption penalties so lump sums may be paid off the balance at any time without incurring a penalty.
What is the lending decision based on?
A key calculation used in the application is the debt-to-income ratio, which establishes whether you can afford to maintain the mortgage repayments, so your existing liabilities including loans, credit card payments and maintenance are taken into account, together with the proposed USA mortgage payments.
All of this must not exceed 50 per cent of your gross monthly income. Some lenders will be looking for very detailed information about your financial status, so it's important to have your paperwork in good order. Your chances of being accepted for a mortgage will increase if you can prove that you've got a sound financial profile.
At what stage should I apply for a mortgage - before or after I've found the property I want?
It's sensible to get the mortgage process started as early as possible, even if you've not begun to look at properties. In particular, you need to establish how much you can afford.
An 'Approval in Principle' will tell you exactly how much you can borrow and what price range you can realistically consider when conducting your property search. It will also prove that you're a serious buyer, could make you better placed to negotiate price with the vendor. Even better, it costs nothing.
Should I go directly to a bank to get the mortgage?
You can go directly to lenders in the USA, but each one has different criteria and you may not necessarily be offered the most suitable loan, or the best deal available.
A specialist broker will know the exact mortgage application requirements and can source the best possible deal. They'll also know of any restrictions and administration requirements, which will save you a lot of time, cost and hassle.