Interactive Map of Florida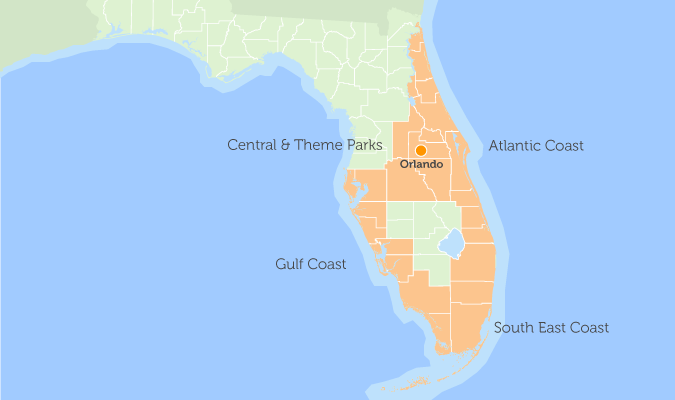 Which part of Florida is right for you?

Use our new interactive map of Florida to find out more about some its most popular locations for property hunters.

Explore the South East, Atlantic and Gulf Coasts as well as all the theme parks in Central Florida.

Just hover over the map above and click on the region of choice to begin your search!

Central Florida (and Theme Parks)

Counties: Lake, Polk, Osceola, Orange

Intro to Central Florida

It's just over 50 years since Walt Disney secretly bought up huge chunks of empty, swampy land in Florida. Today, central Florida is home to 12 major theme parks and offers the most fun of anywhere in the world. But while theme parks might be the magnet that keeps people coming, there's much more to see and do and many more reasons to buy here than Mickey Mouse and friends. There is culture, there are lakes and forests, there's work, there's festivals, there's year-round warmth and there is easy access from the UK.

What's more, you have a choice of towns and communities within a reasonable, child's-length drive of the Disney World resort at Lake Buena Vista.

What makes it different to other parts of Florida?

Orlando

Orlando, in Orange County, is now a major city of 260,000 people and another two million in its metro area. Buying an apartment in the revamped citycentre is a tempting alternative to the gated communities around Disney World, offering easy access to the theme parks but also lively nightlife and trendy restaurants,one of America's biggest universitiesand arts and culture on your doorstep too. Also worth considering in Orange County is Windermere, a leafy and upmarket village on an isthmus between two lakes, less than 10 miles from both Disney and Universal Studios, with prices roughly 30% higher than Orlando.

Property prices:

Two bedroom apartment/townhouse: $115,000

Three-four bedroom house with pool: $200,000

Kissimmee

The city with the lovely name is in Osceola County, a little south of Orlando. It's just ten miles from the gates of Disney World and 17 from Universal Studios. Kissimmee's downtown area has shops and restaurant and a boulevard along the banks of Lake Tohopekaliga. In general it's a sprawling sort of city, however, but a good option for the classic Florida villa with private pool, lake view and plenty of space.

Property prices:

Two bedroom apartment/townhouse: $150,000

Three-four bedroom house with pool: $190,000

Celebration

Celebration was planned to be the perfect American town, on the doorstep of Disney World. It has a population of around 7,500 and is designed to help people make friends with each other, with lakeside walks, parks and an attractive, sociable downtown that is virtually free of traffic. The houses are beautiful and well made but they can be pricey.Another option in the same county is the handsomely designed and realized golf community of Reunion.

Property prices:

Two bedroom apartment/townhouse: $300,000

Three-four bedroom house: $420,000

Davenport

Davenport may be further from theme parks and Orlando's airports, nearly 30 miles from Disney World, but it is more affordable. It's classic American suburbia, with gated communities, golf courses, strip malls and restaurants that make for a relaxed and affordable holiday.

Property prices:

Two bedroom apartment/townhouse: $110,000

Three-four bedroom house with pool: $180,000

Who will love it here?

Families! Central Florida is a dream come true for children, where a two-week holiday can mean a different theme or water park every day. For parents, buying a home in Central Florida means a lot less "are we there yet?" and more quality time around the pool. Everything is handy – the airports, the entertainment and the fast food.The homes are designed for large families too, including the relatively new trend for homes of 10 or 12 bedrooms enabling extended families and groups of friends to vacation together.

For investors, the Florida property market has shot up and down more thrillingly (or sickeningly) than a theme park ride in recent years, but the perennial appeal of Disney World and winter sunshine should keep demand – and prices – high in the long term.

Retirees shouldn't feel left out either;Walt Disney wasn't the only American with a knack for understanding what people really want and providing it at a reasonable price. Central Florida is full of "age restricted communities" that offer an active lifestyle for baby boomers. The Villages is one of America's best, a fast-growing 55+ community that now numbers 157,000 people, about 50 miles west of Orlando.

Getting there

Orlando International Airport has daily direct flights from London Gatwick and Manchester in nine hours. Another option is Orlando Sanford, a few miles closer to the east coast, which specialises in charter flights. Tampa Airport on the west coast is just 70 miles from Davenport.

Gulf Coast

Counties: Pinellas, Sarasota, Charlotte, Lee, Manatee, Collier

Intro to the Gulf Coast

It's Florida's coast with the most; including a good-sized city for jobs and shopping, high-brow culture, theme parks, the best beaches in the world and the wildest wildlife.

Florida's west coast stretches 770 miles along the Gulf of Mexico, along the 'panhandle'towards Louisiana and south to Florida's Keys. Most UK buyers, however, favourthe 200 miles from Tampa down to Marco Island, beyond which the Everglades begin.

What makes it different to other parts of Florida

The Gulf Coast is famous for beaches and culture. A string of lovely towns and resorts dot the coast; Clearwater, Sarasota, Siesta Key, Naples… even the names sound alluring. They offer not only a laid-back beach lifestyle but also links golf courses, friendly yacht clubs, scuba diving, beachcombing and wildlife watching.

To name a few highlights, on a peninsula near Tampais St Petersburg, named best seaside city by Trip Advisor voters, and Clearwater beach which is consistently voted one of the world's best waterfronts. Most of the towns were only settled in the past 150 years and retain a sense of the communities that founded them, from Greek-style Tarpon to tartan-textured Dunedin.

The Gulf Coast is packed with culture too, including the Dalí Museum in St Petersburg, The Village of the Arts in Bradenton, the South Florida Museum and the Ringling Estate, an American-style stately home created by circus impresarios.

For families with young children the 100-plus mile drive to DisneyWorldis doable as an occasional treat along good roads, but there are plenty of theme and water parks closer, including Busch Gardens in Tampa.

Who will love it here?

This is a coast for people of any age. For retirees there's the warm weather and sea, culture that's high-brow but never snooty, all with those American standards of service and healthcare.

Fit retirees and familieshave a choice of energetic, outdoor activities – all easily accessible, English-speaking and well protected by health and safety laws. Younger children will love the theme parks and the warm, safe, white sand beaches.

Typical property prices

Apartments:

$90,000 for one- or two-bedroom golf/lakeside condo in Tampa

$150,000 for lakeside two-bedroom condo in Sarasota

$400,000 for two-bedroom sea-view apartment in Naples

Houses:

$200,000 for two-bedroom townhouse

$300,000 for three/four bedroom villa, Tampa

$500,000 for three/four bedroom villa, Naples

Getting there

The closest major airport for the northern section is Tampa, a 9.5 hour flight from the UK. Another option is Orlando International Airport, 85 miles from Tampa and 130 miles (two hours) from Sarasota. For the more southerly towns, Miami Airport may be closest, 125 miles from Naples. You can also connect at international hubs, into regional airports such as Fort Myers and Sarasota-Bradenton. Consider connecting outside Florida too; Atlanta is a good east-coast hub.

Atlantic Coast

Counties: St Johns, Volusia, Brevard, Indian River, St Lucie

Intro to the Alantic Coast

The 250 miles from Port St Lucie up to Fernandina Beach (where Florida meets Georgia), is a traditional, fun-loving, relatively inexpensive seaside. The resorts buzz in summer but while they may be quieter in winter they are never completely dead – unlike many Mediterranean resorts. The first 80 miles are The Treasure Coast, named after the Spanish galleons once wrecked on its treacherous sandbanks. It continues into Space Coast and finally First Coast at the northern end.

Towns to look out for include Jupiter, Vero Beach, Daytona Beach and St Augustine. There is variety here – Daytona is famous for its beach and car races, St Augustine for its museums and America's oldest houses. Although quieter than the Gulf Coast, towns here are just as handy for DisneyWorld and slightly closer to Orlando's two airports.

What makes it different to other parts of Florida

Once you're beyond the bling of West Palm Beach and the Gold Coast, the towns get smaller and the seaside opens up with lagoons, barrier islands and quiet beaches.

Further north the climate is similar to southern Spain: warm winter days of up to 20ºC but the occasional night-time frosts. That keeps some winter tourists away, making it a more affordable option for those of us looking for escape from proper northern winters.

Although Florida's Atlantic seaboard lacks the culture and panache of the Gulf coast, there are upmarket towns too, such as Vero Beach with 15,000 people or Ormond Beach with 35,000. One larger town is Port St Lucie with a population of 155,000; an attractive seaside and a settled community.

Who will love it here?

If you're choosing Florida for warm winters and a relaxed seaside vibe but don't have a huge budget, then the Atlantic coast is for you. It's full of nature reserves, farming communities and friendly seaside towns. Retirees often like this coast, and there are plenty of age-restricted communities and vacation villages to choose from, with golf courses,beautiful landscaping and friendly club houses.

Young families should consider it too. There's so much to see at Space Coast and the many zoos and exotic wildlife parks, but this is also ideal beachcombing and kayaking country.

There isn't much work around for would-be expats, but like anywhere with natural beauty close to overdeveloped areas, there is investment potential here.

Property prices

Apartments:

$100,000 - $125,000 for average two-bedroom apartments and townhouses. Add at least 50% for sea views.

Houses:

$300,000 - $400,000 for three/four-bedroom houses with pool

Getting there

Miami Airport is closest for the Treasure Coast. Further north, Orlando International Airport is 70 miles from Daytona and Orlando Sanford is even closer, 40 miles from Daytona and 90 from St Augustine.

Southern Florida

Palm Beach (inc Boca Raton), Broward, Miami-Dade

Intro to Southern Florida

Swanky, sizzling, sexy and slick, Miami is one of the most exciting cities on the planet, a cosmopolitan melting pot for the wealthiest folk from South/Central America and the Caribbean to flash the cash and party.

There's more to southern Florida than Miami, however. The Gold Coast covers the first 50 miles heading north, with resorts such as affluent Boca Raton, party-town Fort Lauderdale and fabulously wealthy Palm Beach.

What makes it different to other parts of Florida

It's not cheap due to high demand, but people flock to southern Florida because it feels like Rio but safer, like Cuba but with consumer goods and like the Bahamas but less laid back.When it comes to property, Miami is most famous for its lovely, pastel-pink Art Deco buildings along South Beach (SoBe). One amazing fact about Florida is that although bigger than England and Wales combined its highest hill is just 95 metres. Miami has more than 100 buildings taller than that. It's where the city meets the seaside in spectacular style, the high-rise, high-octane end of the Sunshine State.

The Gold Coast is aptly named – both for its golden sand and the amount of cash you'll need to buy here. Not everyone admires the rows of villas and condominiums along the coast, but they're well built in that solid, American, hurricane-proof style and they'reeasy to reach from the UK.

Although famous for its urban vibe, south Florida has the wilds of the Everglades on one side, teeming with alligators and even the occasional bear and panther, and the Straits of Florida on the other with whales and manatees.

Who will love it here?

South Florida is an exciting prospect for anyone, but if you're young, beautiful and rich, it's heaven.David Beckham bought Miami's football club (sorry, "soccer" club) and Andy Murray bought a penthouse as a handy base for globetrotting.

Nearly a million Brits travel via Miami airport each year and the city and surrounding coast makes a safe and accessible base if you're working in the Caribbean or Latin-America. Indeed with a local population of 5.5 million, metro Miami has plenty of work and business opportunities for would be emigrants.

With Miami closer to Havana than it is to DisneyWorld, investors may be tempted by abright future as Cuba opens up.

Property prices

Apartments:

$290,000 for two-bedroom apartment in Fort Lauderdale

$350,000 for two-bedroom condo in Palm Beach

$600,000 minimum for two-bedrooms in Miami Beach

Houses:

$400,000 for three/four bedroom home, Jupiter

$500,000 for three/four bedroom villa with pool, Fort Lauderdale

Getting here:

Miami Airport has daily direct flights all year from London Heathrow, Gatwick and Manchester Airports, and with such a busy and prestigious route for the airlines, competition keeps the price down.