Interactive Map of Spanish Regions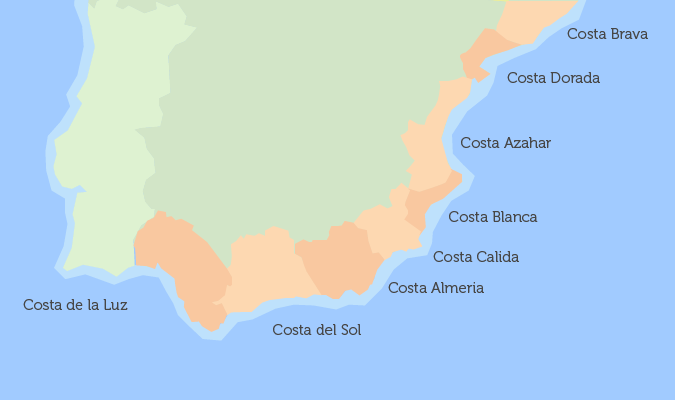 Where to buy in Spain?

When you've made the decision to buy a property in Spain, there's suddenly a lot of places to choose from - particularly when you consider the ever popular Spanish Costas.

Each stretch of Spanish coast – costa – has its own personality, characteristics, and price. To help you make the right decision we have created this easy guide.

Simply click on the Costa of your choice on the map above to begin, and click on the tabs on the right-hand side to search for properties and download our free Spanish guide.

Costa de la Luz – the Wild and Windy one

What makes it different to other Costas?

You could see the lynx, Europe's only large wild feline in Doñana, the huge national park that divides the region, but they're not the only wild things about the Costa de la Luz.

This is deepest Andalusia, where fierce passions are expressed in flamenco, bull-fighting and… sherry. Property is less expensive than in its neighbours the Costa del Sol and Portuguese Algarve, and development has been limited. Although the coasts are quiet off-season, the large city of Seville is a southern delight.

The coast divides into the eastern section known for its windsurfing and alternative, cheap-and-cheerful resort lifestyle, and the western side, "Spain's Algarve", easy to reach all year and with purpose-built resorts such as Isla Cristina.

Behind the protected coastline, many house hunters look inland to the "sherry triangle", ancient towns like Medina Sidonia which still have a Moorish feel, orproperties in the countryside to rival the more easterly Alpujarras.

Who will love the Costa de la Luz

If you have a taste for the exotic, look no further. The art, culture, food and wine is a rich combination of North Africa and Spain. If you're sporty, the unspoilt beaches will be tempting. It's all just a shortish hop from the UK with good transport links if you fancy "euro-commuting" or prefer your Sunday sherry where it came from. Some like it hot, but if you don't the fierce summer temperatures are kept in check by the south-westerly breezes while the winters are warm.

How do you get there?

Air: Four airports serve the region – Gibraltar, Seville, Jerez and Faro. Of these, Faro has the largest range of year-round options from the UK.

Train: Travel to Lille or Paris via Eurostar, then TGV to Barcelona. From there, high-speed AVE trains reach Seville and Cadiz in around seven hours.

Car: It's 2,150km from the Channel ports, but less than 1,000km if you first get your car by ferry to Bilbao or Santander.

Costa del Sol – The Glitzy One

Puerto Banús, Marbella, the Golden Mile…, the Costa del Sol is 160 kilometres of seaside fun for Europe's super rich. If you want a home with bling you'll find it here, with properties designed to appeal to millionaire buyers from Russia, the Middle East and China.

No need to feel embarrassed if you don't learn Spanish here – no-one does, in "Marbs" (Marbella) the language of money will do nicely.

Hold on a minute though. That cliché may hold true, but it's not all expensive and it's not all trashy. Resorts like Torremolinos and Fuengirola still attract "normal" families for bucket-and-spade fun in summer and who then make way for northern European "snowbirds" looking for warm weather in winter. Just inland are the "white villages", the traditional Moorish settlements that climb the green hills like spilt sugar cubes.

What makes it different to other Costas?

The Costa del Sol is designed for fun. The golf courses are the best in Europe, the marinas are packed with gorgeous yachts, and the beaches are golden and pristine. You won't lack for authentic Spanish/Andalusian culture either, with the stunning and sensual city of Granada a short drive inland and Malaga's museum dedicated to Picasso.

Who will love the Costa del Sol?

The cheeky answer is, anyone rich enough to want Essex moved a couple of thousand miles south. The truth is though, that with so many international and well-heeled residents, the Costa del Sol is also your best chance of finding a job. There is a strong community of British expats working as everything from doctors to builders.

Transport links

Air: There are flights from virtually every UK airport to the Costa del Sol through Malaga airport, all year.

Car: The furthest of our five costas from the UK, a 2,000km drive from Calais. Another alternative is the Santander and driving 1,000km due south.

Train: London to Barcelona and stay overnight, followed by high speed service to Malaga in around six hours.

Costa Almeria – The Cheaper and Cheerful One

The Costa Almeria is where we reach Andalusia, with all the spirit and passion that that implies, but Almeria at the cheaper, more Bohemian end of the region. You can still buy a holiday villa with sea view, walking distance from the beach, for less than €150,000.

What makes it different to other Costas?

The Costa Almeria is like a cheaper, hotter version of the Costa Brava, in that it has a similar arty and alternative feel to it.

Until relatively recently Almeria was one of Spain's poorest provinces, with too little rain for crops and too little investment for industry. But like many inexpensive places on the edge, it developed a frontier-town cool.

Mojácar became a centre for Bohemian types from all countries, Vera developed as a niche for naturism, and the cave homes around Almanzora developed as an inexpensive alternative when the Alpujarras in the next province along, Granada, became more expensive.

Even Almeria's greatest fans might admit that it lacks the looks of some costas, with agriculture in polytunnels and large stretches of sand and rocks. But when that desert blooms, as it does in many areas and in both spring and late autumn, the desert is breathtakingly beautiful. It is also relatively empty and unspoilt, though there are some good developments too, such as the Desert Springs golf resort.

Who will love the Costa Almeria?

Do you see yourself as a little bit different, more adventurous, slightly "out there"? Then this could be the coast for you. Your money will go further than on other coasts too, and you'll have a better chance of getting into the Spanish language and culture.

Transport links

Air: Flights from most UK airports to Almeria Airport with EasyJet, Ryanair and Monarch. For eastern Almeria, Región de Murcia International Airport
is also a possibility being 148km from Mojacar. For western Almeria, Granada's airport is a similar distance.

Train: This is the hardest of our costas to reach by train, change at Barcelona then Linares-Baeza, with the journey from London taking two days.

Costa Cálida / Murcia – The Healthy One

Wonderful weather and a relaxed holiday vibe makes the Costa Cálida (the warm coast) a family favourite. The World Health Organisation says it has the healthiest climate in the world, with 320 days of sunshine and a sea temperature of 17ºC.

That's not the only reason it's healthy. Its superb sporting facilities and natural features are ideal for active outdoor pursuits. The Mar Menor is a shallow, warm lagoon that's perfect for sailing. The mega-resort of La Manga has been attracting both professional and amateur sportsmen and women for 30 years.

What makes it different to other Costas?

The Costa Cálida is one of the 'newer' coasts that has carved out a niche for itself. It's cheaper than the Costa del Sol and more cosmopolitan than the British-dominated Costa Blanca. Plenty of Spanish folk have second homes here and local mayors are making real efforts to help nationalities mix in a way they tend not to in some areas.

Who will love the Costa Cálida?

Retirees will love the climate, lifestyle and inexpensive property. It suits families who want a bolthole in the sun that they can easily reach every half-term. We've also had A Place in the Sun house-hunters who have gone there as single women and found it to be a safe and friendly place to start a new life.

Transport links

Air: The main airport is Región de Murcia International Airport, with Ryanair flights from eight UK destinations. EasyJet flies from Bristol and Gatwick.

Train: London, Paris, Barcelona, then take a direct train to Murcia (around 7 hours).

Costa Blanca – The Expats' Favourite

At the Costa Blanca the pines and bays of the northern Mediterranean give way to the heat and palm trees of the south. It starts near Denia where, now south of Valencia, the winters are warmer but the summers cooled by sea breezes.

The Costa Blanca has a bit of everything. The holiday nightlife and waterparks of Benidorm rub along close to pretty seaside towns like Denia, Calpe and Altea which retain a flavour of their fishing village origins. In the centre is the city of Alicante, with its attractive seafront and an international airport with year-round flights to every corner of Britain.

South of Alicante, resorts like Torrevieja and Orihuela have a more modern and purpose-built feel to them, their golf courses and marinas designed for the permanent expat.

How is it different to other Costas?

Over 60-plus years the Costa Blancahas learned to please both long-term expats looking for quiet leisure and its summertime hordes wanting noisy fun. The two markets tend to separate themselves off from each other.

Who will love the Costa Blanca?

It's the expat and retiree's favourite; easy to reach, not too expensive, warm and lively all year. It has just the right balance of authentic Spanish culture but with a solid network of British expats with their clubs and societies and golf clubs and newspapers.

Transport links

Air: Main airport is Alicante with year-round EasyJet flights from Gatwick, Southend, Bristol, Luton, Manchester, Liverpool, Newcastle, Edinburgh, Glasgow and Belfast.

Ryanair also offers Birmingham, Bournemouth, Derry, East Midlands, Leeds-Bradford, Stansted and Newquay.

Train: London, Paris, Barcelona, then the EuroMed service takes four hours from Barcelona to Alicante.

Costa del Azahar – the one the Spanish kept for themselves!

What makes it different to other Costas?

The mystery of why British house-hunters ignore the Orange Blossom Coast can only be explained by the lack of flights from regional Britain. It equals the Costa Blanca in beauty and beaches, yet has a fraction of the visitors.

It gets chilly in winter, but no more than Mallorca. You can't say we haven't been told; Amanda Lamb has been banging on about Teruel, the country area 100km inland, for a decade, while the authorities in Valencia have brought to their city the America's Cup, astounding new architecture and a huge cultural programme.

The Costa Azahar stretches from Sant Carles de la Ràpita in the north, 250 kilometres to Oliva, where the Costa Blanca starts. Along the way it takes in Spain's third largest city, Valencia and coastal towns such as, Alcossebre, Benicassim and Gandia. It also has the "City in the Sea", Peñiscola, a beautiful medieval city built onto a headland. As the name suggests, inland is fertile, agricultural, green in summer and orange in winter.

Who will love the Costa del Azahar?

If you love Spain, summer beaches and a cool Mediterranean vibe, but you hate bumping into other Brits and don't want to read an English-language newspaper, this is the coast for you.

Culture vultures will love the famous Benicassim music festival every summer, and no end of cultural events in Valencia. It's also relatively affordable for houses.

How do you get there?

Air: Ryanair is one of the few airlines that flies into Castéllon Airport serving the northern section. Further south, several airlines fly into Valencia Airport (VLC) including BA and EasyJet from Gatwick, Ryanair from Stansted, but only from London, options from elsewhere are distinctly limited.

Train: Travel to Barcelona, then it takes just under four hours to reach Valencia.

Car: It's 1,500km from France's Channel ports to the north of the Costa del Azahar.

Costa Dorada – the Secret One

What makes it different to other Costas?

Although not the most famous, the Golden Coast includes two of Spain's major cities and some world-famous resorts along its 300 kilometres of sandy beaches – nearly 100 of which boast Blue Flags. The cities are Tarragona and Barcelona (often associated with the Costa Brava but actually within the Costa Dorada) and its resorts include Salou, Sitgesand Roc de SantGaietà.

It stretches from the River Tordera in the north, below Blanes, to the delta of the River Ebro in the south.

Away from the beaches this area is popular for outdoor adventure activity and for history. The Roman city of Tarragon was one of the most important in the empire and many ruins remain. The gently rolling hinterland includes wine-growing areas that are wonderful for cycling, then further inland the mountains. The Ebro delta is one of Spain's richest areas for biodiversity.

Who will love the Costa Dorada?

Families will appreciate Port Aventura, the huge waterpark near Tarragona with Europe's highest freefall waterslide. Sitges is a popular resort famous for its gay carnival.

Property is cheaper than in most costas, but off-season the coast is very quiet and it's colder than the more southern stretches.

How do you get there?

Air:The Costa Dorada is well served by both Barcelona Airport and Reus. Among many airlines, EasyJet flies to Barcelona from many UK airports and Ryanair to Reus.

Car: Driving from France's Channel ports is 1,300 kilometres.

Train: Barcelona is easy to reach via Eurostar to Paris, then the TGV through France. The journey can be completed in one day and costs from £150 return.

Costa Brava – The Cool Costa

Where the Pyrenees meets the Mediterranean you find Spain's most beautiful coastline. Pine-clad cliffs lead down to pretty bays and sandy beaches. Around each headland is another gorgeous view.

It's hard to believe that this was once seen as Spain's tackiest coast. When authorities pushed the el-cheapo package tours out, in came big money from Barcelona's elite, more up-market tourists and the world's pink pounds – LGBT homebuyers are more than welcomed here.

Marinas, upmarket shopping and sensational restaurants have arrived on the quaysides and culture is everywhere – this being the land of Dalí, Miró and Gaudi.

What makes it different to other Costas?

The Costa Brava feels more authentically Spanish than the other coasts, or at least, less affected by tourists and expats. What you're actually seeing, however, is Catalonian culture. It's a mix of French and north-eastern Spanish, with a work-hard-play-hard ethic and a strong sense of style. It looks different too, with red earth and pine trees, like Tuscany-on-Sea.

The weather is perfect for summers but chillier than the more southerly costas in winter. But hey, that's a good excuse to buy more clothes in Barcelona's swanky boutiques!

Who will love the Costa Brava?

There's a cool, urban vibe to the Costa Brava these days and alternative lifestyles are celebrated in resorts like Sitges. With just a two flight from Barcelona to London or Manchester and advance fares as low as £20 each way, 'euro-commuting' is a real possibility.

How do you get there?

Air: Fly to Girona-Barcelona, Barcelona El Prat or Reus Barcelona, all year, with Ryanair and EasyJet as well as the more upmarket operators. Also French airports such as Perpignan.

Car:Drive from the channel ports it's 1,200kilometres.

Train: London to Paris then the double-decker TGV to Figueres, Girona and Barcelona. Only takes one day, and costs from £150 return.