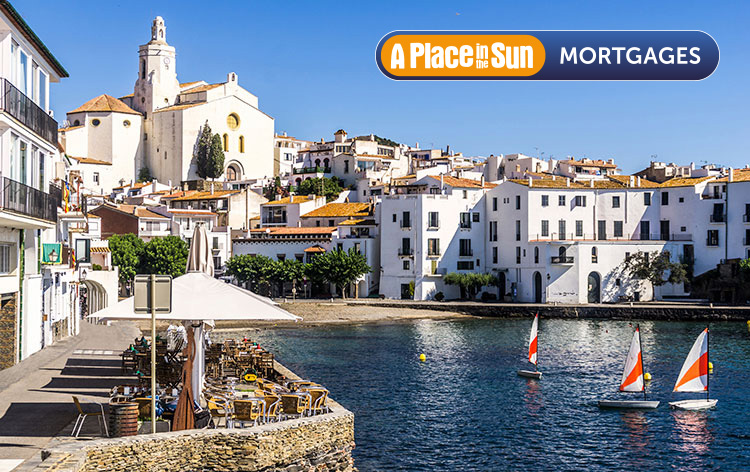 How to get a mortgage in Spain
Arranging any mortgage abroad can be a daunting prospect, that's where A Place in the Sun Mortgages comes in. We offer expert advice on Spanish mortgages, and can negotiate preferential terms and bespoke mortgage solutions from a variety of lenders.
If you're looking for a mortgage in Spain, the type of mortgage you apply for will depend on your particular circumstances. Mortgages are available for residents and non-residents (depending on whether you will be buying a home to live in permanently, or a holiday home). And there are a variety of interest rates available for buying in Spain too.
A Place in the Sun Mortgages can tell you all about the options available to you and find the mortgage that will suit your needs best. Get in touch now to get started!
Types of mortgages available in Spain
Non-resident mortgages (60-70% Loan-to-value)
For non-residents who pay their taxes outside Spain, the maximum mortgage amount is 70% of the purchase price (or valuation if lower), but some banks have a maximum amount of 60%. For fiscal residents who pay Spanish taxes, the maximum mortgage is 80%.
As a general rule, most banks will lend on the following criteria:
Over €100,000 loan maximum LTV 70%
Under €100,000 loan maximum LTV 60%, minimum loan €35,000*
*For very small loans, the maximum LTV may be 50%
Mortgages for retirees
If you are over age 60 and in receipt of a pension, you can still have the mortgage in your own name. It is also possible to appoint a guarantor such as a family member to secure the borrowing, which can have potential inheritance tax benefits if they are also a part-owner in the property.
Construction mortgages
For those wishing to build their own homes, banks offer construction mortgages. These are complicated to explain and you should definitely speak to a broker, but broadly-speaking you can potentially borrow 60-70% of the land and construction costs combined.
Commercial
If you are buying a property for commercial use, such as a restaurant or a shop, for example, the maximum mortgage is 50% of the price (or valuation if lower). If you intend to run a business the lenders will ask for business plans and, where applicable, accounts for any previous business operating at the premises, as well as what previous experience you have had running a similar business.
Mortgage Conditions in Spain
Interest rates
Most lenders use the annual Euribor (Euro Interbank Offered Rate) as the base rate and then add their own margin to this, for example, "Euribor plus 2%". Some require that you contract different products with them and they give discounts to the rate for taking each product. Compulsory products are usually a bank account with the bank offering the mortgage and home insurance with that bank's chosen insurer. In many cases, life insurance with the bank's chosen insurer is also compulsory although not always.
By using one of our recommended brokers they can secure a much lower rate than if you go direct to a bank. Where a bank may offer rates as high as Euribor + 2.5% if you go direct,  A Place in the Sun Mortgages can achieve Euribor +2% for example.
Although the vast majority of mortgages are variable rate in Spain, fixed rates are becoming more popular, especially now that the Euribor is at its lowest ever level. A typical fixed rate for a 20-year term could be 2.99%, depending on the bank.
Interest-only 
This is only offered for construction mortgages in Spain and, where offered, it is only for one or two years at the start of the term.
Term of mortgage
Most mortgages can be arranged with terms of 25 years (for non-residents) and 30 years (for residents), usually up to a maximum age of 75. For non-residents, some banks have a maximum 20-year term.
Qualifying Criteria for mortgages in Spain
Lenders in Spain all use what is known as a debt-to-income calculation as the basis for deciding whether applicants will qualify for a mortgage. In basic terms, this means that your monthly debt commitments, including the new mortgage, must not exceed a given percentage of your net monthly income.
The typical percentage is between 30-35%, so here is a very basic example of how the calculation works for an employed applicant whose only debt is the repayment mortgage on their main residence:
Applicant earns £3,000 after tax per month. 30% of £3,000 = £900, less UK mortgage of £500 = £400.
So, they have the equivalent of £400 per month they can "afford" for the new mortgage in Spain.
There are many other variables to take into account, but this gives a very basic idea of how the banks assess the applicants for the mortgage. Again, we strongly advise working with us at A Place in the Sun Mortgages, as we an in-depth understanding how each bank works.
Application Process
Initial, no obligation, assessment - speak to A Place in the Sun Mortgages or complete the online form on this page and we will advise you on whether a mortgage approval is likely and what conditions could be possible.
Mortgage quote – following the initial assessment, A Place in the Sun Mortgages will aim to send a full mortgage quote within 24-48 hours.
Sign up - if you wish to proceed, A Place in the Sun Mortgages will ask you to sign the terms and conditions and arrange payment of a fee of €695, which comes with a money back guarantee, so if the mortgage is declined the fee if refunded (subject to the terms and conditions). For very small loans, it is possible for you to bypass the broker fees and be introduced to a bank directly. Please note, no official advice will be given although after knowing your profile, the most appropriate bank will be recommended. 
Submit application form – A Place in the Sun Mortgages will assist you with completing the relevant application form and they will submit this on your behalf with the appropriate supporting documents, which they will request once you have agreed to proceed with the application.
Decision from lender – if the mortgage is approved, A Place in the Sun Mortgages will confirm the conditions and ask if you wish to proceed. This fee is payable on initial approval of the mortgage, prior to valuation. The standard amount is 0.6% of the mortgage amount (minimum €1,000). For larger mortgage amounts this fee may be negotiable. The fees are for standard mortgage/loan transactions except in very specific cases, or for 'specialist' lending. We will always advise you in writing of the fee scale to be applied before proceeding with an application.
Set up bank account and instruct valuation – a bank account will be set up and you will be asked to deposit enough funds to cover the valuation fee.
Valuation report – if the valuation is no lower than the agreed purchase price and the property has no legal issues, the completion arrangements can be made.
Completion arrangements – A Place in the Sun Mortgages will work with the bank and your lawyer and they will confirm the funds necessary for completion, which must be transferred as soon as possible to your account with the lender. Once the funds are in the account, the lender will prepare everything and you can decide on a completion date at the notary.
Completion day – the lender will draw up all the necessary cheques and arrange payment of the property and mortgage taxes from these funds. Once the property and mortgage deeds are signed, you become the owner of the property.
Timescales
The process from start to finish usually takes 8 -10 weeks. We now have to allow for the 10 day cooling off period and sometimes there may be delays that are outside of the control of the broker or the lender. Your broker can advise on sensible timescales for payment of deposits and timing of completion, as well as deal with any delays if they arise.
A Place in the Sun Mortgages is a partnership between A Place in the Sun and Mortgage Direct, a leading provider of mortgages in Spain with the brokerage service provided by Mortgage Direct on behalf of A Place in the Sun.