May 2012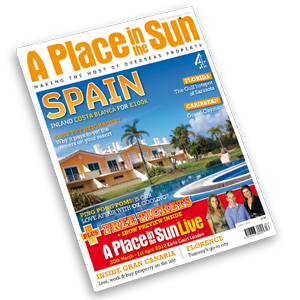 In this issue...
Apart from the small matter of climate, the reason most people tell us they are moving abroad is the cheaper cost of living.
But what exactly does "affordable cost of living" mean? Exactly how much does it cost a retired couple or family to exist abroad? With currencies yo-yoing all over the place, austerity measures pushing up tax and hikes in utility costs making the picture even more complex, we've taken a closer look at the price of living in Turkey.
Elsewhere we investigate Thailand, central Italy away from the high-profile regions of Tuscany and Umbria, and the hidden gems of the Caribbean, and give our advice on how to tackle the daunting task of investing in the mountain of distressed property in Spain.
Plus, we catch up with our intrepid presenters, hearing from Jonnie and Jasmine on their highlights from the most recent series of A Place in the Sun: Winter Sun, and checking in with new presenter Laura Hamilton who files her report on location in Lanzarote.
And of course you can expect our usual advice and inspiration, plus hundreds of properties from across the world to tempt you, including a new section of properties for sale by private owner, many of which are not being sold through agents.
Enjoy this month's issue.