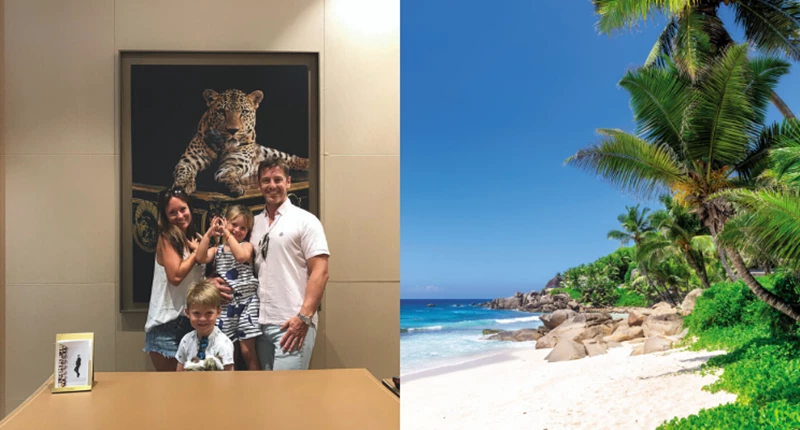 Liz Rowlinson meets a couple who think they have found the ideal way to 'own' a Caribbean bolthole
The Caribbean island of Barbados is associated with a laid-back type of glamour, the go-to place for many TV stars and sports personalities to escape to every winter.
Located in the southern part of the West Indies, the climate rarely dips below 29 degrees.
It was the place where the busy GP Lister Metcalfe and his actress wife, Lauren (who has appeared in Downton Abbey), were instantly able to switch down a gear from their busy lives.
The couple from Bath had first visited seven years ago, when Lauren was expecting their first child. "We fell in love with the place," says Lister, 39, who has not visited any other Caribbean islands.
"The beaches are fantastic and the way of life suits us: it offers a bit of stuff to do, but not that much that you feel you have a list of things you have to do, like waterparks or theme parks. You can just sit by the pool and unwind."
PROPERTIES FOR SALE IN BARBADOS
Life over the next few years didn't quite allow for that, after the birth of Marley, seven, and then Sirena, four, but the couple kept thinking about Barbados and the possibility of owning a home there.
"We had a little bit of spare money and we decided to go out and have a look at some properties," says Lister, who now works in Bristol doing medical camera tests.
"We met an agent on our fact-finding mission on the west coast and we talked about the possibility of owning a villa and renting it out to cover the running costs. But when we talked to people doing this, it became clear that they weren't making that much money when all the management and ownership costs are deducted."
On Mullins Beach they bumped into Joe Lomas, the sales manager at Royal Westmoreland, the nearby golf resort that has been running for 25 years. The 750-acre gated resort is home to 250 properties, with new villas priced up to £4m, plus a par-72 golf course, fitness centre, tennis courts, spa and clubhouse.
Lomas suggested they consider fractional ownership at the resort – the concept of buying a share of the freehold in a property and getting two weeks usage per year, in perpetuity. Not to be confused with timeshare, where you are buying "time" every year, fractional ownership is, in the old marketing speak, the ideal way to "enjoy a champagne lifestyle on a lemonade budget".
The lemonade budget is relative: shares at Royal Westmoreland start from £28,000 for two weeks per year at a golf cottage, while for a four-bedroom villa the starting price is £81,000. Lister and Lauren paid £91,000.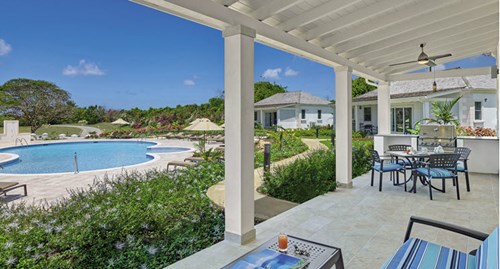 "It just ticks all the boxes for us," says Lister, when asked why they didn't simply book a two-week holiday every summer at the resort. "They make you feel like an owner here, whether you have paid £28k or £10m. You are not in the 'cheap seats' and you are not just someone turning up who has booked a holiday villa.
"Even if the initial outlay wasn't huge and you have no upkeep or management issues to contend with, I didn't feel brave enough to spend £750,000 on a villa, but I felt comfortable with £91,000."
What if they love it so much that they want to go for more than their two weeks every July? "We can buy a bit more, or buy more time in a smaller property – four weeks in a two-bedroom property – or miss one year and hold over the fortnight," he suggests.
"You can also upgrade and buy two shares or, of course, buy a whole property outright. This is a great way to test the water. If you do end up doing this [buying the property] the resort will buy the share from you at market value."
Market value of properties has been a movable feast in Barbados of late. After a decade of government corruption which derailed the economy, the International Monetary Fund is now helping the island to get back on its feet. Property prices have fallen by about 30 per cent since 2008 so one can argue it is a buyer's market.
It has the worst performing economy of 19 Caribbean nations surveyed by the Caribbean Development Bank in its annual report; but Mia Mottley, the prime minister since last year, seems to be putting its house in order and has been encouraging new private investment into bars and restaurants.
Whether or not Lister gains capital appreciation is not his main concern. "It's a lifestyle purchase, a way to ensure great holidays for the next few years and if we profit that is a bonus. Royal Westmoreland promotes the fact it is 'proven not promised', although it has a good track record and its facilities are improving," says Lister.
He likes it because it is not a "lot of rich people on a golf course", although the resort is known for attracting professional sportsmen past and present as villa owners, including the cricketers Mike Gatting and Michael Vaughan and the footballers Gary Lineker and Wayne Rooney.
PROPERTIES FOR SALE IN THE CARIBBEAN
"They have a good mix of restaurants, a good modern-thinking ethos and it's a great place for the children. There's a new beach club at Mullins Beach – the fact Royal Westmoreland didn't have a beach was always seen as a disadvantage – but as owners we can use that and get free sun loungers as well as golf club membership."
Fractional ownership has not always been a success across the world. Costly to run with its multiple owners, its success is highly dependent on the quality of the management team. It is also sometimes a last-resort measure to monetise properties that are not selling.
But the Metcalfes went in with their eyes open and did their research. "It's been the best thing we ever did," Lister says. "The children no longer tell us they love us to the moon and back – it's to Barbados and back."