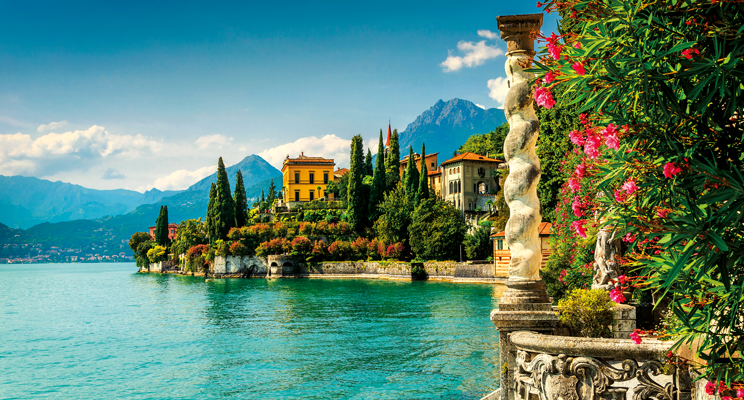 Italy's most famous lake has appealed to second-home owners for hundreds of years, reports Liz Rowlinson. But where can you bag a bargain?
Its deep, mirror-like waters beneath dramatic mountains, the tropical gardens flourishing in the balmy microclimate, have beguiled artists, writers and royals for centuries and, in recent years, Arab princes, wealthy footballers, Hollywood stars and entrepreneurs.
"Lake Como is full of character and history, easily reached from Milan and a very safe and secure environment as well as naturally beautiful," says Sara Zanotta of the local agency Lakeside Real Estate. "It is a well-established market and properties priced correctly in good locations will generally sell quite quickly now.
Como has become a brand in its own right to a certain level of property hunter, yet it offers something to suit all budgets, even a modest sum such as €50,000. 
So where do you look? 
The most expensive stretch is the so-called Gold Coast, or desirable western leg of the inverted Y-shaped lake. Why? It includes the lakeside towns of Cernobbio, Moltrasio, Carate Urio and Laglio – the summer home of George Clooney, which is also a big draw to buyers, especially American ones.
With or without George – who is rumoured to be considering selling up – this part is popular because it's close to the highway to Milan (45 minutes away), it offers the choice of two roads along the lake – the narrow Via Regina and the upper faster one – and it is closer to the main city on the lake, Como.
Footballers from the two great teams of Milan have traditionally liked it, as the training grounds are midway between Milan and Lake Como. The Portuguese-born manager Jose Mourinho rented a home a 15-minute walk from Como city and maybe he would come back if he returned to manage Inter Milan.
Go east for sunsets and capital growth?
Logistics aside, it is also sought-after because the properties on this stretch get daytime sun, unlike those on the eastern side, which generally receive sun late in the day, including great sunsets. These towns include Nesso, Torno, Blevio and the village of Faggeto Lario.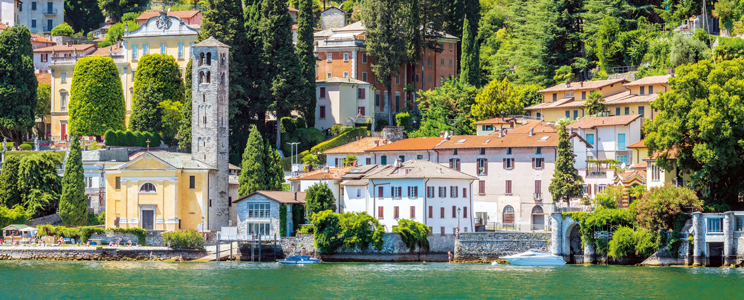 So does this mean that the eastern side of the left-hand leg is more affordable? And also the right-hand leg, farther from the highway to Milan, too?
"The eastern side – around Torno and Faggeto Lario – will have its moment," predicts Roberto Bordo, of La Reale Domus, Knight Frank's associate agent. "There are signs that it is increasing in popularity, with the appearance of some top-end hotels [the new Mandarin Oriental and the uber-modern Il Sereno] and I would probably buy there if I was seeking greater capital growth," he says. 
City living on the up
He also tips the city of Como, a location popular with those living and working around the lake for practical reasons but also with buyers seeking investment properties in the form of apartments attracting Airbnb rentals (there are no restrictions in Italy).
The ancient narrow streets and squares of Como city's centro histórico are as attractive as many other Italian towns and small cities, full of boutiques, restaurants and cafés. There's an impressive statue of Alessandro Volta, the 18th-century Como-born inventor of the electric battery.
But there are signs of changes afoot too. One of the old silk-making factories (the city's wealth was founded on the silk industry) near the new Hilton hotel is being transformed by a Turkish developer into an industrial chic-style restaurant with a rooftop pool and bar. Apartments are being smartened up and prices have been moving slowly upwards.
Charming properties command about €7,000 per m2 (about €300,000 for a one-bedder), while ones outside the historical heart are cheaper: from around €4,000 per m2.
Bordo predicts that you might receive 70-80 per cent-of-the-year occupancy, with the lake appealing to visitors during most seasons. "Foreigners tend to buy these apartments to use themselves; Italians for buy-to-lets," he says.
Foreign buyers can generally borrow 50 per cent loan-to-value and pay about 10 per cent of purchase costs on a resale property that is a second, not first (primo) home.
Sara Zanotta, of the local agency Lakeside Real Estate, says that 80 per cent of their buyers on Lake Como are buying for investment and let out properties during the summer months to pay for their usage during the rest of the year. "A two-bedroom apartment might rent out for around €1,200 per week," she says.
Download our free guide to buying a property in Italy below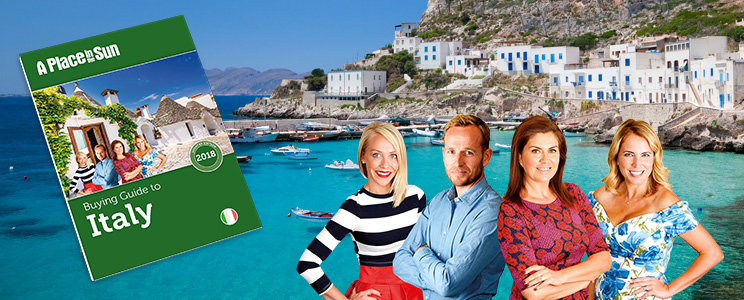 download our Italian property guide here
Cosmo Como
That said, her typical clients spend €500,000 to €1.5 million on a home around Moltrasio or Menaggio (on the western bank) with Americans the biggest buyers (40-45 per cent), making the most of the strong US dollar against the euro. UK buyers make up 30 per cent, followed by Scandinavians, Indians, Israelis, Australians and a few French. Germans tend to gravitate to Lake Garda due to geographic and historic ties. 
"Americans are relocating because they don't like [President] Trump, Britons because of Brexit uncertainty," she adds. It is a pretty cosmopolitan market by Italian standards, helped by the easy access from the three airports of Milan.
Location vs price
There are waterfront villas costing several millions, with the most expensive sale in 2018 being €22 million for a property that is large enough to be turned into a hotel – but what can you buy for under €500,000?
If you are thinking of modernising an older property, the good news is that there are plenty of affordable homes around the lake, with prices from as little as €20,000, according to Zanotta. For that price tag, you might expect an old stone fixer-upper of 30 to 100m2. "It will have four walls but will need a complete renovation, including a new roof," she says.
You don't have to go to the northern extremes of the lake, either – an area that is more popular with campers and which is quite different in feel. "At that end, it's more commercial, although you will find some very practical stuff like supermarkets and builders' merchants," Zanotta says. But the scenery is certainly flatter and not as beautiful or dramatic as the southern half of the lake. "Above San Siro, it's a different market," she says.
Some other articles you might like:
Menaggio or modern?
So, sticking around the popular tourist spot of Menaggio and north of the town, you can get a rustico (stone house) with lake views for €80,000. Something ready to move into, with two/three bedrooms, might cost €120,000 to €150,000. 
In the pretty hamlet of San Siro, there's a one-bedroom loft apartment for sale within a small palazzo for €85,000 (through Casa Travella); or a rustic two-bedroom semi-detached house of 80m2 for €80,000.
At Tremezzina (near Tremezzo, opposite Bellagio but slightly farther south than Menaggio) there's a 35m2 renovated studio apartment 100 metres from the lakeside for €59,000.
"Tremezzina is especially popular for investment purchases because it gets more sun than most [it sticks out into the lake] and enjoys the best panoramic views of Bellagio," says Zanotta. 
For sale, there is a lovely renovated three-bedroom townhouse with a balcony and gorgeous lake views, for €270,000.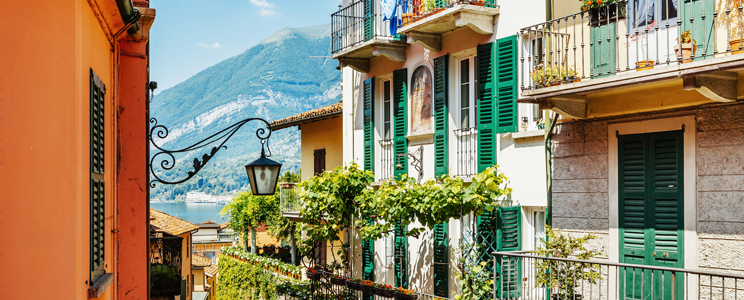 Menaggio and its environs is popular because it has a promenade, views of Bellagio in the central crux of the Y, is 1hr 20 minutes driving time from Milan, 50 minutes from ski resorts and about 25 minutes from Lugano, on the Swiss border. 
A lake view is key if you want to rent out your apartment and providing access to a swimming pool is even better, but it is really only new-build apartment schemes or a handful of renovation projects that offer this, aside from private villas. "A lot of English, French and  Swiss buyers like these as pied-à-terres,"  Zanotta adds. 
With modern developments, a lift, pool and a garage are all "musts" for buyers at a certain level, but you might struggle to find any new-build apartments for much less than €500,000.
At a modern complex near San Siro, you can get a new 75m2 apartment for about €600,000.
At Menaggio, there's a large two-bedroom apartment in a contemporary complex with the use of a pool priced at €995,000 from the agent Savills.
Around €600,000 is generally the level of the smallest apartments of high-spec new schemes, but the popularity of such new-build developments means that only the large units remain in a couple of examples. 
At the Bellagio Lake Resort,  a lakefront development with a beach and jetty in Bellagio, there's one fully furnished four-bedroom townhouse left at €1.7 million. There's also a three-bedroom penthouse for sale for €2.2 million at Residenza Concord, a building of five properties completed last year with a stunning infinity pool, at Carate Urio (through Knight Frank).
The agent is seeing a trend towards this sort of design to meet modern buyers' needs. "Developers are building new contemporary-style apartments and villas to cater for today's buyers who want hassle-free and serviced properties with floor-to-ceiling glass," says Amy Redfern-Woods of Knight Frank's Italian desk.
"Owners just want to turn up at their second [or third] home and find everything ready for use, with concierge services on tap and good amenities such as a pool, gym and spa, parking and maybe a boat dock." But such convenience comes at a cost.