Diane Rafter and her husband Michael recently bought and renovated their dream home in Pisa, Tuscany after following A Place in the Sun for many years. Below they give us their personal account into the buying process, and what to expect when moving to Italy.
"My husband and I fell in love with Italy on our first visit there in 1998. Over the 19 years since then, we have been fortunate to visit many places across the country and have a natural passion for the lifestyle, cuisine and culture.
We developed friendships with some Italian families when a dear friend of ours went to work in Rome for a few years and we visited with our (at the time) young family.  Although we loved visiting the popular tourist areas, our happiest times were those spent in the little villages that our friends introduced us to. This is when the idea was planted that 'one day' we would own our own holiday home in an Italian village. 
We became avid fans of A Place in the Sun TV show and always hoped that each show would feature someone buying in Italy so that we could get an idea of the buying process or best place to buy. We also subscribed to receive weekly property listings and thoroughly enjoyed browsing through those that ticked our boxes, hoping that one day it would become a reality.
This actually happened quite unexpectedly as it goes in April 2017, after seeing a property we loved on an A Place in the Sun weekly email. It's a two bedroom, two bathroom apartment in the little village of Chianni, in the province of Pisa. It was within our budget of £135,000, has a lovely outside area, a couple of bars and restaurants and a little old church where the bell chimes throughout the day! Furthermore, the village was described as being "unspoiled" by tourism and having "echoes of the past" but still less than an hour from Pisa airport.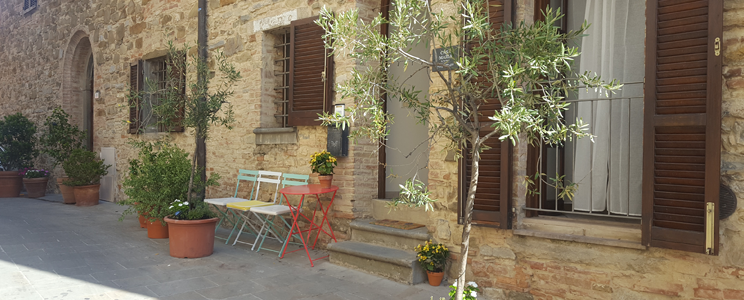 We contacted Immobiliaree L'Architrave and our wonderful agent, Louisa, picked us up from Pisa Centrale Station. We enjoyed two days of house viewings, over two distinctly different districts in Tuscany; something Louisa considered very important for making the decision on where to buy.  We were looked after incredibly well.  Louisa was very informative, interested in what we had to say and could speak perfect English!
Right from the start, we knew we had found the perfect agent for us to work with. Altogether we viewed eight properties chosen to match our criteria. Casa Roberta was the fourth property we viewed and we both loved it from the minute we stepped in the door.  Despite viewing further properties which were quite spectacular, we kept coming back to this modest apartment that simply felt like home.  We completed the necessary registration paperwork with our agent and submitted our offer to the seller. 
download our free guide to buying a property in Italy
Once home we learned within a few days that the purchase price had been accepted. We didn't make any offers and instead paid the full asking price as we didn't want to risk losing the sale to another buyer.  Eight weeks later we flew over to sign the final papers and receive our keys.  The next three days were spent frantically buying everything necessary to set up and decorate our new holiday home.
The property was in good condition but very much a blank canvas - another plus in my books! I love interior design but, as a teacher, I had to return to Scotland until the end of the school year. Thankfully Michael has his own financial service business and can work from anywhere with the Internet and is also a great handyman, so he stayed working on the renamed "Casa Maria" with a list of detailed instructions!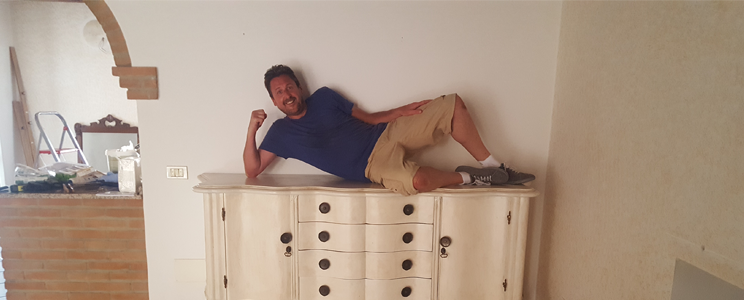 Looking good Michael!
eBay and Amazon were invaluable as I was able to shop from home and have some particular items delivered to Chianni.  We bought much of our furniture from a local antique shop and have become friends with Luciano who works there. Michael can take credit for "up cycling" bedroom furniture, mirrors and ornaments.  I love that our furniture has an Italian history - even if we don't!
We are so happy with the end result. We don't intend to let-out our Italian home but instead, hope that family and friends will share the joy of our little Tuscan gem. We're currently trying to build up our very limited Italian vocabulary, and the residents of Chianni have been incredibly welcoming and happily indulge us with our pidgin Italian! Some have even used us as a way to practise their own knowledge of the English language.
Every day we seem to discover something else we love about this little village.  It has a great sense of community and a local described it as "a family" which we are now a part of.  Just today we discovered the outdoor community pool, with a breathtaking view of Tuscany from your lounger!  Bellissimo!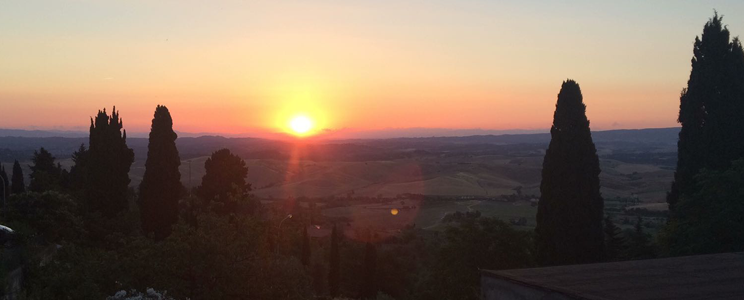 The Italian house buying process is quite different from what we were used to in Scotland. We were completely in the dark about the administration involved but our fantastic agent kept us right and well informed along the way.  A significant difference is that money is transferred directly to the seller in instalments and not held by a third party lawyer, as in the UK.
Fees are expensive, with 5% of the selling price being paid to the agent from both the seller and the buyer. Although we both felt the service we received merited the fee.  One final tip for those looking to buy property in Tuscany is that sellers are permitted to remove everything from the property in Italy - including fitted kitchens, bathrooms and even electric lights. Also, there is no requirement for central heating systems to be in working order, again unlike the UK where fixtures and fittings must be in place and operational.
We'd certainly recommend Tuscany to anyone looking to buy an overseas property!"
Want to follow in Diane and Michael's footsteps? Click below to search for your dream property in Italy.