Whether it is a village house in rural Tuscany, an apartment in a Sardinian beach town or a pied a terre in Florence or Rome, people rarely purchase a home in Italy without some kind of emotional involvement.
It's about seeking an easier way of life, security, the art, architecture, landscapes and all those wonderful regional dishes and wines. Or maybe about the romance of doing up a 400-year-old house with original features, becoming part of village life with its ancient and seasonal rhythms.
Italy never falls out of fashion yet is never going to be the big crowd-pleaser for Britons seeking an affordable place in the sun that Spain or Portugal continue to be. Yet there's such diversity in this easy-to-navigate country with so many locations with access to both beach, ski resorts and historic towns, and you are rarely more than 90 minutes or two hours from an international airport or two.
Political and economic instability might worry some investors, but you probably wouldn't buy a home in Italy if all you were interested in was a quick return. That's not to say your Italian home won't generate an income – especially if it's in one of the myriad areas popular with tourists, say the lakes of Lombardy or Piedmont, the world-famous cities, or the dream idyl romanticised in several bestselling books and films – the Tuscan farmhouse.
But after a decade of falling house prices in Italy - when values fell by 30-40 per cent in many areas – values have stabilised in the big cities such as Milan, Rome, Florence and Venice, and the flat-rate tax incentive (of €100,000) introduced in 2017 for wealthy individuals taking Italian residency is finally beginning to have an effect.
So, where are the best places to buy property in Italy this year?
The lakes of northern Italy
The Italian lakes – Como, Maggiore, Garda - continue to be in demand, and lesser well-known lakes are beginning to be discovered by international buyers – Lake Iseo and Trasimeno showed increases in enquiries, according to local agents. 
Prices are moving up in the hotspot stretches but are more static in the less popular parts of these locales. In northern Italy's Lake Como, for example, prices are higher on the sunnier (western/left-hand) leg of the lake – home to the actor George Clooney, amongst others – and at the southern end where there are more attractions, due to the better access to Milan. Waterfront – or pied d'leau properties – with a private mooring cost from around €4.5 million.
The 'golden triangle' area between the tourist magnet Belle Epoque towns of Bellagio, Varenna and Menaggio is quintessential Como, but the wilder northern end is often preferred by those who want to avoid the tourist buses or use the lake for water sports. House prices are also cheaper in the north: you might get a one-bedroom apartment in a former palazzo, with water view, with change from €100,000.
The green heart of Italy: Tuscany and Umbria
Tuscany, Umbria, Le Marche and Abruzzo – it is these regions in the centre of Italy that for many people offer the dream prospect of a village house or honey-coloured farmhouse set amongst green hills, olive groves and vineyards. Unlike Marche or Abruzzo, it hardly needs an introduction – it's been immortalised in classic novels and Hollywood films.
The areas around Siena, San Gimignano, Lucca and elegant Arezzo, where Sting owns a wine estate, are especially popular. Many of the finest estates and renovated farmhouses will be in the central "Chiantishire" area between Florence, Siena and Arezzo. It is this area that really started becoming popular in the 1950s with British buyers and has steadily been gaining an increasing number of international homeowners, including a number of Americans.
There's also the Lucca area – including Bagni di Luca, a popular small spa town where you can get a renovated three-bed village house for around €150,000.  Just north of it is the Garfagnana valley that also includes the popular hilltop town of Barga, where many Scots have historically settled.
Part of the appeal of Tuscany is also that it is positioned well for access to the north of the country, whether Liguria or the lakes, but also Rome and the islands – whether Corsica, Sardinia, or closer to home Elba and Giglio. It is also well-served by airports.
However Tuscany is a large and diverse region, and the northern section – around Lucca and above, especially Lunigiana that is more like Abruzzo in its rugged landscapes - is accessible from Pisa, Florence but also Bologna and Genoa airports. 
With dramatic Apennine scenery and pretty fishing villages where the coast meets Liguria's Cinque Terre, the Lunigiana is worth a visit. "Up in the hills you can get a three-bed converted farmhouse for around €200,000 – prices are around  50 per cent less than the Chianti area," says Lois Allan of agent L'Architrave.
Le Marche makes its mark with buyers
Does Tuscany/Umbria sound a little bit too Hollywood for you? Maybe look to the small, rural region of Le Marche that has got used to being overshadowed by Tuscany and Umbria. It's got rolling hills of wheat fields and vineyards, medieval towns like Urbino and Ascoli Piceno and 17 Blue Flag beaches. What's more, it offers truffles, great seafood and fine wines.
How to get there? Easyjet and Ryanair flights go into Ancona, or Ryanair flies to Pescara from the UK, and the region is strategically located for access from Venice (4 hours), or Rome (2 hours).
An advantage of being off the radar of international buyers is that the property prices are lower too. You can get plenty of properties inland with a budget of €200,000, although you will pay more by the coast, or in the 'golden triangle' (yes, Marche has one too) of San Ginesio, Gualdo and Sarnano that is popular with British buyers. You can get a 250 m2 old farmhouse for €350,000 to €400,000 with beautiful views towards the [Sibillini] mountains on one side and the Adriatic coast on the other.
Download our free Italy property guide below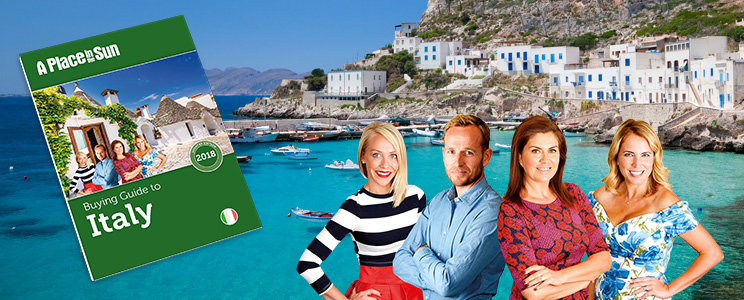 Abruzzo - small-scale tourism, small prices?
The Abruzzo is also another one to try. Bordering Lazio to the west, Le Marche to the North and Molise to the south, Abruzzo offers fantastic transport links to explore other parts of Italy – and is served by Pescara airport, although Rome is only one hour by car from the border.
The Abruzzo, like tiny next-door Molise, is one of Italy's most unspoilt regions, two-thirds mountainous a third of its designated national park. So it's very naturally beautiful too, and the term "undiscovered" is used accurately for many parts of it, although less so as the years go by. The lack of tourists in this region has helped preserve its historic towns that still uphold ancient traditions.
The British love the Abruzzo because prices can be up to 70 per cent cheaper than Tuscany and it is real Italy, says Dave Benton of agent Vignaverde. "It has not been ruined by tourists, and you can eat very very well from €10 per head and vineyards are mostly open to the public for free," he says. Legions of vineyards produce world-famous wines such as Montepulciano d'Abruzzo. 
It's a region characterised by wild national parks that include gorges, lakes (with water sports), mountains and ski resorts, and the Adriatic coastline – Abruzzo has 13 Blue Flag beaches, nine of which in the Chieti region – a rugged coastline with beautiful modern sandy bays, private coves for snorkelling and beautiful hilltop towns.
The property prices are often surprisingly affordable. You might be able to get a two-bed townhouse to do up for as low as €20,000, but even a renovated one will be less than €100,000. A four-bed detached house five minutes outside a town might be €80,000 if you want space and privacy.
Island life, Italian style
With elegant Baroque cities, Greek temples, amphitheatres and a hinterland scattered with opulent and often decaying villas, Sicily does fade grandeur better than most. But it's a fashionable holiday destination for its wonderful climate, food and beaches, as well as its abundance of cultural and historical cities. It's a variety that you won't find in Sardinia or even the Amalfi Coast.
Farmhouses in the countryside or apartments within popular towns such as Taormina, Catania have historically been of interest to buyers, although don't expect prices in coastal hot spots to be affordable. In recent years, there have been a couple of interesting trends. One is buying a winery on the slopes of Mount Etna, a lush green valley dense with olive and citrus groves. Foreigners spend €300,000 to €400,000 on a country house – the village of Milo is a bit of a hot spot with musicians and artists – and close to popular wineries with destination restaurants such as Barone di Villagrande. Simply Red singer Mick Hucknall is one of these that have bought a winery. 
More recently, the Sicilian government has been attempting to regenerate towns that are losing their populations by offering buyers properties for €1 – but they are obliged to renovate within three years so must have funds to do this. This includes Sambuca, in western Sicily. The scheme has attracted thousands of applicants, including the former Sopranos actress Lorraine Bracco.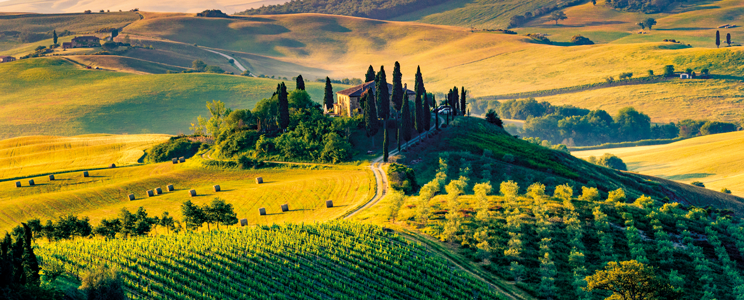 The sun-drenched south
Adored by foodies and TV chefs alike, the sun-drenched heel of Italy has been fashionable for a decade now and remains refreshingly unspoilt and a little rough around the edges. From the hive-shaped stone trulli houses and the rugged landscape of olive groves to the Greek-like coves of Salento and the historic towns, there's much to be discovered.
However, access remains a deterrent for some buyers: it's trickier to get to from the UK than Tuscany or Milan with for many a choice between Ryanair flights from Stansted to Brindisi or Bari (or British Airways flights to Bari). 
Not put off? You can find a one-bedroom apartment with vaulted ceilings and travertine stone floors in the centro historico of one of the towns for around €70,000, or less if you fancy a bit of light renovation. Or you can buy a fixer-upper farmhouse (masseria) from around €250,000, or €400,000 for something that is more habitable, but beware, whether you are buying a tumble-down trullo for €40,000, or a larger property, the renovation budgets for artisan stonemasons can be hefty – maybe even double the cost of the original property.