Last month we brought you stories from three property hunters who have recently appeared on A Place in the Sun.
Following on from that article we can now bring you another three property hunters who tell us what happened once the cameras left. We discover if they are happy with their place in the sun and get tips on the overseas buying process!
Mar Menor, Spain | Janice Gibson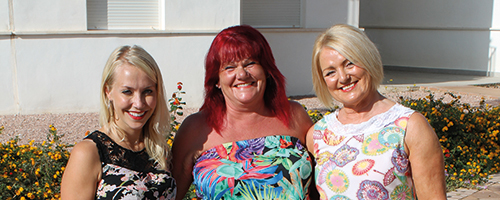 Janice Gibson says she cries at the drop of a hat. So her trip to the Mar Menor in Spain was an emotional roller-coaster from her first sight of the Mediterranean to when her offer was accepted while being filmed.
"I cannot believe what I got for the money. A three-bedroom, two-bathroom villa within a quad, much bigger than I expected, for €76,000 (£55k). That's fully-furnished. And it has a lovely garden with automatic irrigation, and a terrace. It is within the village of Sucina on the Mar Menor.
Notice I say the village, not an urbanisation, because the mayor there insists that everyone, Spanish and English, is living together. I didn't want to be in a holiday resort.
As a single lady, moving to Spain, I have done a lot of research, as did Laura Hamilton and the people on the show, including introducing me to another single lady who has been here for 11 years, with no problems. I have been to a ladies' social evening and everybody has been so friendly. It's been a real mix of emotions but after 20 years of dreaming of living in Spain I cannot wait!"
Browse other properties in Mar Menor, Spain here >>
Tavira, Portugal | Peter and Karen Williams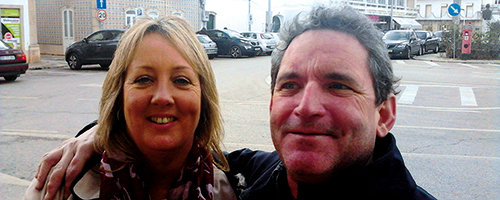 Peter and Karen Williams are preparing for a life as euro-commuters. Karen will work in the UK and weekend in the Algarve, while Peter is an import specialist in Portugal. During the filming of A Place in the Winter Sun they found a quirky house in Tavira - now the race is on to sell their UK home before someone else nabs it!
"I was sitting here in Shropshire one afternoon, watching the show while it was chucking it down outside, and I just thought, 'Why not give it a go?' And before I knew it... Our expectations were exceeded.
Everyone, Jasmine and the whole team, was magnificent from start to finish: the commitment, their work rate, but most of all the fantastic properties they found for our quite tight budget, for the Algarve, of £150,000.
We have rented in Tavira for a few years, and love the place: cultured, clean and tidy, it's cosmopolitan but still Portuguese. Renting first helps you get to know a place, which is great for people who are not 100 per cent sure, but then again you have to be fully committed to start a new life abroad.
When we move, I will focus on my businesses, including a brew-in-the-bag kit for expats who can't get a decent beer."
Browse other properties in Tavira, Portugal here >>
Coimbra, Portugal | Felicity and Richard Arcelli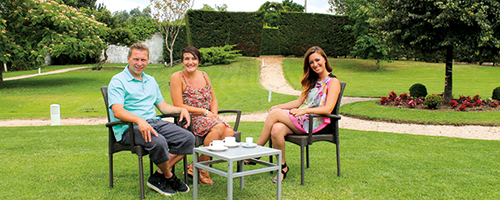 Since buying their renovation project in Coimbra, Portugal within their £40,000 budget, Felicity and Richard Arcelli have completely gutted it. It's an exciting project, on an acre of flat land with a river at the bottom which their neighbour still uses to wash clothes in. Felicity has been bowled over by the kindness of the local community.
"Since September we - along with local builders - have completely gutted the building, ripped out the woodwormy wood and internal walls, replaced the lintels and roof and put in a patio. Now we have a blank canvas and when it is finished, will be able to retire here and not do a thing!
The man we bought the house from has been really helpful and we have let him continue to farm the land. He has left us potatoes, olive oil from our own olives, and five litres of red wine. We are both going to learn Portuguese, but in the meantime my rusty French has been a great help.
We are so excited when we imagine sharing our retirement here with our family and friends, hopefully in the next few years. Now they have seen this area of Portugal, through the programme, they can appreciate how beautiful, friendly and unspoilt it is. We cannot wait for them to experience it for themselves."
Browse other properties in Coimbra, Portugal here >>

Find out more about appearing on an episode of A Place in the Sun here >>
(Originally published in the A Place in the Sun magazine - Issue 122)