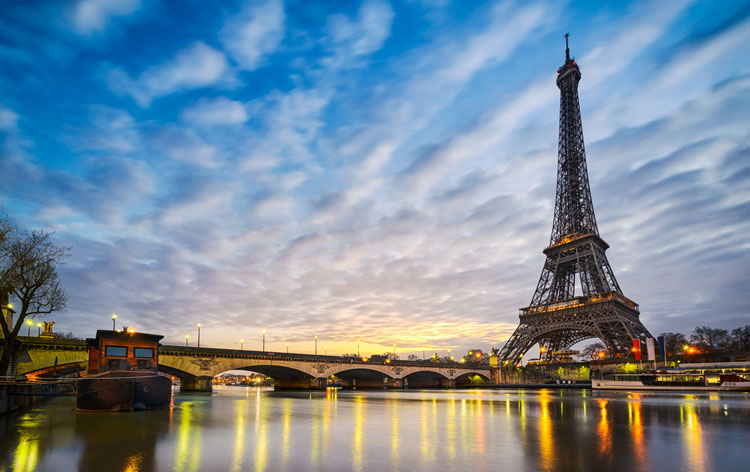 Updated in February 2016
It's safe, secure and easy to get to – French property is still a top choice for many British second-home buyers.
Our closest neighbour and the most visited country in the world, France remains our second-favourite place to buy a home abroad. 
It's not hard to see why. As much as we like to ridicule certain aspects of French culture, there's also much we adore – from the stunningly diverse scenery to the laid-back Gallic lifestyle, the chic towns and charming villages.  It's also the easiest place for us Brits to get to, by car, plane, train or boat and French is the one language of which some of us have a rudimentary grasp. 
Then we come to the property. Property prices are still very affordable indeed in many parts, with vast swathes of the rural interior still way below their peak values. Coupled with that are currently some of the best borrowing rates for generations, along with the strong sterling to euro rate. 
What's more, France is arguably the safest place to buy property on continental Europe. When did you last hear of someone buying an illegal property in the Dordogne or Brittany? The buyer is so well protected in the purchase process, there's even a seven-day cooling off period to change their mind.
France is definitely a "safe haven" and a much more affordable one than super-safe Switzerland! Yet it is still a buyers' market. The property market in most areas is still quiet – with the notable exception of highly performing Paris– and motivated sellers are accepting reasonable offers meaning a French home isn't out of reach. The political and economic indicators coming out of France suggest this trend might continue. 
As a long-term investment, it also offers great returns, with the world's highest number of tourists keeping up occupancy levels in guaranteed rental schemes such as the government-backed leaseback programme. 
The much-publicised "wealth tax" of Francois Hollande's regime has deterred some people but not everyone realizes that it only kicks in if you buy a property above €1.3 million. A sum that goes an awfully long way outside Paris, top-tier Alpine resorts and prime Cote d'Azur.
Where to Buy Property in France
The south-west of France tends to be one of the most popular areas, for its climate, cuisine and beautiful countryside peppered with charming bastide towns or villages.
The Dordogne, in the Aquitaine region, is always a favourite with UK buyers and prices have fallen by as much as 50 per cent. Bijou village houses go from under €100,000 and three-bedroom family houses with good-sized gardens for €200,000.
Don't be shy about haggling as many homes have been languishing on the market for a good couple of years. The Lot-et--Garonne is a similar scenario.
The market in Gascony is a little bit more lively, and there's been a growing demand for Poitou-Charentes in the past couple of years, where you can get a three-bed home for €150,000 or a charming renovated watermill for less than €250,000. 
Another area growing in popularity is the Pyrenees-Orientales region for its combination of mountains, chic coastal towns and its proximity to Spain. The lovely village of Ceret, the vibrant city of Perpignan or the chic town of Collioure are all worth a look.
Or the Languedoc-Roussillon area offers a cheaper option to über-pricey Provence or the Cote d'Azur, with cities such as Montpellier, a dynamic, high-tech industrial city with an arty, bohemian culture.
The countryside has vineyards and lavender fields like Provence, the Mediterranean is on the doorstep, but for €150,000 you can get a flat in Montpellier, or a country cottage or village property without much land but in good repair.

There's no doubt that the Cote'Azur remains THE place to own a holiday home on the Med for many wealthy buyers from around the world but prices haven't nose-dived and the hotspots around Nice, St Tropez, Cannes, Antibes and Mougins are all still much in demand. Look for nearby villages to these hotspots for greater affordability. 
Up in the north, Brittany and Normandy are great options for people who like their places in the sun not too hot, but still averaging 5ºC higher than in southern England.
The fishing villages are a great attraction, with restaurants on the harbourside, but inland you have the weekly markets, chateaux, green countryside and a wonderful infrastructure, all just a hop over the Channel. That convenience pushes seaside prices up, but go a few miles inland and sizeable farmhouses go from €250,000, cottages from €85,000.
Go into the less populated interior of France - the Auvergne and the>Limousin, for example - and prices drop even more, so it's well worth investigating these beautiful and dramatic regions of France a little further. 
Paris, like London, has bucked the national trend, and prices are still rising, while the French Alps remain our most popular ski-property location, with the Three Valleys as popular as ever. For investors, the dual-season returns of the prime Alpine resorts are hard to beat for returns. 
If you love classic French red wines then a fantastic area is that of the Entre deux Mers around the elegant city of Bordeaux, where many homes come with a small vineyard. 
How to Buy Property in France
When an offer is accepted on a property in France, the estate agent or notary (notaire) draws up the initial sales contract (compromis de vente, or sous seing privé). It is a binding contract after the ten-day cooling-off period, so any queries must be subject to conditional clauses (clauses suspensives).
Once the compromis is signed, the agent and the notaire check the documentation regarding the property and land, and on the completion date both parties attend the notaire's office to sign the acte authentique.
The rest of the price, including legal and agency fees, must be in the notaire's account by the signing date, so that after signing the house becomes yours.
More advice about buying in france
French Property Buying Costs 
When buying your property in France, there are various buying costs you need to take into consideration.  Stamp duty on older properties is just under 5 per cent, notaire's fees of 2-3 per cent – making a total of 7 to 8 per cent of the sales price of the property.
Note that in France the notaire's fees are paid by the buyer, and when quoted will usually include stamp duty, land registry costs and everything apart from the agent fees and the costs below. 
If you take a mortgage, there will be a fee of around 1 per cent. If you use your own solicitor, add on fees of 1-2 per cent – or a one-off fee of €2,500 for example.
You'll also need to find the most cost-effective, safe and easy way to move your money to France to complete your purchase. Bank charges and fluctuating exchange rates can both have an impact on your overall cost - but you can save up to 4% of the cost by working with a specialist currency firm. They can help you achieve currency exchange rates better than the banks, and reduce the risk of your international payments increasing.
On a £100,000 exchange, a currency specialist can save you up to £4,000 by providing better rates compared to your high street bank.  
Buyers Need to Know
The French government are apt to change tack on property and wealth taxes, especially Capital Gains Tax (CGT) so if you are looking to buy or relocate make sure you seek expert information, don't rely on out of date information on the internet!
Whilst property purchase costs are not excessively high, occupation taxes (the annual taxes levied on a property payable by owners) are relatively high in France so make sure you budget for this.
 
Rentals: Check on rental regulations (especially Paris) and requirements for landlords if you are planning on letting out your property.  
Leaseback ownership properties: A scheme is only as good as its management company so make sure you go with a well-established operator with a proven track record, such as one of the main market leaders.