"It's been amazing. We wouldn't have done it without going on the show"
Vicky and Lee Reszeter from Northampton love the white villages and mountains of inland Andalusia and were seeking a two-bedroom house with a pool for holidays with and without their three children. The couple, who met at work, dream of growing 'better onions and tomatoes' in the Spanish sun and love the concept of a beach and mountains home. The programme, filmed in July 2021 with Danni, ended with the couple having an offer of £131k accepted on a rural villa with stunning views…
Although the purchase took until Christmas 2021 to complete, the couple then wasted no time in getting it ready for a number of trips they've made since. "We had a few issues with the bank transfer but otherwise it went very smoothly, and we viewed it as an extra Christmas present," says Vicky, 50, a counsellor.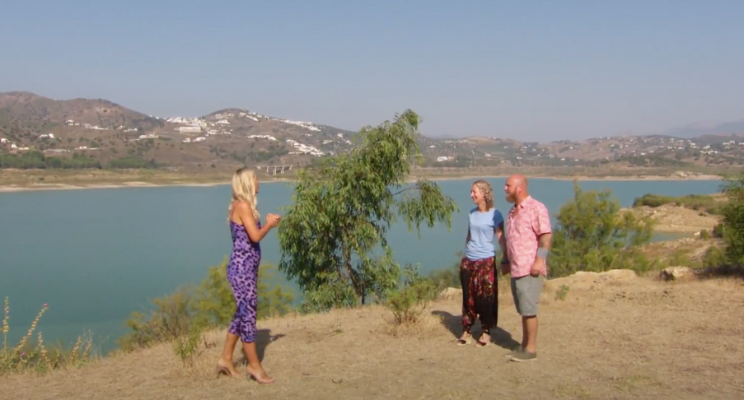 Find out more about the episode 
Between then and February the couple bought new furniture in Ikea – the property came part furnished – and they've had the bathroom refitted to make a wet room, as well as installing an outdoor shower.
"We've got limited holiday but we've tried to spend as much time out there as possible,' says Lee, 46, the head of IT at a college of further education. "We've been out February, April, May, July and August. Our two older children [aged 24 and 25] have also been out to use it with friends and had a great time."
Read more
The property is southwest of Lake Vinuela in the Axarquia region, near Comares, and the couple are delighted to have discovered many friendly neighbours. "There are quite a lot of British expats in the area, some living there full time, and a Dutch couple. One couple, Sheree and Graham, who live up the road in Los Romanes, have been especially helpful in advising us on things and also introducing us to people." They also love the local markets which have been useful for buying bits for the house.
A popular meeting point, especially for the locals, is known as 'the goat bar', a shack on the hill close to the Comares road run by a Spanish owner. The views of the campo are stunning, says Vicky. "The locals come on their horses, or the shepherds with their goats, to have a drink. They serve simple but delicious food like dorada and a beer costs around €1. I love the local rocket fuel, dulce vino, a rough but delicious drink made from the local almonds."
They've discovered that running the two-bedroom property is inexpensive, with council tax 'very low' and electricity cheaper than the UK. The only worry is the water supply – sometimes the supply runs out in summer. "We've got a 10,000-litre water deposit tank installed to stop us running short," says Lee, suggesting that the water supply is something that buyers might check when buying in the area.
Otherwise it's been fantastic and they've also been to the beach at Caleta – it's around 15km-25km to the coast, depending on the route you take, and the resort.  The road distance to Malaga airport is around 50km.
The couple will consider moving out there full time when they retire. For the record there's been no tomato or onion growing yet, but Lee's been busy harvesting olives from their garden. "It was great fun going on the show," says Vicky, whose decision it was to apply. "We wouldn't have gone and done it if we hadn't have gone out with the team. Thanks for finding us it!"