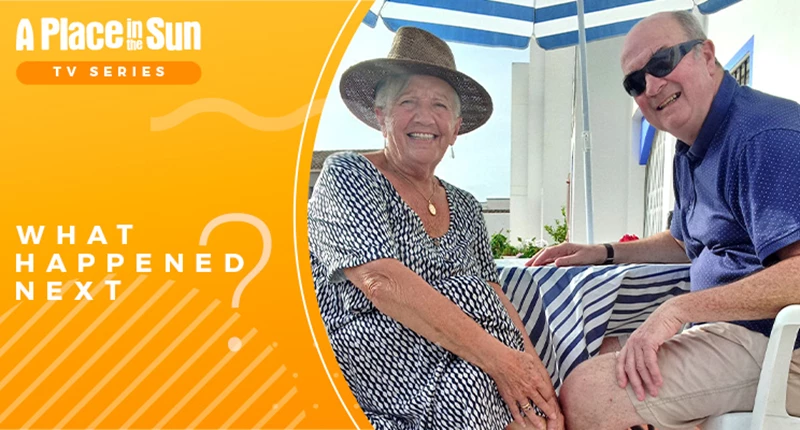 "Finding our new home has been the best thing that's ever happened'"
Howard and Christine from East Yorkshire had long dreamt of having a home in Spain, and in bittersweet circumstances, an inheritance provided the means. The couple, both retired, went out filming with Lee Juggurnauth in the week before Christmas in 2021. Viewers of the TV show will have seen the emotional moment when they accepted a counteroffer of £47k on property three in Los Gallardos, which began an exciting year…
Find out more about the episode
The Yorkshire couple have just spent a month in their new home, after a 'very smooth' purchase process and a trip out to get the keys in April. "We went out for a week on completion and found the furnished flat in pristine condition," says Christine, 72, who used to work with in social services with dementia patients. "The English couple who we bought it from – also from Yorkshire! - had left everything for us, from a brand-new microwave to all the cutlery. We've added a couple of pieces that were Howard's mother's but otherwise we've had to do very little to the interior."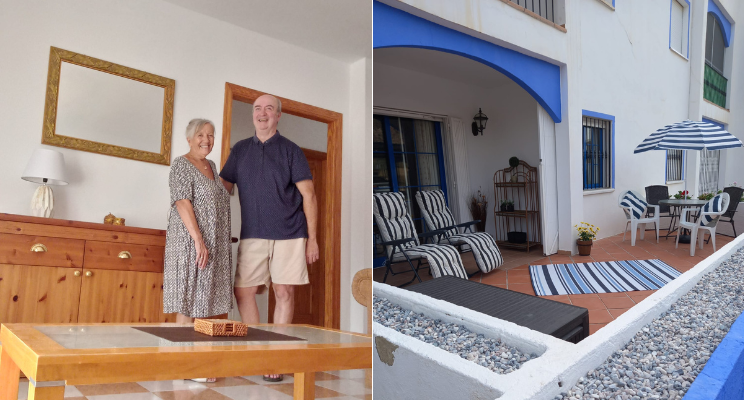 She reveals that although they didn't go into detail on the TV show, it was the tragic death of Howard's mother in a car crash that bequeathed them the money to buy a home in Spain.  "We had two or three years of agony dealing with the legal aftermath. But she'd always urged us to buy abroad if we could afford it."
The couple received a warm welcome from the owners of the other 13 apartments in their small development with a barbecue by the pool area when they were out there. "It's mostly British owners, with a Dane and a Spaniard, and we love it," she says.
Read more
The couple have spent their time exploring.  Los Gallardos, a small, traditional working town, has everything they need but it's just off the A-7 motorway which allows them to whizz north to Murcia – Corvera airport is 90 minutes away by car – or south to Almeria airport 40 minutes away. The coastal town of Mojacar is. A 10-minute bus ride east, whilst they've also liked Bedar village inland, and Albox yet further.  They are going to avoid going in peak summer to avoid the 40-degree days but intend to spend as much of the winters out there, within their 90-day per 180 allowance.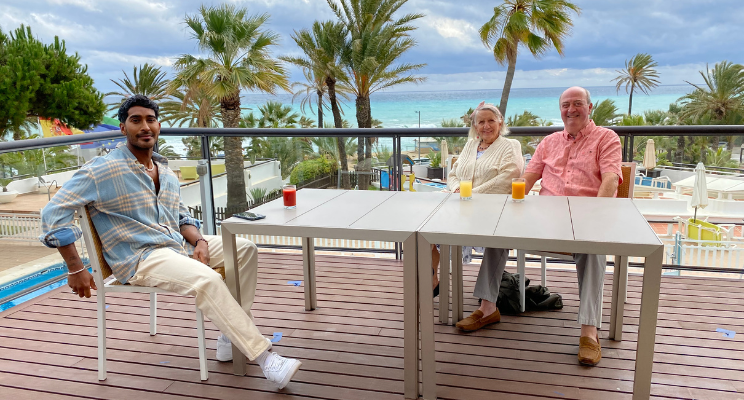 They've discovered that running the two-bedroom property is not too costly. The monthly community fees are €41 (£35), rubbish collection €20 and water €16. "It's great that we have people onsite to keep an eye on the property too when we are not there," says Howard, 62, who used to be in the Army, and then a driver for the Ministry of Defence.
"We were shown some great properties on the TV show and we were definitely going to buy one of them," he adds. "We wouldn't have been able to do it without their help."
Christine is relishing such an exciting new stage of their lives. "I just think, if you can do it at 72, why not? It's the best thing that has ever happened. Whether you are spending £500k or £50k the dream is just as big, and I think people might be surprised – like we were – at what we could get for our budget."