Fed up with the hassle of chasing her tenants for rent all the time, Jenny Barling from Caddington in Bedfordshire decided to sell up and buy a holiday rental property in Spain.
Her priority was making a small income, and so with running costs to cover too, she needed to buy a home without a mortgage. "I couldn't afford to do that in the UK with the budget I had in mind so I looked at Spain," says Jenny who runs a permanent make-up company and lives with her partner Simon, three daughters and two stepchildren.
After selling her four-bedroom house 'surprisingly quickly' on Facebook she started property hunting. "I downloaded A Place in the Sun's buying guide to Spain last summer and started talking to A Place in the Sun Currency. I wanted a place for the family to enjoy some holidays but it was mostly about earning an income."
 Family illness and the arrival of Omicron variant last autumn delayed their property-hunting plans a little but she ended up flying out in March 2022 to see some properties with Your Dream Home on the Costa del Sol. The rest of the family were stuck at home due to a dose of Covid.  "With rentability in mind I'd set my mind on somewhere around Marbella with two bedrooms and two bathrooms on a complex with a shared pool," she says.
After seeing six apartments she had shortlisted two and had to choose between them. 'It was half led by the heart, and half with my business head," she says, opting for a former timeshare complex in Calahonda – a popular tourist area between Marbella and Fuengirola -that had been kept in immaculate condition.  "It is a ground floor apartment with outside space, sea views and access to two swimming pools."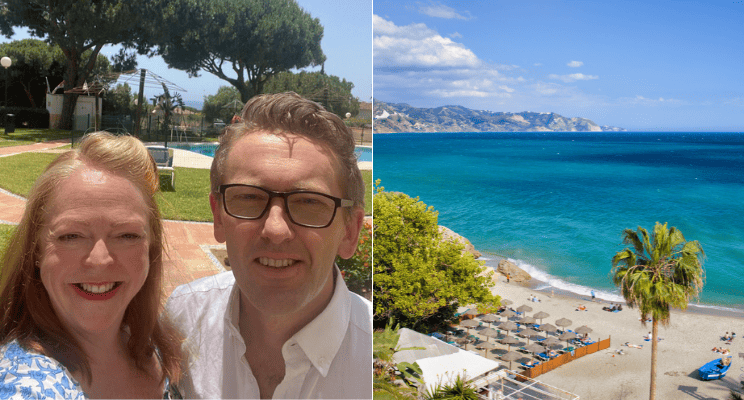 It cost €168,000 and the completion was done and dusted within four weeks. She'd sorted out a lawyer – as well as her currency transfer – and with her agent's help she got straight onto giving it a freshen up. "It came fully furnished and was very dated. Chris [Clarke; at Your Dream Home] helped me find a contractor to decorate the place." The traditional Spanish dark wood and brick finishings have been given a whitewash to lighten up the look. 
Read more
Because of the building's former status as a timeshare there was no issue about short term rentals being permitted. The agent is also going to manage her rentals – Jenny's had enough of troublesome tenants so she's happy to leave it to professionals to do this and arrange any maintenance needed.
She is hoping to rent it out for between €450 and €800 a week, which will cover the €100 a month community fees for the complex, management fees and insurance and then provide some income. With demand for Spanish holiday lets approaching pre-pandemic levels, the timing couldn't be much better.
 "In the meantime, I've brought out the girls here on holiday and we had a great time. The whole thing has been a brilliant experience so far."