Janine Marsh meets the British families that live in France yet work in London (and love having a foot in both countries).
When in January Boris Johnson, the foreign secretary, floated the idea of a 22-mile post-Brexit bridge across the Channel, it started a nationwide discussion. Mr Johnson's objective for building a bridge would be to enhance transport links between Britain and France. Cold water was quickly poured on the idea. Transport links are already very good, sufficient in fact to consider the notion of northern France joining the London commuter network map. This came as no surprise to expats who are living the good life in the department of Pas-de-Calais, Hauts-de-France while working in the UK.
Those who can work from home or have flexible working hours may well find that it really is possible to have your cake and eat it.
Why living in France and working in London might work for you
There are many reasons that a French lifestyle will appeal: croissants, baguettes and cheese to name but a few. Fabulous markets, great gastronomy, a more laidback lifestyle where people seem to have more time to say hello and enjoy café life. But is it really a practical way to live and is it financially viable?
When it comes to the nitty-gritty, salaries in London are higher than in northern France, while house prices in this region of France are considerably lower.
According to emoov.co.uk, average salaries are £2,292 per month for employees in London and £1,377 per month for employees in Lille, the regional capital of Hauts-de-France. Property prices in London are an average of £13,245 per square metre. In order to be able to buy cheaper properties, City of London workers commute not just from the suburbs but from the south coast and as far as Leicester and beyond, with a two-hour journey each way not uncommon.
Property in Lille costs an average £2,948 per square metre and with Eurostar trains from Lille to London taking as little as 1 hour 22 minutes, commuting is a genuine option. Move away from Lille into the more rural areas of Pas-de-Calais and you'll find there's an even bigger property price discrepancy and transport options are excellent.

For expats who are able to commute and/or work from home part-time, a move to "very south Kent" as some call Pas-de-Calais, could be an excellent way to maximise both home and work opportunities.
How about travel costs?
Eurostar passenger trains travel between Calais Fréthun and London St Pancras three times a day, with the fastest journey time of 56 minutes (and free parking at the Calais terminal). Tickets cost an average of £105 return.
Eurotunnel car trains are numerous from Calais to Ashford in Kent, with frequent traveller tickets costing £46 each way. Ferries have a crossing time of 1hour  30 minutes (Calais) and 2 hours (Dunkirk). DFDS Ferries offer multi-trip tickets from £29 each way. An annual train season ticket from Brighton to London costs £4,699  (just over £90 per week).
Where to stay when you're commuting
Many expats stay with family or friends when they are in London which cuts the cost of accommodation. Airbnb can offer an economic alternative to hotels where prices vary widely, but you should budget for not less than £60 per night on average.
From London fashion retailer to the Seven Valleys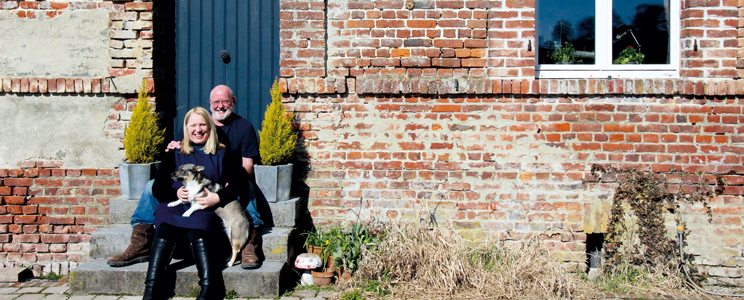 When Heather and Mike White, a creative pattern maker and graphic designer respectively, were offered a chance to work for a British antiques dealer in France in 1997, they decided to take a risk, giving up their jobs in London and selling their home in Peckham, southeast London.
The business was based in Normandy, but their new employer had a house in the Seven Valleys area in Pas-de-Calais and the couple spent time there learning the ropes for their roles and falling for the beautiful countryside and gentle way of life. 
The jobs fell through, but Heather and Mike decided to stay. They had become smitten with the way of life and a wreck that used to be the village school in the tranquil Pierremont, close to the popular town of Hesdin in the heart of the Seven Valleys. It cost just £8,800 and needed a lot of renovation.
Heather was offered her job back at her old company, Jaeger, splitting her time between London and working from her new French home. Twenty-one years later she's still commuting, driving an hour to take the train from Calais Fréthun to London St Pancras and mainly staying with her sister in London. Mike remains in France where he has put his heart and soul into turning the once-neglected building into a jaw-droppingly beautiful home.
When the couple bought the house,  they pretty much had to camp in it.  It had lain empty for decades and one end of the building had collapsed. Now, the couple's creative flair shines through in every detail and though the house is a work in progress it's a cosy, welcoming dream of a home with a design studio for Heather and magnificent views over the surrounding countryside. 
"We've never looked back," says Mike, though he admits he puts pressure on himself to make sure that things move on while Heather is working away. Heather says the only thing that worries her is leaving him to do all the work alone. They both miss takeaways.
What they've gained from their live-in-France/work-in-London arrangement, says Heather, is a lifestyle they could never have afforded in the UK. They love walking in the country with their dog, "friendly and welcoming local people, a slower pace of life", shopping at local street markets and visiting flea markets at the weekends (there are more than 3,000 a year in the region). With numerous museums and cultural venues including the world-class Louvre museum at Lens, hundreds of festivals and events, London two and a half hours one way, Paris two and a half hours the other way, "it is ideal and idyllic", says Heather.
Barrister commuter in Boulogne-Sur-Mer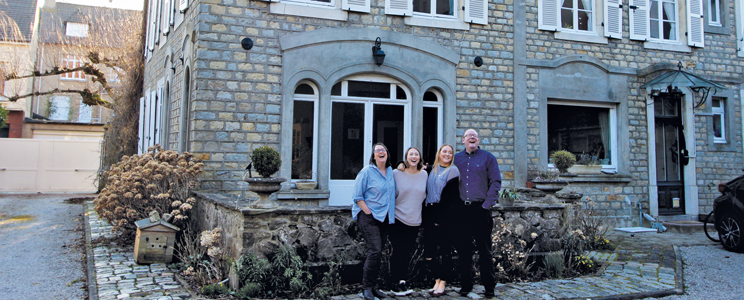 Wendy and Adam Clemens live inn Escalles on the outskirts of Boulogne-sur-Mer on the Opal Coast. They moved there last year after falling in love with a 19th-century hotel particulier (a French mansion house) which one of their daughters had seen on the internet.
The couple sold their house in Essex and bought the four-bedroom mansion for £310,000. It was structurally sound with lots of original features, beautiful wood flooring and grand windows and doors, but needed modernising.
Adam is a barrister and commutes to London regularly. Including a 25-minute drive to Calais Fréthun station, the journey is less than two hours and he often takes day trips for work. He says his journey from Saffron Walden where the couple used to live took longer. Adam stays at his daughter's flat which cuts accommodation costs, while Wendy remains in France.
Though they love their house in Escalles it is the life they have in France that is most important to them. Wendy says that the neighbours have been more than welcoming. "On our first day, the lady across the road came over with a tray of hot food and homemade bread. After we'd been unpacking all day, it meant so much."
"We love the food here," says Adam. "There are fabulous restaurants like the two-Michelin star La Grenouillère in nearby Montreuil-sur-Mer for special occasions and within walking distance of our house there's a charming bistro with great steak-frites". 
The proximity to the beautiful beaches of the Opal Coast with its picturesque fishing villages, street markets and the friendliness of the people make this "a little bit of heaven", says Wendy "Our daughters Lucy and Alice love to come and visit."
Adam has found life in France has given him more "me time". His workload is more manageable and he has time to read books and sit in the garden. They love the boulangeries and artisan-made French bread, the fresh air and the easygoing lifestyle of the French. They say they have no regrets and Adam intends to commute for at least ten years more until he retires.
A look at properties in Pas-De-Calais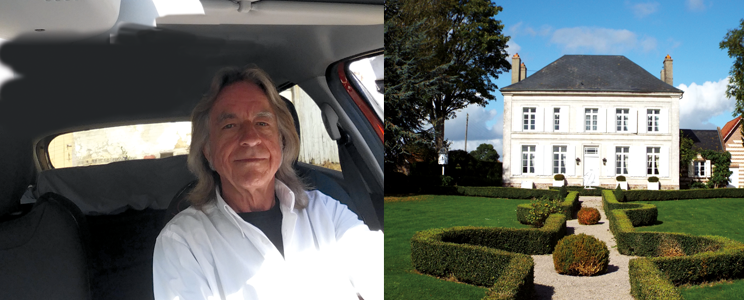 Property for sale in Pas-de-Calais is diverse and ranges from townhouses to farmhouses. There are numerous tiny villages, towns such as Montreuil-sur-Mer with its cobblestone streets, coastal towns such as Le Touquet and Boulogne-Sur-Mer and plenty of properties on sale. Tim Sage, regional manager at Leggett Immobilier (pictured above), has a wide range of properties on offer including a beautiful three-storey, five-bedroom townhouse just off the city centre in Boulogne-sur-Mer at €249,310.
Tim, who lives in the Seven Valleys, says:  "Here in Pas-de-Calais the view from my garden is one of the golden wheat fields and green forests. I'm in the heart of the countryside, yet I am in the centre of the triangle of Paris, London and Brussels, all of which are within easy travelling distance.
"Our house prices are low (average €140,000). Our lifestyle, even in work, is relaxed and social. Our transport systems are accessible, fast, clean and efficient. The northern motorway network and rail network make travel to and from the UK and northern Europe fast and simple."
If you hanker after a country retreat, for €250,000 you can buy a stunning five-bedroom maison de maître in the village of Canlers, near Agincourt. Or blow the budget? Get yourself a beautiful petit château.
Download your free guide to buying a property in France