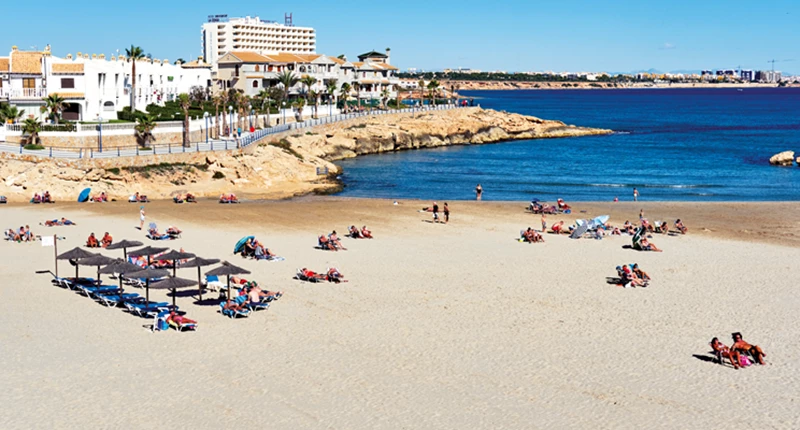 Sleek, hassle-free and ready for your own stamp - why buyers are mad for new-builds on the Costa Blanca. Richard Way takes a look at the dazzling array of new-builds on the Spanish Costa.
Anyone heading to the Costa Blanca expecting to buy an older resale property will struggle to ignore the dazzling array of new homes, thanks to a recent surge in off-plan developments in the region. By the end of last year, there were 6,414 homes under construction in the Alicante province, home to the Costa Blanca. This is the highest number since 2008  and represents not only a 33 percent increase on 2016 but also the fifth consecutive year that this figure has risen, according to the Association of Quantity Surveyors, Technical Architects and Building Engineers of Alicante).
In the Alicante and Valencia areas, total property sales for January jumped more than 40 percent compared with 2017, according to Spain's National Statistics Institute. All signs point to growing demand from foreigners for new-build homes.
"There are off-plan projects being launched up and down the Costa Blanca frequently at the moment," said Steve Root, a new-build specialist at the Costa Blanca estate agency HomeEspaña. "Things are certainly busy here."
Why new-build?
Starting prices for new-build homes, typically bought off-plan or mid-construction, are understandably higher than comparable resale properties but there are obvious benefits.
"For starters, the designs are contemporary and the build quality is better," said Mr Root, who covers the southern Costa Blanca. "Compared to older properties, there will be better insulation and double glazing, and most of today's new-builds come with vented air-conditioning, which is more efficient and more pleasing to the eye."
Buyers of new-build can usually pick their own interior finishing, including tiles, kitchen units and worktops as well as appliances. Villas typically come with the opportunity to customise the internal layout too.
"Developments do vary, but as a general rule don't expect your purchase price to include air-con units, kitchen appliances and often lights," said Mr Root. "We take this into account when clients tell us their budget. And it's crucial that any stage payments made to your developer are protected by a bank guarantee: we check all our partner developers provide this."
European law dictates that all new property in Spain comes with a ten-year structural guarantee from the developer, who will also be obliged to take care of any unexpected faults when the new owner takes possession, a process known as "snagging".
"Most off-plan clients buy 6-12  months from scheduled completion,"  said Mr Root. "This often suits people who are relocating to Spain as it gives them extra time to sell up and organise their affairs in the UK."
Things to be wary of when buying new-build include delayed completion, potential snagging issues and a developer not sticking to the agreed specification. However, a good lawyer and a watertight contract should protect you from these pitfalls. Beware of exchange-rate movement and how a weaker pound could affect the value of your stage payments during the build process. Speak to a currency transfer specialist for guidance on this.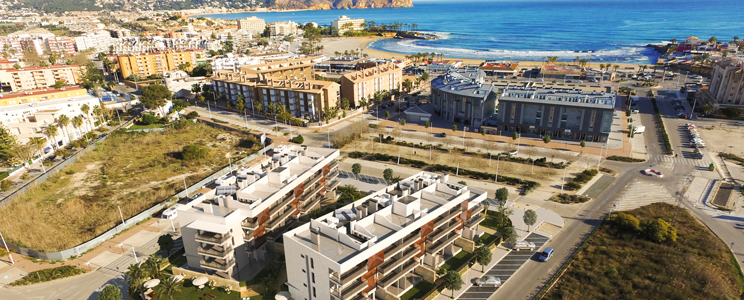 Southern Costa Blanca
"New developments are happening all over the southern Costa Blanca, as far down as Pilar de la Horadada, up towards Ciudad Quesada and as far up as Santa Pola," said Nicola Kemp at Barceló Real Estate, an agency based in Ciudad Quesada and La Zenia.
"Ciudad Quesada, in particular, is growing fast and spreading towards the coast at Guardamar, creating areas like Pueblo Bravo and Lo Pepín. A new supermarket is being built there to keep up with the development. Most of the new-build properties in this area are villas. Right now we have clients from Manchester looking to upsize and spend €250,000 on a new villa, having bought a new apartment for €170,000 through us a year ago. They love the apartment, which is in Residential Natura-Park, but has decided to relocate to Spain permanently so need more space."
Barceló Real Estate has two-bedroom, two-bathroom villas in Quesada starting at €159,000, or €199,500 for one with a larger plot and private pool. They are available in varying stages of construction, from off-plan to newly completed.
Similarly, Paul Payne at Masa International commented: "We've seen a definite upturn in demand for bespoke villas in the Quesada area. More people want to put their own personal stamp on their property. Our clients there typically spend between €200,000 and €350,000, depending on plot size."
Quesada's neighbouring towns, including Benijófar and Rojales and a little further away from Los Montesinos, present further options for villa plots.
Meanwhile, in the Orihuela Costa apartments are more in demand with typical two-bedroom units starting at €125,000. "Buyers with a budget of €150,000 who are looking for a two-bedroom apartment in Orihuela Costa have a huge choice of resales but now a healthy choice of new-build too," said Mr Root. "Which is why a fair few come with the intention of buying a resale but after seeing the wow factor of a show home, end up buying a new-build."
For new-build townhouses, expect to pay €190,000-€250,000 in Orihuela Costa, said Mr Root, while villas range from €200,000 to €500,000.
Particular hotspots for new development include Villamartín,  La Zenia, Los Dolses and Punta Prima. Typical of larger projects in Villamartín, with communal pools, gardens and underground parking, are Villamartín Gardens and Valentino Golf. 
At the latter, HomeEspaña recently sold a two-bedroom two-bathroom unit to a British couple. "From London and in their forties, they paid €150,000 for a ground-floor unit that comes with a huge 200m2 front garden," said Mr Root. "To start with it will be a holiday home, but later down the line, they're talking about spending winters out here and working remotely."
A smaller, more boutiquey option in Villamartín could be Residencial Entre Almendros, which comprises eight modern apartments with a communal area and pool. "But we also have a cosy 12-unit complex in nearby Punta Prima," added Mr Root. "Or, at the higher end of the market, you could opt for a €500,000 penthouse by the sea in Cabo Roig.
Another landmark new development in Punta Prima is Taylor Wimpey Spain's high-rise Panorama Mar. In a seafront location, south-facing apartments with large terraces and sea views start at €279,000. A more affordable option in Punta Prima could be an apartment at the third phase of the developer's established La Recoleta complex, with prices from €204,000.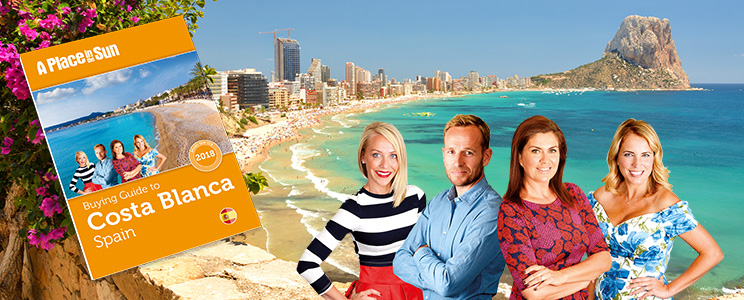 download your free guide to buying a property on the Costa Blanca
Or Barceló Real Estate has two and three-bedroom apartments available overlooking the pool in a small, low-rise complex near the landmark shopping centre, La Zenia Boulevard, available off-plan from €135,000. Various special offers are continually available, with deals frequently arranged on prices, as well as furniture and white goods.
Meanwhile, a continuing success story for Masa International has been Mirador de Villamartín. "It's always been popular," said Paul Payne at Masa.
"The fifth 60-unit phase of this development is now under construction and scheduled for completion later this year. We currently have two-bedroom two-bathroom 95m2 apartments available there from €155,000."
Further south in the more traditional resort of Pilar de la Horadada, the Pilar Resort is a key development for Masa International. Two-storey blocks of apartments means that ground-floor units get a garden, and first-floor ones a solarium.
Northern Costa Blanca
The resorts of the northern Costa Blanca, with its undulating scenery, pine-clad cliffs and pretty bays, remain a popular hunting ground for seekers of sea-view villa plots. This means that the new-build market is smaller in volume than further south and average values are higher.
Masa International has options for villas around Moraira and Cumbre del Sol. "But there is a big price difference compared to the south and there isn't so much demand," said Mr Payne.
Taylor Wimpey Spain is one company with developments in the north. La Vila Paradis in Villajoyosa, especially popular for its frontline location, currently has two-bedroom apartments in the last phase available from €269,000, with townhouses also on offer. Each key-ready property allows direct access to the resort's Playa Paraiso beach.
Further north in the trendy Jávea, the developer is now selling apartments at its Arenal Dream development, ideally located near Arenal beach, rated one of the Costa Blanca's best.
Recent buyers at Arenal Dream include a British couple who agreed €289,000 (excluding costs) for an apartment in February. The completion date is scheduled for September. What better way to prepare for the winter than to be handed the keys to your own new home in the Spanish sunshine.