Download our New Costa Blanca Property Buying Guide
For 2019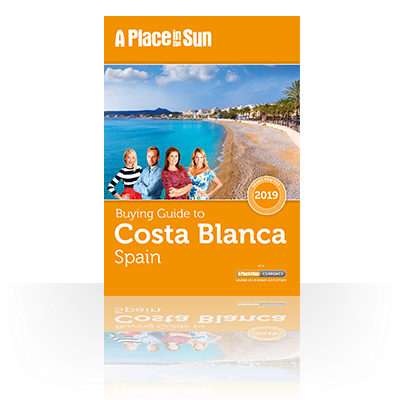 It's no surprise that the Costa Blanca continues to be the preferred choice amongst British nationals looking to buy a property in Spain. It's wide range of affordable properties for sale, golfing facilities and stunning coastline is contributing to more transactions every year, even after the EU referendum vote in June 2016.
Free to download, our new guide examines:
- Where to find affordable properties for sale in both northern and southern Costa Blanca, including expat hotspots and hidden gems
- Real-life case studies from those who've bought a property on the Costa Blanca themselves
- The latest information on the Costa Blanca property market and Spanish property market during ongoing Brexit negotiations
- Wise words from our television presenters who've recently been filming episodes on the Costa Blanca
- The buying process behind securing a Costa Blanca property, including financing, legal, currency and removals
- What to expect whilst living in Spain, including healthcare, pensions, ongoing costs and schooling, amongst other factors...
- Plus much, much more...
So, whether your heart is set on buying a property on the Costa Blanca, or you're just seeking initial advice on buying and moving to Spain, then let our brand new buying guide be your number one source of reliable and up to date information.
Downloading our guide is free and simple - all you need to do is fill out the information fields on the right-hand side of your screen.
Enjoy!
Download Guide here
---
If you want to know more about how we store, secure and use your personal data, including website cookies, please take a look at our Privacy Policy.
Thank you for downloading the Buying Guide to Costa Blanca
We've sent you an email with a link to your guide so that you can read it anytime, or please click here to get your guide now which you can print or save to your computer.