Angela Sara West catches up with the leather-clad rocker Suzi Quatro to find out why her holiday home in Mallorca suits her hectic lifestyle.
Elvis wanted to meet her, she's lived it up with Led Zeppelin and rocked along with the Rolling Stones. The legendary singer/actress Suzi Quatro started touring at the age of 14 and, at 67, is still on the road.
Having sold more than 55 million records worldwide, the Detroit-born, Britain-based chart-topper has also found fame as a Hollywood actress, starring as Leather Tuscadero alongside the Fonz in Happy Days.
She also landed the lead in Annie Get Your Gun in London's West End, appeared in her own musical, starred in the TV shows Minder, Midsomer Murders (for which she was "electrocuted" in her rock star role), Dempsey And Makepeace and Absolutely Fabulous.
As a music business stalwart, Suzi's showing no signs of slowing down… she still plays about 80 gigs a year. Phew! But where does the first woman of rock'n'roll head for a much-needed break from such a busy life? Mallorca, where she and her second husband, the German concert promoter Rainer Haas, have owned a holiday home since 2003.
"It's a small place, just for two, which is ideal for us since we have two big homes in England and Germany [they live apart; Rainer in his native Germany, Suzi in England, although they are together most of the time].
"We get to relax, get the sun, go to restaurants and shop. It's a place to unwind," she says.
"My husband came to Mallorca before me and recommended the island for a family vacation." The largest of the Balearics hit the right note for Suzi, too. "I fell in love with it the first time I visited. I liked the pace of it  – that you could be loud at the disco and quiet on the beach."
Their two-bedroom apartment sits on the highest point in Bendinat on the exclusive estate of Sa Vinya, in the south-west of the island. Adjacent to the 18-hole Real Golf de Bendinat course, the estate forms part of a luxury community and the modern development boasts stylish residences, several large communal pools and manicured gardens.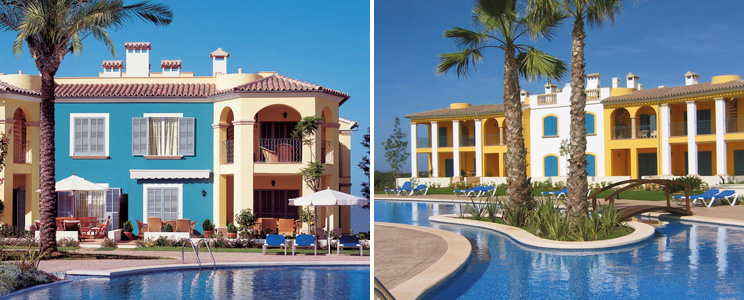 Suzi's property hunt took no time at all. "We'd been thinking about buying for a couple of years and always had our eyes open. Finding our home was purely by chance. I was jogging past one day and spotted a 'for sale' sign. Our property was the first one we saw once we'd made up our minds to buy."
The couple purchased the show flat. "We just wanted 'easy' on our holiday place – somewhere small and low maintenance. We agreed on no guests. Only my granddaughter has visited [Suzi has two children with her first husband and former band guitarist, Len Tuckey]."
Suzi's two balconies have not only sensational sea and mountain views but an enviable vista of the fairway. "It's fabulous. We visit around four times a year," she says. 
She cites the island's natural beauty, tranquillity and low crime rate as among her reasons for buying there. "The main things we love are the peace and the weather. Mallorca's very pretty and peaceful and it's always felt safe to me."
Suzi was keen to put her personal stamp on her Balearic pad. "It was typically Spanish, but we've changed it around, thrown out some of the furniture and personalised it, especially with art, statues, photos and big-screen TVs. Once we started living in it, we saw what worked and what didn't work for us." 
As an avid art collector, she's added a few statement pieces. "We brought in all the art on the walls and threw away anything that was here already." The feng shui fan quickly put her organisational skills into action, too. "I think it does some good to declutter – in a room, in your life, in your mind."
There were a few lessons learnt along the way. "It's the first house my husband and I have bought together. So, being new at this, we argued about every pot and pan. It was very funny and a lesson well learnt on how to share."

Best in Bendinat?
Her favourite things to do at her holiday haven? "I like to swim, jog, sunbathe and read a little before heading to the port, Puerto Portals in Portals Nous, which I think is the nicest harbour on the island.  I love drinking my coffee whilst reading the newspaper and doing the crosswords there. This is my ritual." 
And preferred hangouts? "I don't cook, so it's restaurants. We particularly love the port area and the Japanese restaurant Tahini, in Puerto Portals, is one of my favourites. There's a great place in Deià we always go to, Josef Sauerschell's Es Raco des Teix. We also love Olivera at Castell Son Claret [a restored castle] in Calvià. At the port, we go to Flanigan – it's always packed and has a small but excellent menu."
Suzi's enjoyed doing most of the island's "touristy" things over the years, including visiting Palma's imposing Gothic cathedral, taking the train ride from Palma to Sóller through the mountains and watching the sound and light show at the magical Cuevas del Drach in Porto Cristo.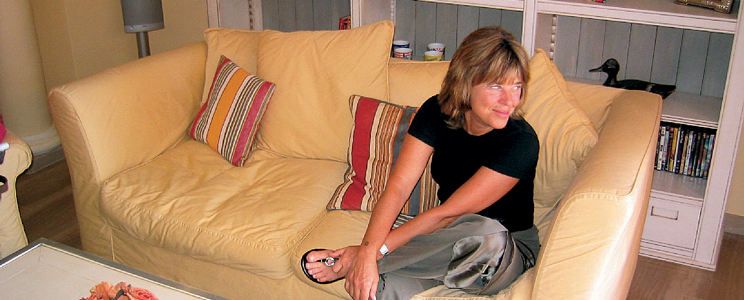 She sometimes wishes she spoke Spanish. "We've gradually grown to feel very at home here. I'm not a local; this takes many, many years. It's a vacation place. We have some friends here and our next-door neighbours are great people." The Bendinat area's a draw for other famous faces, including Peter Stringfellow, who featured in A Place in the Sun last year.
Back in the UK, home for Suzi is her moated manor house in Essex which she bought in 1980. "It's a very large Elizabethan manor house, with three floors, nine bedrooms and three and a half acres of land," she says.
She also enjoys a very special space. "I have a room on the third floor with a plaque on the door that says, 'Ego room, mind your head'. It's a really peaceful room, with old stage outfits, bass guitars, pictures, posters, scrapbooks, videos,  CDs – my entire career. On the table, there's the big red This is Your Life book, from 1999."
It's certainly been quite a life. The multi-talented musician/actress/author/ broadcaster made her stage debut aged eight, playing the bongos in her father's jazz band, The Art Quatro Trio. Her big break came when the British record producer Mickie Most offered her a solo contract at a gig in which she was performing in a band called Cradle which she had started with her sisters. "Mickie came and said to guitarist Jeff Beck, who was with him, 'That girl playing bass is a star.'" 
And so began her incredible journey to fame. The rocker has since clocked up five decades in the music business and continues to write, perform and record her own material while juggling her weekly show on BBC Radio 2. "Music means absolutely everything to me… it is my heart, my soul and my gift to the world. The rewarding aspect is making people smile … becoming part of their memories. I feel honoured to have been doing my job for so many years." 
She's also struck a chord with royalty; Prince Charles once told Suzi she had the best legs since Tina Turner. "Yep he sure did – and I turned into a giggling idiot." 
She's met, interviewed or played on stage with most of her musical heroes.  But the Queen of Rock declined an invitation from her biggest idol, the King. "Elvis has been my music icon since I was six years old. I had a feeling when I first saw him that I would do what he did…I really wanted to be him.
"He heard my version of All Shook Up and called me, when I was in Memphis touring the USA in 1974, to invite me to Graceland. But I wasn't ready to meet him at the time, so I turned him down. But I believe everything happens for a reason and I wrote the tribute song Singing with Angels. If I had met him,  this song would not exist."
In 2016, Suzi received an honorary doctorate from Anglia Ruskin University, Cambridge, in recognition of her services to music. "I'm now Dr Quatro! It's a great honour. I'll be doing lectures and everything. I take it seriously. I've always wanted to 'teach' my profession."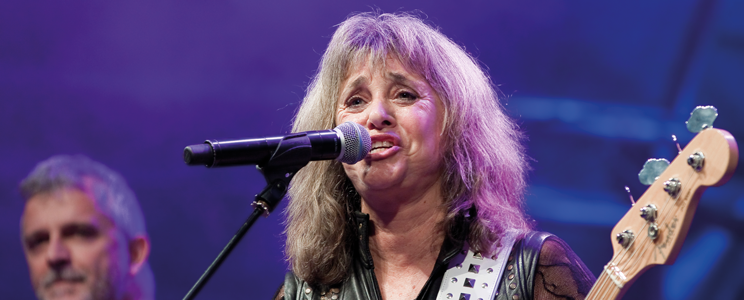 She's also formed a supergroup. "Quatro, Scott and Powell (QSP) comprise of me, Andy Scott (Sweet's guitarist) and Don Powell (Slade's drummer)." 
She tells me she once had to kick an inebriated Iggy Pop off stage and reveals a "mystical matter" involving Sir Paul McCartney. "I had a crazy dream about him that didn't make sense, conveyed it to him by letter and the next thing you know he called me and told me every single detail was true ... amazing."
Suzi recently released her first novel, The Hurricane, for which she'll be forever grateful to Jackie Collins. "After reading my autobiography, Unzipped, Jackie Collins told me, 'You can write; so yes, do a novel, but stick with what you know to begin with.' So, I did."
Still going hell for leather
Suzi's just as fit as she was in her 1970s heyday. Her secret? "I jog and go to the gym and practise yoga everywhere I travel."
With a gruelling schedule this year, after her Red Hot Summer Tour in Australia, she's on track to return to her Balearic bolt-hole for a well-earned break. Suzi has performed on the island in the past and hopes to be belting out more of her hits there soon. "I once played in the bullring. I'd love to do another gig there."
She says, refreshingly, that the island has changed little over the years that she has owned a home there. Is it a source of inspiration for her music? "It's more a source of inspiration when I am writing my books and preparing my radio shows – Quatrophonic on BBC Radio 2."
Suzi once said, "I will retire when I go on stage, shake my ass, and there is silence." Should that day ever come, would she consider retiring to Mallorca? "No, I would always keep my home in the UK as my children are there. Mallorca means to escape, peace and quiet, and the best thing about it is that it 's easy to get to from the UK, so no jet lag.  I have had enough of that for a lifetime in my profession!"
Access more features, advice and top tips on buying an overseas property in our Spring 2018 magazine issue