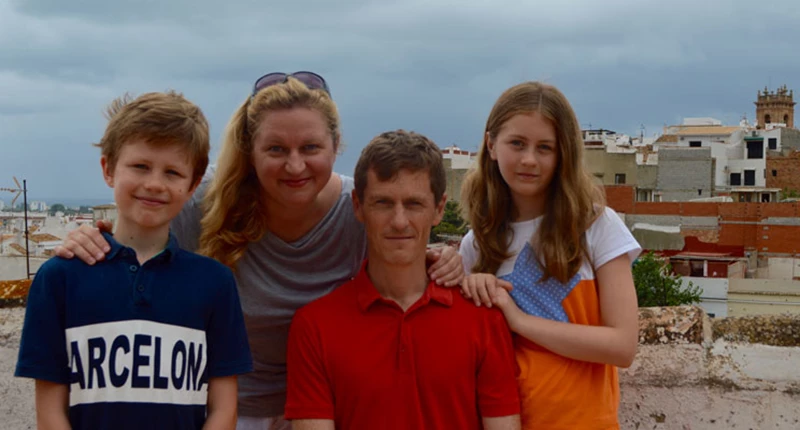 Harriett and David Gething (pictured above with their children Dulcia and Digby) recently bought a holiday home post-Brexit in Oliva, Spain. Below, Harriett tells us how they found the buying process, and give you their personal tips on buying a property in Spain.
"I can't even remember the first time I went to Spain (I was 2 apparently) but I don't know a time when I haven't loved going to Spain! My Grandparents were among the first to retire to Spain in the late 60s, and I spent many happy summers on the beach at Calpe. I learned to swim in the Med and can't believe I'm old enough to say things like "I remember when Benidorm was just a handful of hotels".
Fast forward a few years, with a young family of my own, it seems that my love of Spain has been passed on, with my two children and husband always voting to holiday in Spain. We have enjoyed some fabulous Spanish adventures from Barcelona all the way down to the hills of Andalucia.
There was always a pipe dream that we would one day take the same path as my grandparents and retire to Spain – it's still a long way off – but I started gently researching possible locations and properties (A Place in the Sun was invaluable) realising that we would ideally like to be near Calpe, where my grandmother is buried and is the place of such happy memories.
Brexit
And then, Brexit. We started to start thinking seriously about whether we could secure our future home before it potentially became more difficult or expensive to do so. Now looking for a longer-term project, rather than a move-in-ready property, we started searching for a place where we could get together with friends and family and enjoy fixing up.
Our research led us to Oliva, Valencia province, where property prices are very attractive and it meets our 'wish list' of a lively, very Spanish town, a fantastic beach (8km of unspoilt golden sand with no high rises) and shops, restaurants and, most importantly for the children, an ice cream shop within walking distance. If I could get a sea view, too, I'd be in heaven.
Two episodes of A Place in the Sun in Oliva sealed the deal for us, and we booked flights in February 2017. We thought that if we loved somewhere in February, we would love it even more in the summer, and we were right. I had narrowed down a potential list of around 50 properties to 18 and we crammed viewings in over a few day. It was mind-boggling, but we wanted to make sure we had time to get to know the town as well.
It was on St Valentine's Day when we viewed what is now our house, high in the old town of Oliva. The traditional, end of terrace house has four bedrooms, two living rooms and a large roof terrace, affording panoramic views of the pretty town, ruined castle, hillside and yes, I got my sea view.  Although I was trying to be pragmatic about the whole thing, I fell head over heels in love with the house. Naturally, given the date of our first 'date'- the house is now called 'Casa San Valentin'.
I'm not sure it really loves us back yet, mind you. We have an awful lot of work to do on it to give it another 100 years of life. It has damp, damaged beams, leaky floors - you name it, it needs work. However, we feel safe in the care of our builder and have our agent Jane Lees of Oliva Casas at the end of the phone or email to help with any questions (or general stress!) that we have. My stock response now to questions about our house is if it doesn't kill us or cripple us financially, it's going to be FABULOUS!
Advice
My advice to those looking for their place in the sun is to be open to new possibilities, but keep your wish list at the front of your mind. Don't compromise on the things that are most important to you, such as a sea view or space for everyone who might come and stay.
Also, find a lawyer who you can give power of attorney to – absolutely vital in making sure the process moves smoothly and as quickly as it can be! Finally, watch currencies like a hawk when it comes closer to completion – and use a currency transfer specialist.
What three words sum up my experience? Adventurous, exciting and stressful!"
search for a property for sale in Oliva, Spain
Download our free essential guide to buying a property in Spain