After eight happy years of owning my very own "place in the sun", I am rather sad to say I am selling my home in Italy.
Like so many people I speak to at the A Place in the Sun Live exhibitions and who write to me about their experiences of owning a home abroad, quite simply my circumstances have changed.
My husband Sean and I have created two very small people - Willow, now five, and Lottie, now six months - who have changed everything for us and the time has now come to re-think our plans.
Regular readers will already know I own a property in southern Puglia.
Puglia is the stiletto heel of Italy (always buy in a country that resembles an item of clothing, it makes describing places so much easier!).
I bought my first property there - a two-bed apartment - when I was filming the TV series in 2006 and last year sold that and bought another apartment a few miles up the road - in Galatina in the province of Lecce.
The stunning city of Lecce is 20km north.
Our new apartment is on the ground floor and didn't have the balconies I was convinced our daughter Willow would fall from and is in a much bigger town.
Then our youngest daughter Lottie was born and we started to think seriously about whether or not we were ever going to get enough use out of it.
When I first bought in Italy I was young, free and single and very much living a "Bridget Jones" lifestyle.
I had visions of plenty of girly weekends out there with days spent lounging on a sunbed on one of the many beautiful beaches, and nights sipping Prosecco and wandering around Sophia Loren style.
The reality was slightly different.
By the time the renovations were finished on the apartment, I'd met and fallen madly in love with my cameraman, Sean, and our first daughter Willow was on the way. Oops!
But the three of us have spent many a happy holiday out there when she was small but Willow is now at an age where she wants swimming pools, and kids' clubs, not blissfully sleepy Italian towns.
The decision to sell has not been an easy one as I absolutely adore the apartment and its location.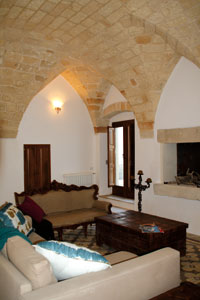 It ticks many boxes. It has two bedrooms, an eat-in kitchen and an extra-large lounge/diner.
Converted from a nuns' refectory garden (with 17th-century well), it's nestled in a private courtyard and has it's own garden with a separate guest cottage and is within walking distance to some fabulous shops and restaurants.
But the reality is we are simply not using it enough.
However I'm really fortunate to have stumbled upon the services of Nigel Wilson who owns Puglia Estates (pugliaestates.com).
From the word go he has taken complete care of the apartments and their renovations for me and has even helped with all the red tape (Italians love red tape) and helped me open a bank account with a very scary Italian bank manager.
They are going to managing the sale of it - for €265,000 (£219,517) - and hopefully someone will get to enjoy it as much as we have - and more.
Puglia: a great place
Puglia is a fantastic place. The Italians themselves have known about it for years and in August they flock down from Milan and Rome all looking impossibly glamorous.
When they're not there, however, it takes on a much sleepier laid-back vibe. The beaches are stunning and there are the wonderful towns of Otranto, Lecce and Martina Franca to explore.
If any of you are thinking of touring around, try and fit in a visit to my local beach too - Santa Maria al Bagno.
Small but perfectly formed, the former fishing town is wonderfully quiet out of season.
Property is also relatively affordable in Puglia too, and not just the traditional little trullo homes (cone shaped stone houses), for which part of the region is famed.
Galatina - bang in the centre of the Salento region - itself is a hidden gem: excuse the cliché but it's true!
The baroque town has remained largely unchanged over centuries and has plenty of elegant palazzos and intricately carved doorways, from its heyday in the eighteenth century.
Even writing about it has put a big smile on my face and has made me feel all nostalgic but the time is now right to sell.
So, what next for us? At the moment I'm toying with the idea of an apartment on a complex in Portugal or Spain.
Somewhere with the aforementioned swimming pool and activities for the wee ones.
That for me is the exciting part, I have no idea where our next place in the sun will be but I promise I will keep you all informed...
Search here for properties for sale in Italy. Or to read our Italian Buying Guide.