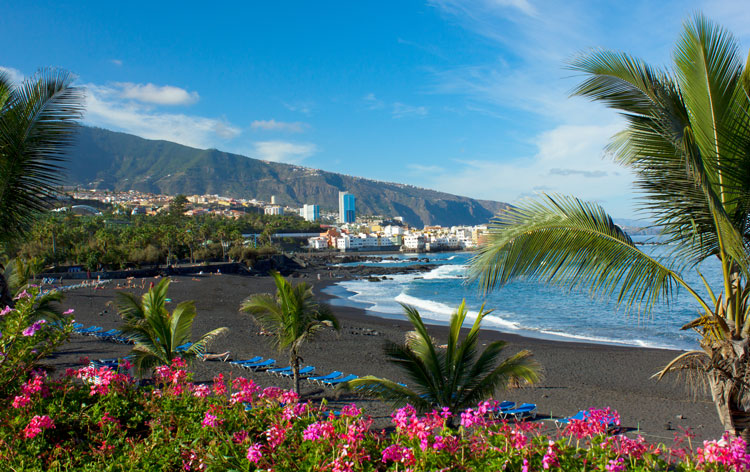 Sometimes called "the island of eternal spring", because of its pleasant year-round temperatures, Tenerife is the most visited of all the Canary Islands, attracting around 5 million visitors a year – even Queen Victoria holidayed here.
Tenerife owes much of its success to its landscape. In the centre of the island lies the Parque Nacional del Tiede, home to the highest mountain in Spain, the active volcano El Pico del Tiede.
The Parque became a UNESCO World Heritage Site in 2007. The landscape has an eerie atmosphere as black lava covers most of the ground around the volcano. So famous is this landmark - that it appears on the island's coat of arms.
The beaches are another of the island's treasures. Located at the southern end, the busy resorts of Playa Las Americas, Los Cristianos and Costa Adeje make the most of the silky white sand. Bars and nightclubs are popular evening hangout and there's always a bustling atmosphere.
A beach front, two-bed apartment situated between Playa Las Americas and Los Cristianos comes with the hefty price tag of around €450,000. The west coast resorts, such as Playa de la Arena, tend to be quieter as the sand is darker and volcanic in origin. A two-bed apartment here costs around €100,000.
You can have a mix of both types of sand at Costa Adeje. Volcanic sands darken the shores of Playa Fañabe, while golden sands imported from the Sahara can be enjoyed at the Playa de Duque.
Quieter than its neighbours Playa de las Américas and Los Cristianos, Adeje still has great bars and restaurants to explore. It is even said to be popular with David and Victoria Beckham.
The port town of Los Cristianos was once important for international trade, but is now home to the ferry terminal and a marina provides moorings for luxury yachts.
This laid-back town has a more sedate nightlife than its neighbour Playa Las Americas, but there is still plenty of choice. Los Cristianos beach is sheltered by a long pier, so the waters are calm making it perfect for swimming.
Playa de las Américas is Tenerife's party capital. Clubs and cocktail bars abound and it's an old favourite for British sun seekers. There are six sandy beaches on which to relax and recover from any excesses.
Where to Buy Property in Tenerife
From the tranquil resort of Los Gigantes on the south west coast, you can take a boat trip to search for whales and dolphins. A two-bedroomed apartment here would cost around €120,000.
The island's capital, Santa Cruz de Tenerife, is in the north east of the island. It is an important port linking Europe, Africa and the Americas. It also plays host to a high volume of cruise ships. Santa Cruz is also joint capital of all the Canary Islands, sharing the title with Las Palmas on Gran Canaria.
Vilaflor, sitting on the edge of both the Tiede national park and the Parque Natural Corona Forestal is the highest village on the island at approximately 1160m, claims to have the cleanest air on the island. The landscape here is distinctly lunar and is very popular with hikers and mountain climbers. You can pick up an older style three-bedroomed house here for around €250,000.
Flights to Tenerife leave the UK from multiple locations and take around four and a half hours. Tenerife has two airports, North in San Cristobal de la Laguna and South in Grandilla de Abona.
There's something for everyone in Tenerife, it just depends on what you're looking for. If it's bustling nightlife, British style pubs and soft sandy beaches, you'd be better suited to the big resort of Playa Las Americas. A three-bed bungalow with mountain and sea views here costs €350,000, with three-bed apartments for under €250,000.
Los Cristianos and Costa Adeje are still busy but are quieter resorts with three-bed apartments costing around €180,000. Arona, a little inland, is also popular with three-bed properties here around €400,000.
Playa de la Arena and Puerto de Santiago are further up the coast, closer to Los Gigantes, and are much less frantic than the busy resorts, but still have plenty to offer. Playa de la Arena's small beach is Blue Flag rated, and property doesn't come cheap. You may have to stump up €450,000 for a three-bedroomed flat here.
Puerto de Santiago sits on the rugged mountains with its whitewashed buildings spilling down the side. Property here is cheaper with a three-bed apartment costing around €150,000.
If you're searching for a bargain property, there are still plenty to be had away from the main resorts. You can pick up a three-bed apartment in Cueva Del Polvo, a small village just outside Los Gigantes for €115,000 or consider Las Chafiras, one of Tenerife's newest residential areas not far from Los Cristianos, where you can bag a three-bed town house for around €200,000.