June 2010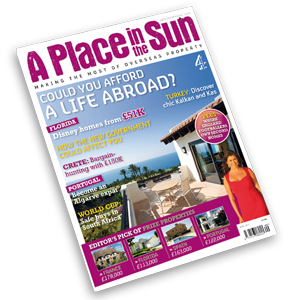 In this issue...
The June issue of A Place in the Sun magazine helps you decide if you can afford a life abroad by talking to ex-pats in four popular areas that Brits buy abroad to consider the cost of living in these places and see if they are better off living somewhere sunny or in the UK. There's some tips on choosing the right foreign currency account for you to make the most of your finances.
Our property hunt this month takes place in Crete, and we break down all the costs of buying and owning your own place in Italy. There's bargains galore in the Languedoc-Rousillon region of France plus we take a look at the properties on offer within easy reach of St Malo ferry port.
We get in the mood for the world cup by taking a look at property options in South Africa and find out where in the world members of the England squad own homes.
We continue our tour of Turkey with a look at the chic resorts of Kalkan and Kas and find out what the lush Atlantic island of Maderia has to offer prospective home owners.
There's the usual round up of our favourite bargains from around the world and A Place in the Sun TV presenter Amanda Lamb helps you figure out where in the world you should buy abroad.