January 2010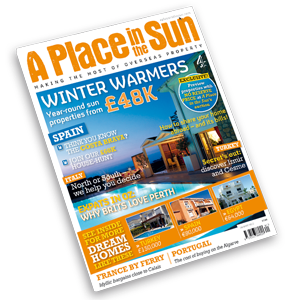 In this issue...
If sunshine makes the world brighter, then the key, surely, to a happy life is a bit of winter sun. We look at the popular destinations and what your money will buy you in each.
We kick off our round-Turkey tour with a look at Izmir and Cesme and we wrap up our round-Spain pick five hotspots on Spain's Costa Blanca and show you the cheap way to buy and own part of a property – fractional ownership – is now available in Spain.
There's the latest news in overseas property, including some new routes from low cost airline Easyjet and how to win a Bulgarian ski apartment.
We look at properties easily reached from the French port of Calais and give you a quick tutorial on how to sell shares in your overseas home.
As well as a preview of the upcoming A Place in the Sun Spanish Property Auction, there's the usual expert advice on finance, legal, emigration, mortgage and currency issues and the regular comment from TV's Amanda Lamb.