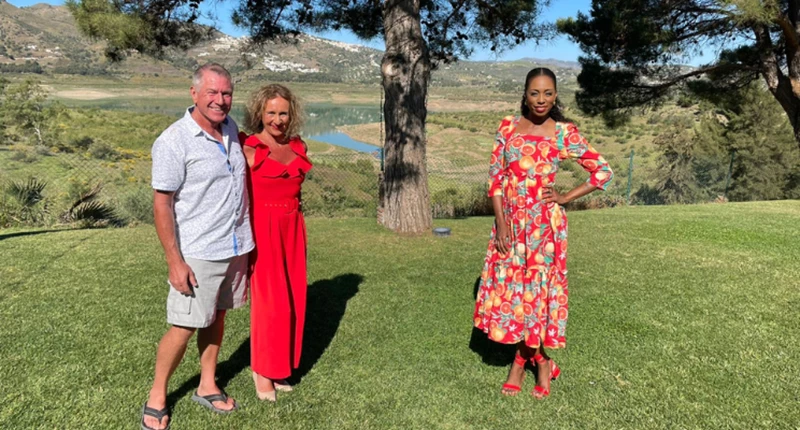 "It's been even better than we expected – it's so sociable"
Former firefighter and farm owner Brian, and newly retired Karen, a former lawyer, from Northern Ireland were looking to move to Spain after meeting on match.com a couple of years ago. The sociable couple, who both have grown-up children, and grandchildren – went out filming in May 2022 with Leah and after seeing the first property, their search was over – the three-bedroom, three-bathroom property for £105k in the town of Velez-Malaga, 45 minutes' drive from Malaga airport was impossible to beat.
Even though the couple had never been the area before applying to go on the TV show, it was the 'best start to a property search' that Leah had ever seen, and we can report that what began so well finished equally smoothly. "It was all very quick and easy with an English-speaking agent and lawyer and we'd completed by July," says Karen, 55. "We'd moved in by Septe mber."
The three-bedroom property with three bathrooms and two roof terraces didn't prove too good to be true – for the surprisingly modest sum of £105k. "We really did get lucky on the timing. We've got to see other properties since moving here, and nothing has come close. We had no idea before filming that we would ever get something like this. Our advice to anyone looking is that you may see things online, but it's no substitute for coming out here to view properties."
With their Irish passports, getting residency and bringing over their car – and Sassy their cat - has not been a problem and all three have adjusted easily to their new 'stress-free' life in the sun. "We have a great social life," says Brian, 64. "We joined a hiking group, of mainly British people, and then that led to meet-ups for coffees and drinks between the weekend hikes, and we also just encounter new people in the street."
Everyone is 'very social', they say, especially the Spanish. "We got invited to a Spanish neighbour's birthday, so we reciprocated by inviting the family around for a BBQ on the terrace and over 20 people arrived!" None of them spoke English, but that didn't prevent them all having a great party.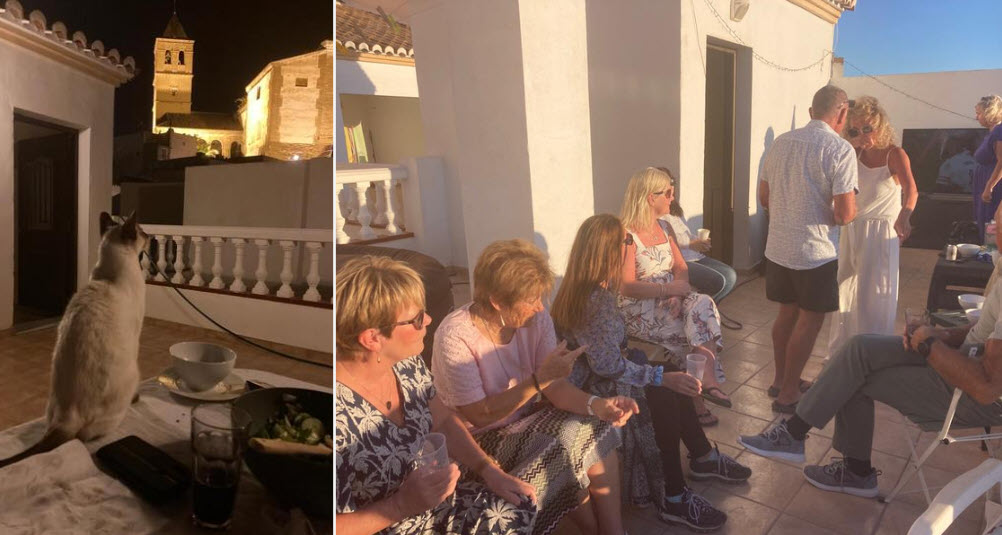 The couple didn't need to do any work to the property but have added a hot tub to the terrace and are going to upgrade the outdoor kitchen there. Much of their time is spent up there, enjoying the superb views. To the question of whether there's a favourite local bar in town they've discovered, Brian says "all of them" and mentions the great restaurant that they have at the end of the street.
Their choice of the property in a town rather one of those in a rural location in 'the campo' was clearly the right one in their case, with everything close to hand. The beach at Torre del Mar is around not too far away but the couple didn't want to be on the coast amongst tourists.
Read more
 "Velez [as it's known locally] is growing in really lovely and growing in popularity," adds Karen, of the capital of La Axarquia area of Malaga Province. "It's all very reasonable too. A good bottle of wine costs €3. A menu del dia (menu of the day) at a restaurant €10. It's hard to find anything bad to say!"