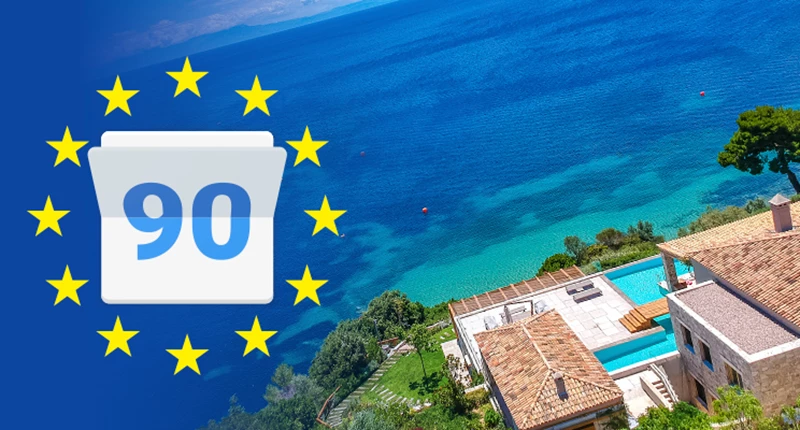 The 90-day rule and is it still worth buying a property abroad?
Over two years on from the end of the Brexit transition period, there's still a bit of confusion about the 90-day rule; yet that hasn't stopped the British people buying a lot of holiday homes abroad.
This is not to say that the 90-day rule is not a problem for every property owner or prospective buyer, yet for others it has not been an obstacle. So what is the rule and what might it mean for you?
What is the 90-day rule?
Also known as the Schengen 90/180 rule, the 90-day rule states that a non-EU/EEA national who enters the Schengen Area (any country within the area) can stay for up to 90 days within 180 days. There are penalties if you overstay this. There is now an EU online calculator to help you keep a tab on how many days you have spent in a 180-day period.
Calculating the 90 days is simple, but confusion can arise because it's a rolling 180-day period. Consider the 180-days as a moving block of time that is counted backwards from each day of staying in the Schengen Area. 
Note that 180 days is not exactly six months, and that when you count up your days you have to include countries you pass through to arrive at your destination, and that if you arrive in a country at 23.55, it will still be counted as day one of your allowance.
Can you stay in the EU longer than 90 days?
Yes you can if you have an EU passport or if you have a visa for the relevant country. Each country has different visa options, but you generally need to apply for one before you leave the UK – via the consulate of your chosen country – or there are some cases where you can apply when you are there. 
You can get long-stay visas for France, or you can apply for a choice of Spanish, Portuguese, Greek or Italian visas, or for residency in Cyprus, for example. Most come with a minimum income requirement. Take a look at our relocation section.
These visas will come with a residency permit that allows you to stay more than 90 days if you wished to spend a whole four-month block of winter in Cyprus or Andalusia, for example, or they would allow you to move full time to the country. They might last one year or two years, depending on the type of visa.
Read more
So, is it worth buying a holiday home?
For many busy with UK based jobs, or children in school, the 90-day rule will not be a problem as their trips abroad will be limited by holiday allowances and/or school holidays. They will use their home just as they might have done, pre-Brexit, perhaps renting it out when they are not using it.
That's another point – many owners, faced with the 90-day rule – are deciding that if they buy a property, renting it out when they are not using it makes more sense than before, especially with higher running costs (energy bills) to cover.
There are also plenty of buyers who are buying a holiday home now to enjoy for short breaks, with a view to using it for longer periods when they retire, at which point they will apply for a visa. Don't let the rule put you off fulfilling your long-held dream – there are plenty of buyers either planning around it or applying for visas. Find some examples here.