Here, in the first part of a new series looking at one family's move to Spain, Natalie Lockwood tells how their new start has been put on pause.
Like many, we have been planning to move to Spain for several years. My husband Nathan and I sought a new life away from our home in Yorkshire because we felt that country would give us the lifestyle we craved for - more outdoor living, more quality time as a family and of course the beautiful scenery. 
Whilst Yorkshire is stunning itself we feel we never get to fully enjoy what it has to offer due to us working long hours and of course the far fewer average hours of sunshine every year.
We had actually been planning for eight long years, saving up funds and meticulously researching where we might want to start our new chapter.
But it was when our son Jasper came along nearly five years ago that we had some sort of time-frame to aim for: we would need to make the move ready for him to begin his school years in Spain.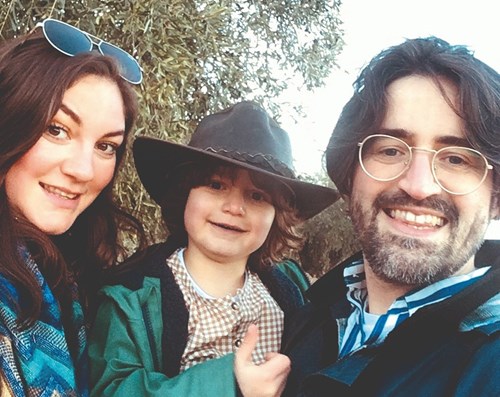 We plan to send Jasper to a school in Granada, whilst Nathan, a barber, can build up a new clientele in Spain, and a lot of my interior design work can be carried out remotely so the plan is to keep clients in the UK whilst also building up business in our new area.
As a family of three we thought we'd tackled every obstacle in our way (including Brexit looming) until Covid-19 arrived weeks after we'd received the keys to our renovation project.
We were meant to be moving out to Spain in June and optimistically, we've continued with our plans over the last few months from our current home in Bingley, near Bradford.
It's not been an easy task having to press pause on our move but it has made us even more determined to get out to Spain and begin our new life - and I am sure we are not alone in this situation.
But why did we choose Spain to start with? It's a place we've visited frequently in the past and has begun to feel like a home from home. The culture of the country fits perfectly with how we envision our family life: we love the outdoor lifestyle and the way children are welcomed wherever they go. We also love the tapas, fresh fruit and veg and of course the wine!
We briefly considered other countries but when weighing up the pros and cons Spain was the place for us. We feel very strongly about the benefits of Jasper being fluent in both English and Spanish
The area we chose to call home needed to tick a lot of boxes, we looked around the Malaga area and inland Marbella (the village of Monda was a front runner for a while).
Nathan and I were looking for a village location close to the mountains and amenities: we dreamt of lazy Sunday lunches in the sun whilst Jasper played and family sunset walks with our dog.
We wanted somewhere that tourists would like to visit as our plan involved a couple of holiday lets to rent out - we felt somewhere near a landmark city with access to a beach/lake were important.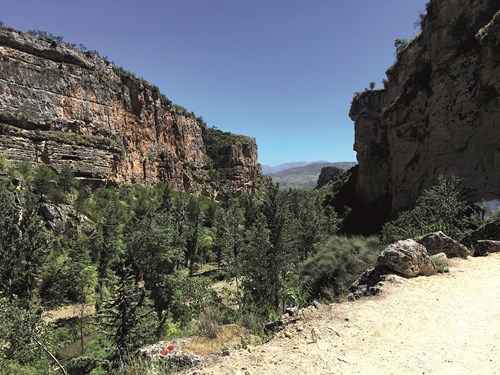 We ideally wanted somewhere with outbuildings or that could be separated in some way to create a private annex. Our private living space needed at least three bedrooms and a comfortably sized living space. Outdoor space was a must for us, we needed to be able to live an indoor/outdoor lifestyle and ideally we wanted space for a pool area.
Once we had confirmed that Spain was the country for us we had to make a decision on which province to make our home. We soon realised that our budget of €120,000, including renovation costs, wouldn't go as far as we had hoped in the areas around Malaga and Estepona we were looking at - and that we wanted somewhere more laid-back with lots of culture.
A good mix of Spanish locals and European expats was important for us to feel we were going to integrate smoothly and swiftly. The majority of our trips were short (less than a week, it's not easy being away when you're self-employed), we spent days driving around towns up and down Andalusia, calling into estate agents in each one to get an idea of the local pricing. My basic knowledge of Spanish helped us to get by (with a little help from Google translate).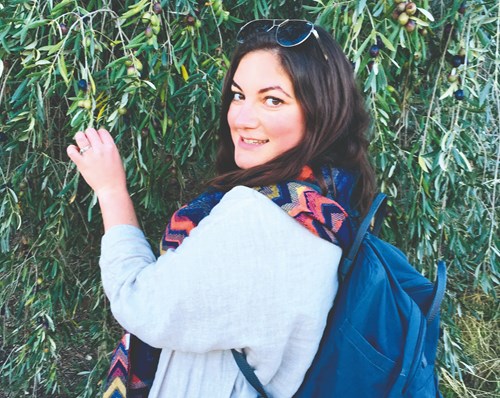 We ended up heading further inland until we stumbled into Granada province and instantly fell for its stunning landscape of the Sierra Nevada, the historic city itself with the Alhambra Palace and the traditional towns dotted between the olive groves.
The first place we stayed in was Montefrio, a beautiful hilltop town with amazing viewpoints of the castle and iconic churches. As beautiful as it was it would be too far out for us from Granada city, larger supermarkets and the motorways that connect areas I'd need to get to for work - we wanted the best of both worlds, the city and the countryside!
We visited towns within a 30-minute drive of Granada city discovering Alhama de Granada and Moclin, both of which had a strong feeling of home for us. I can't stress enough how important it is to listen to your gut when it comes to finding the right area when property-hunting, most white pueblos look the same and sometimes the only way to make a decision is to listen to your instinct.
More like this:
We visited some beautiful towns that ticked all of our boxes but they just didn't have the right feel for us - when you buy in a place and you're the new expats in town it's going to be hard enough without having doubts about the location itself too.
We spent the rest of that holiday chatting to estate agents and pricing up the area to find a pleasant surprise that our money went much further than it did in Malaga province. I'd say the properties comparable were 40% cheaper in the Granada areas than they were around Estepona and inland Marbella. 
Whilst finding our dream family home with rental potential was still going to be tough, it didn't feel like the impossible task it had in Malaga province.
Upon our return to the UK we spent our evenings trawling through hundreds of listings on property websites, ruling things out and making a short list of houses we wanted to enquire about.
We then spoke to local estate agents to enquire whether the properties were still available and to arrange some viewing days. Some estate agents were very helpful, others not so much (property viewings with a then three-year old were the biggest struggle of our house hunting journey!).

DOWNLOAD YOUR SPANISH PROPERTY GUIDE HERE
We viewed a wide range of properties from fincas to townhouses - nine in total. Our non-negotiable requirements were the holiday let potential and some outdoor space, this ruled out most townhouses in our budget as there simply wasn't enough space indoors or out.
When it came to fincas most in our price range required a substantial amount of work which we didn't have the time or budget for. So we were on the verge of losing hope when we viewed what has become our new home a 10-minute drive from the historic spa town of Alhama (also famed for its spectacular gorge valley leading to a lake).
The property ticked all of the boxes for us: close to a town, outdoor space, outbuildings for the holiday lets and not too big of a project - it has five bedrooms in total. As an old farm dwelling in a small hamlet the property has a traditional look to it from the front.
There are two cottages with a gated central courtyard, a barn/workshop and a studio above one cottage. The cottages need internal modernization and the outbuildings need full renovation but all buildings are structurally sound.
Down a staircase from the courtyard is a large grassed area that spans the width of the property, originally used for keeping animals we plan to create an outdoor kitchen and pool area in this space. There is a lot of work to be done but we plan to complete it in stages when we have the time and money. We viewed it twice that week and fell in love with the potential it had.
Having sold our UK home last September and moved into a rental with our furniture in storage we put an offer in on the property straight away. The owners rejected our initial offer but after a week of negotiation we'd had an offer accepted and found ourselves a lawyer, in February we signed the deeds and the house was ours.
Our agent Nick at Granada Estate Agents (granada-estate-agency.com) has been very helpful throughout the process and worked hard to get us the deal in good time as he knew our timescale to move was important (the irony of that now).
The decision to make Spain our permanent home hasn't been an easy one, especially as the planning of this move has been beneath the shadow of Brexit. We've done our research and it still feels that the pros for our family outweigh the cons.
Of course we're worried about healthcare, business and our child's schooling but we feel confident that we're passionate enough to make this move and lifestyle change work for us. After all, life is about taking risks and chances that excite you. Once in a lifetime (or even a century) it can be surviving and then regrouping after something like a pandemic. 
All being well, and depending on how the summer pans out, I'll be reporting back in the next edition on how we went about finding tradespeople, our renovation and how our postponed move to Spain is progressing.
Luckily we have been able to extend out rental lease and financially we will still be in a position to make the move even after a few weeks when work has been depleted (Nathan cannot work during the lockdown).
There will be changes to our plans due to the Covid-19 pandemic inevitably; we are lucky that we should still be in a position financially to get the essential work carried out ready to move as soon as restrictions are lifted - I know lots of others won't be so lucky.
It's likely the main change will be that Nathan has to commute between Spain and the UK until the business sells for the months after our move but we are more determined than ever and want Jasper settled in school from day one after this turbulent start to the year.
Ruben, our King Charles spaniel, will be joining us in Spain once the house is at a liveable standard, and we plan to drive him out on a road trip through France and Spain, as soon as conditions get back to normal. Even the journey itself will seem a wonderful adventure after what we have all been through.