Despite the COVID-19 pandemic, British buyers still want to purchase holiday homes overseas
As borders slowly start to reopen across Europe, UK residents are more motivated than ever to buy their dream property abroad. A survey of almost 5,000 prospective property hunters by A Place in the Sun reveals how attitudes towards buying homes and holiday homes overseas have changed since coronavirus hit.
Majority of UK buyers still plan to purchase property abroad
Perhaps as a result of weeks spent in lockdown, cancelled holidays, being unable to travel freely and having more time than ever to dream of life in sunnier climes, UK residents are largely undeterred by coronavirus, and still plan to buy properties abroad once restrictions have been lifted.
In fact, 38 per cent of those surveyed reported that their plans to purchase a property abroad were unaffected by the pandemic, and a further 20 per cent stated that they were more motivated to buy a holiday home or permanent residence overseas than ever.
How has coronavirus affected plans to buy homes overseas?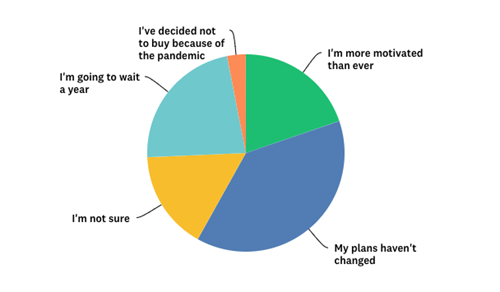 Attitudes towards purchasing post-coronavirus vary widely, but very few prospective buyers have been completely deterred.
Buyers concerned about aftermath of coronavirus
Across the board coronavirus has thrown plans for this year into disarray, and some buyers are understandably cautious about how they should proceed with their future property purchase in a post COVID-19 world. 16 per cent of people surveyed were unsure about how the pandemic would affect their plans, and 22 per cent had decided to wait a year before progressing with their property purchase.
Searches for European villas and apartments have increased during lockdown
Whilst 3 per cent of buyers reported that they no longer plan to buy a property abroad because of the pandemic, the property industry has seen that buyers remain engaged and focused on buying their dream property abroad. Visits to aplaceinthesun.com's property portal in May were up by 93 per cent on the previous year, and property enquiries were up by 63 per cent. 
The property industry across Europe has been adapting to lockdown and new measures have been introduced to allow buyers to continue their property research during and post-lockdown safely.
As the world starts to reopen, it seems as though the overseas property market will resume in full force, and demand for property will remain high as British buyers remain as motivated as ever.