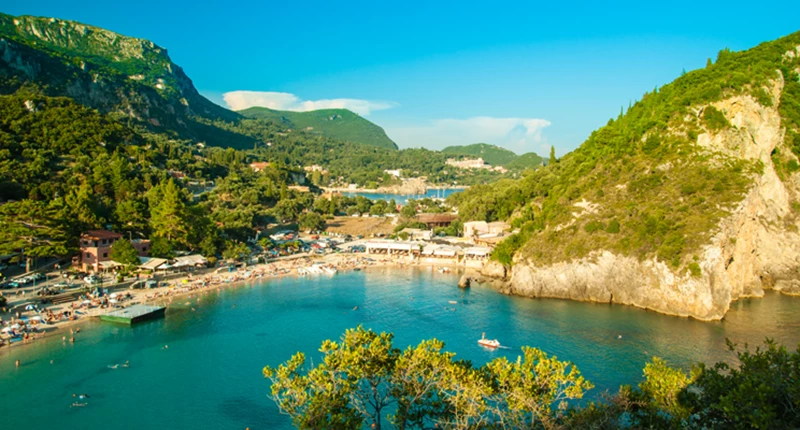 Blessed with beautiful beaches, stunning sceneries and affordable properties, the Ionian Island of Corfu in Greece is becoming a hit with British buyers, as explained in our latest Five Minute Focus instalment.
Where is Corfu?
Corfu is located in the north Ionian Sea, opposite the coast of the Greek mainland and close to Italy and it is the diamond of the Ionian Islands complex, also called the Heptanese.
A few words about Corfu
Corfu is one of the most important and beautiful islands in Greece, perhaps the greenest one with dense vegetation, unmatched in natural beauty with dozens of sightseeing and beautiful beaches. It is also one of the country's cornerstones in the tourism industry, helped in recent years by the popular British and American TV series 'The Durrells' that was filmed on the island. It is an island with a long history and has been notable in Greek culture and tradition for over 3,000 years. 
Getting there
It is possible to travel to Corfu by ferry or plane. The airport is located very close to Corfu town and it receives domestic as well as direct flights and charters from abroad. Ferries to Corfu depart from Igoumenitsa and Patra.
Climate
Corfu enjoys a warm and sunny Mediterranean climate, with hot summers and cooler, mild winters.
What to see and do (and eat)
Corfu Island has a cosmopolitan feeling combined with a special traditional character. Corfu has many museums, monuments and cultural centres. There is a huge musical tradition on the island and in Corfu town, there are three main philharmonic societies. UNESCO has declared the island's historic centre a world heritage site. Easter in Corfu is one of the most beautiful in Greece and it is something you should experience at least once in your lifetime.
In Corfu, you will also taste culinary miracles, like pastitsada (beef in a rich tomato sauce with pasta) and sofrito (battered beef cooked in olive oil and wine). Kumquat is a citrus fruit, brought to the island in 1846 and ever since cultivated there, that Corfiots use to make liquors, jams and sweets.
Popular areas of Corfu
Canal d'Amour
The myth says that if you swim here you will find your soul mate and couples who swim here will get married within the year. The natural passage created by the smooth rocks is like a tunnel. 
Paleokastritsa
In the island's most famous tourist resort, a lush blanket of green is draped across six rocky coves. Some still believe that this was the site of the mythical palace of King Alkinoos, where Odysseus stayed.
Download our free guide to buying a property in Greece below

Achillion Palace
The island's imperial past may be the reason why it is considered one of the most glamorous destinations in Greece. Empress Elisabeth of Austria-Hungary, the legendary Sissi, chose Corfu to build her palace. 
Spianada Square
It is the main square in Corfu town, but also the largest in Greece, and dates back to the French occupation during the Napoleonic Wars.
Halikounas
A sand dune dividing the open sea from Korission lagoon, this is one of the wildest, most unspoilt beaches in Corfu, stretching 3 km southeast to the canal joining the lagoon to the Ionian Sea.
Agni
This petite bay (pictured above) is one of the best-known beaches in Corfu and offers a refreshing dip in its turquoise waters. The scenic beauty of Agni offers visitors tranquil moments. 
Why buy here?
Buyers from all over the world choose Corfu for their second or retirement home for its location, easy access, climate, environment, year-round activities and unique culture. 
What you can expect for your euros?
There is a good selection of property in Corfu, ranging from €200,000 for an apartment in Corfu Town or a coastal village, while three-bedroom houses with sea view start around €500,000, rising to over €5 million for a modern design villa with just above the beach.