In the autumn edition of the A Place in the Sun magazine we featured John and Diana Greenaway (both 58) from London who had decided to swap a holiday home in Florida for a new life in Marbella. So did that happen? John Greenaway reports from their new home in Spain...
Opting to go for the laid-back Mediterranean way of life rather than the Floridian style, we had decided to move to Spain full time in around 2015. Despite our villa in Kissimmee in Orlando – which we had bought in 2013 – providing some useful rental income, it was the leisurely approach to life, the languid family-centred meals, that made us feel that our future was in southern Spain. The cheaper healthcare in Spain was another consideration.
So, after much deliberation and research, we opted for the Costa del Sol, for the culture and the overall lifestyle. We wanted a three-bedroom house that would have plenty of room for our two daughters (aged 27 and 31) to come and stay and we decided to rent for a few months so that we could see if we liked living in Spain and also to take the opportunity to explore all the areas and look for that dream villa.
We thought that finding the right home (and hopefully the last home for us) would be easy due to our serial-moving lifestyle (18 homes in 30 years of marriage). We sold our British home 18 months ago and moved over half of our funds back then. The fluctuating pound was a worry and we assumed it would get worse before it got better in the Brexit negotiation period.
So, back in Spain we viewed more than 100 properties in an area spanning from Estepona to Mijas which included El Paraiso, Guadalmina, Benahavis, San Pedro, Nueva Andalucía, Puerto Banús, Marbella, El Rosario, Elviria, Calahonda, Riviera del Sol, Miraflores, Torrenueva, La Cala de Mijas, Mijas Pueblo, El Chaparral and Sierrezuela … phew! 
As you can imagine, a few estate agents gave up on us along the way, thinking that we didn't really know what we wanted.
I will be honest and say that we did change our minds so many times. So renting a property in Marbella during this time was invaluable and something we would recommend if it is practical. Although I had finished my career as a business manager in the Houses of Parliament, I was dipping into some consultancy work, which I could do easily from Spain.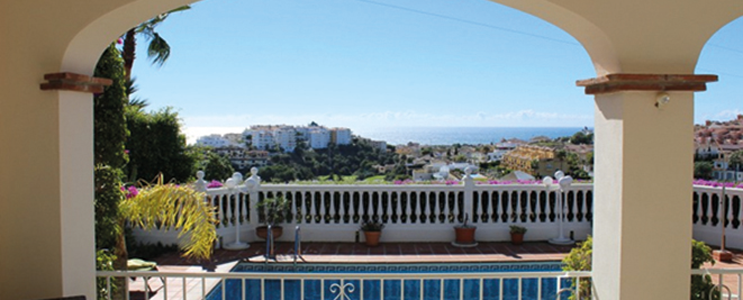 Were we seeking the impossible? Our list of must-haves included being a detached property, south-facing and with a pool, featuring sea or mountain views. Two storeys, at least three bedrooms, air-con plus heating, not overlooked, modern yet with Spanish influences, with a private garage, in a quiet residential area yet close to the beach and within walking distance of the shops.
That is quite a list but luckily our budget was healthy – €650,000 – so we knew we had a reasonable chance of finding something for this.
But as we learnt during the process, it must have all the legal paperwork, given previous fraudulent practices and illegal building in Spain where the industry is now strictly monitored by the country's legal system.
We finally found a villa in the Riviera del Sol on the Mijas Costa (above), an area 20 minutes from Malaga and Marbella. It was further towards Malaga than we had planned but was well located, we decided. The three-bedroom house came with a pool and offered great views towards the sea. It was owned by a lovely English couple and we bought it fully furnished for €625,000.
After carrying out the necessary due diligence through our Spanish lawyer, including a building survey, we got the keys on March 18 and have now started our new life in the sun. 
How have we prepared for Brexit? We actually haven't found too many people worried about Brexit here. The British consulate has been proactive in helping expats to navigate all the uncertainty and there have been many seminars offering advice. 
Those who have registered with the town hall are fine, even in the event of a no-deal, as the Spanish government has issued a royal decree saying that they will let British expats here access Spanish healthcare. We will also become tax-resident in Spain. 
With careful planning, I think we have made the right choice.
Download our free guide to buying a property in Spain below