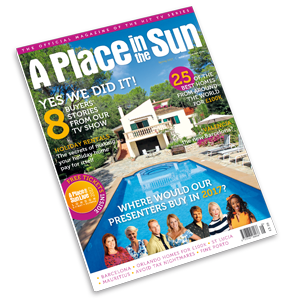 Latest issue:
Spring 2017
In this issue...
Our spring issue is essential reading if you are looking to buy a home abroad in 2017!
Find out where all of the A Place in the Sun presenters (old and new) would choose to buy in 2017, will it be an old favourite like Spain and France or somewhere further afield…?
Join us in Portugal's second city, as we find out if Porto's property market really is one to watch. With French investment properties being in high demand at the moment we weigh up all of the pros and cons of gites, leaseback and holiday rental.
That's just a taste of what's inside this bumper issue of the A Place in the Sun magazine so get your copy now!
Subscribe to receive this issue