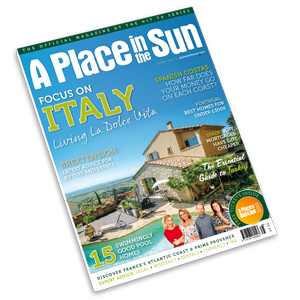 Latest issue:
Summer 2019
Welcome to our Summer 2019 issue. Depending on your mind, Brextension has either merely prolonged the uncertainty or bought you some more time to buy a property abroad or sort out your move there.
We have a number of features to help provide some clarity and overseas property inspiration, including:
- Brextension - what next for buyers and expats?
- Spanish mortgages: are rates the cheapest for years?
- Why the Brits love Italy and where to locate the hotspots
- How far does your money go on the Spanish Costas?
- Case study - meet the couple who bought in Spain in the week Brexit was meant to happen
- How to navigate the Florida mortgage market
- Charente-Maritime: France's Atlantic playground
- Turkish buyers' miniguide
- 12 great homes for £300k or less in Portugal 
- Plus, much more…
Get your copy now to kickstart your overseas property venture with the latest information, advice and guidance from those who've done it themselves, by clicking below.
Subscribe to receive this issue