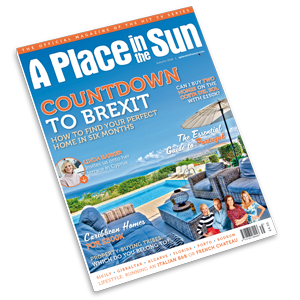 Latest issue:
Autumn 2018
The glorious heatwave; England getting to the World Cup semi-finals; The royal wedding - there's certainly been a lot to cheer about in the UK this summer. But now, it's time to settle down for the colder months and kickstart your overseas property plans with our new Autumn magazine.
As always, our magazine is jam-packed full of features, top tips and buyer case studies to help with your property search. No matter where you're looking to buy abroad, from southern Spain to the Sunshine State of Florida, we're here for you! And with Brexit slowly approaching, we provide you with valuable material to help prepare you for the transition period in 2019 (and/or beyond).
In this issue...
Countdown to Brexit! - Why and how it's not too late to find your perfect home in the next six months...
Linda Barker on her pad in Cyprus - The interior guru personally speaks to us about her Cypriot investment project...
The essential guide to Portugal - Find out the in's and out's of buying in Portugal with our mini-guide...
Overseas property tribes - Which one of the typical buyer profiles do you belong to?...
Astrology and finding your perfect home - Can your star sign define where and what type of property you should buy?...
Swapping a home in Florida for Marbella - How do central Orlando and Marbella weigh up if you want to escape British winters?...
Property hunt in Spain - Can you buy two homes for a budget of £150,000 on the eastern Costa del Sol?...
Plus, much more…
Get your copy now to make your overseas property venture even more exciting, stress-free and seamless, by clicking below.
Subscribe to receive this issue