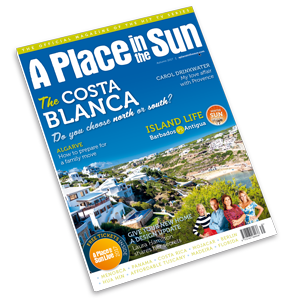 Latest issue:
Autumn 2017
Autumn has arrived in the UK, but our latest magazine is full of the hottest features and properties for sale!
In this issue...
Our editor Liz Rowlinson has been discovering the laid-back Balearic island of Menorca, a low-key piece of paradise in Spain where your money can go further.
We've been touring Italy to root out a few of the best affordable homes in the Tuscany region for less than £300k.
It hasn't been covered much in the past but we've been taking a closer look at Germany's capital city, Berlin, and discussing why it's fastly becoming a property investor's dream.
We look at how you can give your Costa del Sol apartment an instant revamp to suit your fashion needs, including hints and tips from our very own Laura Hamilton.
With the Costa Blanca gaining more popularity amongst British buyers, do you choose to head north or south? Richard Way provides a guide to the popular spots of our favourite Costa, from Dénia to the southern Orihuela.
Plus much, much more...
Get your copy now to make your overseas property venture even more exciting, stress-free and seamless, by clicking below.
Subscribe to receive this issue