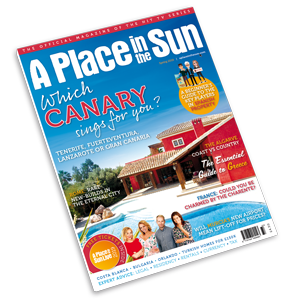 Latest issue:
Spring 2019
Welcome to our Spring issue. By the time you read this issue, Brexit might have happened - or it might not. A delay is looking likely, so there is still time to kickstart your overseas property plans in 2019. Perhaps the following features will offer some guidance.
Meet the players in Spanish property - we introduce who you will meet and what to expect of them when buying a home in Spain
The Algarve: coast vs country - would buying or living inland suit you better than by the beach?
Why Murcia's new airport means lift-off for the region
Case study | Six years in our perfect home in San Luis, Spain after appearing on the TV show
Ask the expert | The do's and don'ts of buying in Spain
12 homes in Turkey for under £150k
Bulgaria: time for buyers to take a fresh look?
The Canaries: which island would suit you best?
Orlando: the perfect introduction to choosing a location or resort in the heart of the Sunshine State
Plus, much more…
Get your copy now to make your overseas property venture even more exciting, stress-free and seamless, by clicking below.
Subscribe to receive this issue