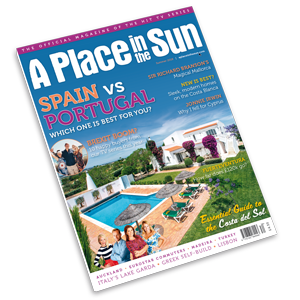 Latest issue:
Summer 2018
It looks like summer has FINALLY arrived here in the UK, and to celebrate we've published our brand new magazine issue to match.
As always, our magazine is jam-packed full of features, top tips and buyer case studies to help kickstart your overseas property search. No matter where you're looking to buy abroad, from southern Spain to the Sunshine State of Florida, we're here to help!
In this issue...
Sir Richard Branson! The virgin businessman reveals all about his properties in Mallorca, the Caribbean and more…
A closer look at northern France! Janine Marsh meets the British families that live in France yet work in London (and love having a foot in both countries!)
What happened next? Ten happy buyers from our TV show tell us what followed when the cameras stopped rolling…
Algarve vs Costa del Sol! Zoe Dare Hall looks at these two popular yet very different stretches of southern European coastline and cherry-picks some highlights…
Jonnie Irwin on Cyprus! After a recent trip filming on the eastern Mediterranean island, our presenters can't believe why he doesn't meet more property hunters looking to buy there…
Plus, much more…
Get your copy now to make your overseas property venture even more exciting, stress-free and seamless, by clicking below.
Subscribe to receive this issue