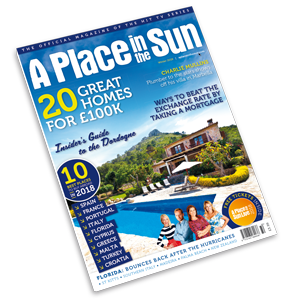 Latest issue:
Winter 2018
The cold and dark winter is certainly in full swing in the UK, but our brand new magazine is here to help brighten up your day!
In this issue...
Access the latest features and property market analysis for every single country in our top 10 list - Spain, France, Portugal, Italy, Florida, Cyprus, Greece, Malta, Turkey and Croatia (including one for you Game of Thrones lovers out there).
Celebrity plumber and founder of Pimlico Plumbers, Charlie Mullins, has been talking to our property expert Angela Sara West about why he's planning to spend more time on the Costa del Sol.
One of the effects of Brexit is that budgets have got lower for some buyers. Not to worry, we look at what properties you can buy for less than £100K in Spain, France, Greece and Turkey.
Savvy financial types get mortgages even when they don't need to. Especially when the exchange rate is not in their favour. Richard Way reports.
Our editor Liz Rowlinson reports from one of the eastern Caribbean's most unspoilt islands, St Kitts! She looks at the different types of properties available, reasons why and WHY NOT to go and its intriguing history.
Plus much, much more...
Get your copy now to make your overseas property venture even more exciting, stress-free and seamless, by clicking below.
Subscribe to receive this issue