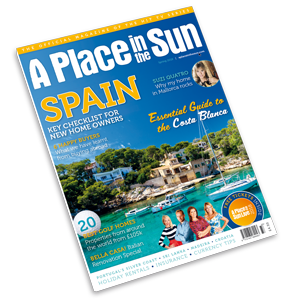 Latest issue:
Spring 2018
With winter and the 'Beast from the East' a thing of the past (we hope!), it's now time to focus your attention towards the warm summer months ahead with our jam-packed spring magazine.
In this issue...
Learn all the things you need to know when you've just purchased a Spanish property - from installing new locks to essential legalities, buying furniture to dealing with your local town hall.
Leather-clad rocker Suzi Quatro speaks to Angela Sara West about why she loves Mallorca in Spain as a holiday-home destination.
Find out what happened next to our property hunters who bought their properties on our popular TV show. This includes homes in Spain, Cyprus, France, Portugal and Turkey.
Our magazine editor Liz Rowlinson finds out why buyers are going mad for the Portuguese island of Madeira - mixing old-fashioned values, natural beauty and cutting-edge new homes.
Access a mini guide to buying a property on the Costa Blanca, Spain. This includes wise words from our very own Jasmine Harman.
Discover how to renovate an Italian townhouse by the owner who loves doing it so much he even wrote a book on it.
Plus much, much more...
Get your copy now to make your overseas property venture even more exciting, stress-free and seamless, by clicking below.
Subscribe to receive this issue