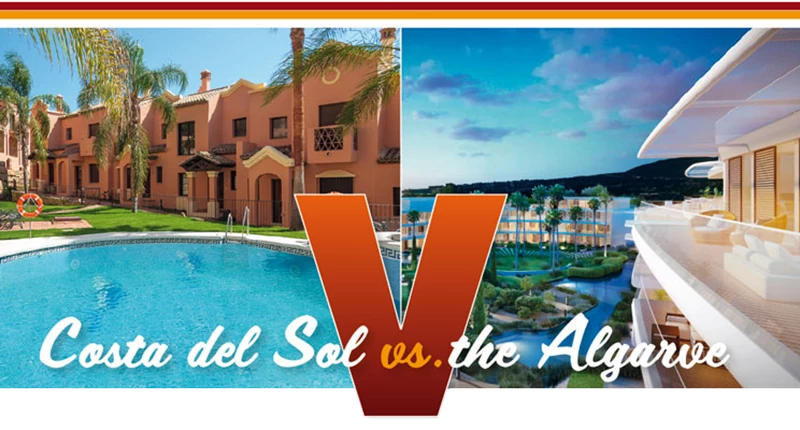 Zoe Dare Hall looks at these two popular yet very different stretches of southern European coastline and cherrypicks some highlights, whatever your needs...
In the face of it, the Southern Mediterranean's two most famous holiday coastlines have much in common. Portugal's Algarve and Spain's Costa del Sol have both notched up record numbers of overseas tourists in the past year (Faro airport saw a record 8.7m passengers last year – 1.1m more than in 2016 – and Malaga airport around 18m), while also being hugely popular summer destinations with their domestic markets. British holidaymakers have increased by a similar amount in both locations too, up by 6-7% in 2017, compared with the previous year.
Depending on where you stick your flag in the sand, both coasts are about 150km long (that's if you stretch the Costa del Sol as far as Nerja, as some do, or call a halt at Malaga, in which case it's a 90km run), which ensures enough sandy stretches to ensure you can find everywhere from solitude in the dunes to as many inflatable bananas as you can handle.
Each coast has its mix of lively resorts, traditional villages and an attractive major city in the shape of laidback, historic Faro and the much larger, buzzing cultural mecca of Malaga. And both can claim about 3,000 sunny hours a year, with similarly hot summers and mild winters. Sea dips are more bracing, though, in the Algarve's Atlantic waves rather than Andalucia's calmer Mediterranean waters.
British buyers make up 19% of foreign property owners on the Costa del Sol, according to Taylor Wimpey España. According to Your Viva estate agency, the most requested places are Marbella, Mijas, Estepona, Benahavis and Manilva. On the Algarve, the number of British owners is harder to pin down, but agent Fine & Country Algarve say 40% of their buyers on the coast are British (that's down from 80% pre-Brexit).
Price-wise, Costa del Sol agents say property values have yet to reach pre-crisis levels again – so buy now and you're looking at 2008 prices. On the Algarve, however, prices are now 13% higher than their pre-crisis levels, according to the independent property data company Confidencial Imobiliario.
The two coasts are also incredibly different in some ways too – which drives most holidaymakers and holiday home buyers to gravitate to one or the other, but rarely to have similar affections for both. They may both be part of the same Iberian coastline, but the landscapes, culture and of course language are very different.
The Costa del Sol has its more densely developed pockets that meld into magnificent Andalucian mountain ranges – giving rise to its famous hillside 'pueblos blancos' such as Mijas and Gaucin – while the Algarve's immediate hinterland is less dramatic. The same might be said of the people, too. The Portuguese way can seem gentler and more low-key, while the Spanish like to put on a show – and the higher the decibel count, the better. Here are some ideas of where to look, whichever coast is calling.
Family-friendly resorts

Algarve
"The Algarve is one of the most family-friendly places on earth,"  says Jelena Cvjetkovic from Savills' international department – so take your pick. At the more affordable end of the resort spectrum is the relatively new Belmar Spa & Beach Resort overlooking the Porto de Mos beach near Lagos, with apartments from €220,000, and the inland Amendoeira Golf near historic  Silves, with two-bed apartments from €247,300, both through Savills. Sports facilities include football pitches, tennis courts and a gym.
The most popular mid-budget family options are Praia da Luz and Carvoeiro, says Zoie Hawker of Fine & Country Algarve, who are marketing two-bed apartments with sea and garden views in Praia's Estrela da Luz resort for €299,000, with access to communal pools, bars, restaurants and a short walk to the beach  and village centre.
At the high end are Quinta do Lago (QDL) and Vale do Lobo, both playgrounds for the rich and famous (including lots of sports stars). Villas can cost up to €20m, but Savills also have a one-bed flat overlooking the San Lourenco golf course on QDL for €259,000 (£226k). For most buyers, the Algarve is all about the coast, but Ombria – a new 153-hectare rural resort near Loulé, due for completion in early 2020 – may tempt some inland. Properties range from €300,000 apartments to €2.5m villas, with facilities including a five-star hotel, sports amenities and, given the resort's emphasis on sustainability and nature, attractions including honey harvesting, astronomy and organic farming.


Costa del Sol
The southern Spanish coast is also heaven for families – and with prices having tumbled since a decade ago, there's far more choice within easy reach of the beach now too. The biggest resorts – Fuengirola, Benalmadena, Torremolinos – offer every amenity imaginable, but their densely-packed development may lack the Spanish charm you desire. Smaller La Cala de Mijas – which like so many of these resorts, is skimmed by the busy A7 motorway, but is surprisingly out of earshot – is also a magnet for Brits, but has a Spanish village charm in its town centre and a fantastic beach.
You can find apartments (often bank possessions) from €100,000. A small but modern one-bed beachfront apartment is available for €165,000 through Your Viva.
You'll always pay a premium for a new-build on a resort, but it will also offer the convenience and facilities that families favour. Sotogrande has sports galore, and apartments from €250,000, such as a two-bedder in Alcaidesa, near the beach and golf course, through Savills. Family-friendly Estepona has the amazing beaches and lovely old town, but offers greater value for money, due to its distance from Marbella (and Malaga airport – though it's handy for Gibraltar airport). Lots of new developments are cropping up, including The Edge, right on the beachfront, with two-bed apartments from €592,000 and Las Olas, with two-bed flats from €235,000, both pictured below and sold through Cluttons Marbella.
Best for rental income?

Algarve
If you've ever tried to book a holiday home at Quinta do Lago (even several months in advance is a bun fight), you'll soon get a taste of how owning a holiday home here is a rental goldmine. You need to be wealthy to buy there, though, and service charges are high. You can capitalise on golf and summer holiday demand elsewhere though – a combination that means you benefit from big shoulder seasons, says Fine & Country's Zoie Hawker, who suggests Vilamoura and Carvoeiro. Albufeira is also good, according to holiday rentals portals.
A more niche option is Olhão, a traditional fishing town on the Ria Formosa, which is starting to see interest from overseas buyers who have bought old townhouses cheaply and turned them into designer holiday lets. With a superb position on the waterfront, a similar opportunity may lie in a two-bed cottage with a separate one-bed annexe on sale for €325,000 through Fine & Country.

Costa del Sol
Stick to the Marbella/San Pedro area for holiday rental returns, plus central Malaga, advises The Property Finders' director Barbara Wood. Marbella is on the up again – you can see it in all the new shops, restaurants, hotels and beach clubs – and demand for property (and holiday lets) is hugely international. Anything beachfront or near enough, with bars/restaurants close by and free wifi, is what buyers (and renters) want, says Taylor Wimpey España's CEO, Javier Ballester. 
San Pedro, Marbella's neighbour, has become an attractive proposition since its terrible traffic was diverted underground – and the tunnel's roof now landscaped with parks and play areas. New developments that sprang up near the beach, including Taylor Wimpey's Los Arqueros Beach, sold out fast off-plan even while Spain was still climbing its way out of recession five years ago. DM Properties have a ground floor three-bed flat beachfront Casablanca beach for €950,000.
Best for glitz?

Algarve
You don't go to the Algarve for glitz – although it's undoubtedly happening behind closed doors on the swankiest resorts (owners often transport their social set from home down here). Along with Quinta do Lago and Vale do Lobo, Pine Cliffs near Albufeira is a high-end resort with property for sale. Two-bed apartments cost from €1m and four-bed villas from €4.5m. Once off -resort, the Algarve feels distinctly unglitzy and unpretentious, which is its great charm. It doesn't get better than sunset in a simple beach bar in the dunes.

Costa del Sol
Puerto Banus is the place to pose, and homes here are always fast sellers "to those who are looking to live in style", according to Mark Pritchard of Taylor Wimpey España. He proposes the Royal Banus, where two-bed apartments start at €490,000.
Marbella's Golden Mile – halfway between Puerto Banus and central Marbella – is also well-trodden ground for the well-heeled. Frontline villas can cost €20m+, but with the same location, views and access to glitz, you can buy a three-bed apartment in the beautiful seafront Jardines de Sierra Blanca complex for €365,000 through DM Properties. For easy proximity to the coast's most glamorous beach clubs, including Nikki Beach and Estrella de Mar, head to Elviria. A three-bed beachfront flat in salubrious nearby Los Monteros Playa costs €1.29m through DM Properties.
Time for tee? Golf homes

Algarve
Wealthy golfers in search of a more rustic and less flashy resort than Quinta do Lago may like discreet, low-density Monte Rei, in the hills behind Tavira in the eastern Algarve. New apartments near the clubhouse (including the resort's excellent Las Vistas restaurant) start at €825,000 through Sphere Estates.
A second Jack Nicklaus course is planned, along with a boutique hotel and nearby beach club. The Amendoeira Golf Resort, near Silves, is similarly rural, with two-bed golf apartments from €247,300 through Savills.

Costa del Sol
Golf homes sold like hot cakes before the 2008 crisis, then demand dried up and many promised golf resorts went unbuilt. Demand is high again, though, says Taylor Wimpey España's Marc Pritchard, who is marketing two-bed flats from €287,000 on the La Cala Golf Resort in Mijas. Ibergolf is the only Spanish course currently under construction, according to Cluttons Marbella's James Evans, who is marketing three-bed frontline golf townhouses there from €169,000.

Local charm

Algarve
There's little to beat fishing towns such as Cabanas de Tavira, Fuseta and Santa Luzia (the Algarve's octopus capital), which line the Ria Formosa and overlook almost Caribbean-like sandy islands. A three-bed villa 500m from the beach, with communal pools and village square, is available for €280,000 through Fine & Country Algarve.
For picture postcard perfection, look at Cacela Velha, an ancient hilltop enclave overlooking the start of the Ria Formosa. Its handful of whitewashed cottages around the ancient church includes a five-bed house with sea views for €480,000, also through Fine & Country Algarve. For inland charm, Fine & Country's Zoie Hawker suggests Barão de São João in the west, Estoi in the East or Alte in the Central Algarve.

Costa del Sol
The 'pueblos blancos' – the Moorish white villages that dot the mountains like stacks of sugar cubes – are a way of experiencing archetypal Andalucia, but often within just a short drive of the coast. Mijas Pueblo is the most famous and a big tourist spot, though many of the backstreets remain authentic and peaceful.
Two-bed townhouses cost from €160,000 through Your Viva. Ojen is the untouristy version, with the benefit of being just 10 minutes inland from Marbella, with amazing coastal views from its hilltop perch. From around €200,000, you can buy a two-bedroom townhouse or four-bed apartment through Cluttons Marbella.