Have you often wondered what happened to the property hunters featured on A Place in the Sun's TV series? Did the lovely family from Somerset end up buying the Boyzone house? Or what about the couple who offered on the very first property in Vero Beach, Florida?
We hunted down the property hunters from our most recent series and the responses provided an interesting snapshot of the current overseas market: some people snapped up great deals and couldn't believe their luck; others are still searching for the right home; and a few ended up buying not one but two or three properties.
Here are some highlights...
"Buying our Sitges apartment was a lot of fun and it's already proving a great investment"
Stephen Rowlay and Stuart Murrie from Baildon in West Yorkshire were featured on Home or Away?, choosing between the Lake District and Sitges, in northern Spain. They ended up buying a new-build one-bedroom apartment in the centre of the town for €260,000 (£220,400), with a parking space for €25,000 (£21,200). It is already a successful rental property. New landlord Stephen explains how they are getting on...
"After the filming finished, I was going out to Sitges three days every month to look at properties. On one such trip, I viewed 15 properties with three different agents (I'd kept in touch with the agents we used on the show). However, it was through an old acquaintance, Nicola Eastman (easysitges.com), who I had met a couple of years earlier on a property-viewing mission, that I found our property, a new-build apartment in the San Sebastian area of Sitges - a stone's throw away from where Laura [Hamilton] did her first piece to camera.
It was a one-bedroom apartment, finished to a good standard, but the asking price was way above our budget. Nicola negotiated superbly, so we got it within budget, including a parking space in the basement of the building.
It was quite relaxed buying the apartment, with the help of a great local lawyer, Lluís Gómez (sitges-lawyer.com), who translated everything. Setting up the apartment has also been fun, involving a five-hour trip to the local Ikea in Barcelona.
The rental side has begun to take off. I managed to source a great company (staysitges.com), and they have been marketing the apartment for rental since April. We have achieved booking for 60 days (at €110-€115 per night) and there is still time for others to come in before our first season ends.
Most of my family have had, or are about to have, the opportunity to visit, even if it meant sleeping on inflatable mattresses. The location is fantastic, just on the edge of all the hustle and bustle but in a quiet street (left). It is seconds from the beach in a family-friendly part of town, but close enough to everything you could possibly want. We are sorting out Molly the dog's passport, so we can all go and spend some time there."

"We ended up buying the Florida property we offered for on screen - and renting it out is going really well."
Debbie and Steve Price from Cardiff fell in love with the first property that Jonnie Irwin showed them - a bank repossession, in Vero Beach, on Florida's East Coast. They bought the three-bed, three-bath condo for $105,000 (£67,500), and are renting it out to a tenant until they retire. Debbie explains how happy they are with their purchase.
"The first property we saw was a last-minute substitute, so we very nearly didn't get to see it - it must have been fate!
We offered on the property on screen, but we didn't get an immediate answer because it was a bank repossession. It took longer to complete than we expected, because of a problem between the bank and the condo association, but we are now delighted and can't believe our luck at catching this property at the bottom of the property crash.
"The property is a 2,000ft2 three-bed condo, with a huge open-plan kitchen/lounge/diner, den and garage. It's only five minutes from the beautiful beach in Vero and on a small and friendly gated development, so ideal to lock up and leave. Until we can retire and spend the winter months there, we are renting it out to a lovely lady who pays us rent three months in advance. We had an amazing time filming and look back on our property search as a great experience."
"We've had a wonderful time living in Andalusia for nearly a year - and still have the car we bought from Boyzone's Mikey"
You might recall the Home or Away? episode featuring Nick and Sarah Tatt from Somerset (Cornwall vs Andalusia) for two reasons: the moment they tipped Jasmine out of a canoe or the fact that they were negotiating to buy the house and car belonging to Mikey Graham of Boyzone. Well, they bought the car but not his house, and subsequently paid €213,000 (£180,700) for a four-bed house in Lake Vinuela, where they are now living. Here, Nick tells all.
"The house we tried to buy on the programme belonging to Mikey Graham fell through for legal reasons, but we bought a property close by with great views of Lake Vinuela and Mount Maroma - reduced from €380,000. The Spanish vendor really didn't want to sell at all. We loved doing the programme, and found Jasmine and Laura's help invaluable.
"We've all adjusted well to life in Spain, with our two younger children (aged 6 and 11) adapting to life in the local school. Alex (11) much prefers it to his Somerset school. We recently celebrated Sarah's 50th birthday at the house, and are expecting our first grandchild any time now [their other two children are 27 and 24], and I find working remotely works out really well. Life in Spain is good for us, despite its problems."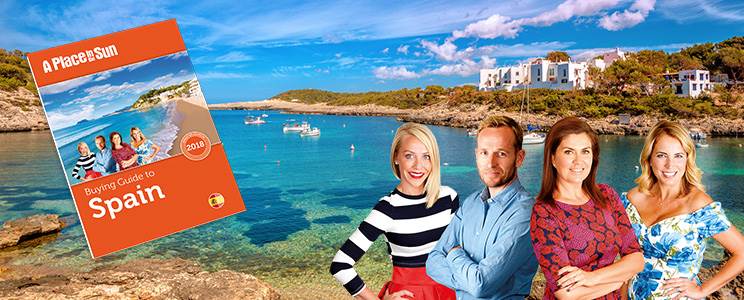 Download our Spanish buying guide
"Life in our Spanish upside-down house could not be better (apart from having to come back to the UK to work for a living!)"
Richard and Chris Gansbuehler from Northampton found their dream house on screen during the Summer Sun series filmed around Tarragona in northern Spain, though you wouldn't have witnessed them putting in an offer - that was done after the cameras stopped rolling. Located in Benissanet, the three-bed house cost €118,000 (£100,000). Built by an English couple six years ago, it was ready to move into. Here, Richard takes up the tale:
"I featured with my son Rich on the show, because Chris didn't fancy it, and she wouldn't let me put in an offer on it on screen. But we bought our 'upside-down house' - so called because the bedrooms are located on the lower, not upper, floor - and have been back every month since we got it in November.
"I started crying when I glimpsed it, and knew the minute I saw it that it was the right house. I'd never been to mainland Spain before and I would have stuck to the coast, but this is nearly 30 miles inland and it if wasn't for the programme we'd never have found it. The family are celebrating my 60th there soon, and, although I'm still running my plastering company with Rich back home, we are hoping to move over here permanently."
"We chose Murcia over Florida - it's so easy to get to, we've already been five times this year"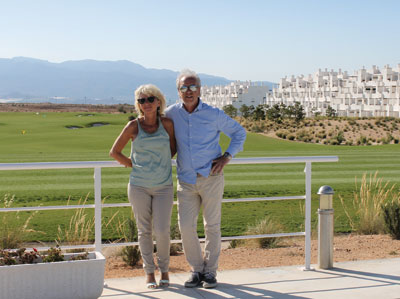 Michele and Alan Raine from Sunderland were initially looking to buy in Florida after many happy holidays spent there as a family. However, while stopping in Spain on a cruise, they changed tack, and in December bought a two-bed apartment, on a Polaris World golf development in Murcia, which they have been enjoying ever since. Here, Michele reports from their Spanish home.
"We love Florida and returned at the Easter following the TV show, but at the back of our minds was the distance and costs involved in travelling to America. Some of the homeowners' fees were very expensive, too, running to hundreds of pounds a month - which would mean we would ultimately have to rent the property out to help cover the costs. That would lead us to other considerations regarding management etc.
"Then on an October cruise around the Med, we discovered the Polaris World golf developments in Murcia. The prices were about 70 per cent of the original costs when the resorts were built around 2007; and we loved the area - the quality of light, the landscape and colours. In a funny way, it reminded us of Florida, with its Spanish orange groves and golf resorts. We bought a golf property, in Condado de Alhama, directly from the developer, and spent about £60,000 in total, including furnishing the property and fees.
"We also had a discount on the VAT, and managed to get a really good exchange rate that meant we got a bargain. We exchanged contracts in December and have visited five times. We were able to be together with our children here in August - something we do not think would have been possible if we had bought in Florida."
"We changed tack from Almería to the Costa Blanca, and bought at a great time"
Hilary and Ray Fleckney from Bury in Lancashire (right) bought a two-bed, two-bath apartment on the Orihuela Costa, 45 minutes south of Alicante, for €79,000 (£67,000). They completed on the sale in May. Hilary tells their story...
"Initially we were looking to buy a holiday home in Almería, but because there are only flights from Manchester and Liverpool in the summer, and we wanted a place to use more in the winter, we began looking at the Costa Blanca. We can get flights to Alicante every day, all year round, plus there are some flights to Murcia San Javier 25 minutes
from our home. Our nearest town is Torrevieja, five minutes drive away: ideal for attracting holiday rentals, which was our intention all along.
"The apartment we chose had only been on the market two weeks - at the market peak, it was worth €130,000 - and was already being let so it was ready to go, and we have got five weeks' bookings already, which, at €200 net a week, will cover our running costs for the year. We think it was a great time to buy, and are looking forward to going out again in October and over Christmas."

"We've finally sold our French B&B to get our dream Sicilian villa in the hills"
Those of you who read our summer issue will know that Paul Pontone, left, and Chris Moss have been dispensing some useful advice about running a French B&B. On Home or Away? they were seen choosing between Bournemouth and Sicily, and we can now report they have just moved to their new three-bed home in Noto, Sicily, bought for €180,000 (£152,600). And they never intend to run a B&B again, swears Paul...
"Our Normandy property took over a year to sell - the market there is dreadful, and in the end we had to accept an offer on the €372,500 (£315,800) sales price. However, what we lost on that home we saved on the new one as the market in Italy is the same - it was on for €245,000. The TV programme helped us enormously in our search for our Sicilian home.
"The producers threw us a curve ball and showed us a house in the mountains (we'd asked for beach), and viewers may recall that I burst into tears when I saw the third property in the hills. At that moment, we knew we couldn't live in a resort, and we compromised and found a home halfway up a mountain: only six hairpin bends each commute, not 30!
"I have found a job as an English teacher, and this property is five minutes from the motorway. It has the most amazing views of the countryside and you can see the sea and Mount Etna in the distance. Chris will be managing the builders, because we plan to let out the bottom storey as a one-bed apartment to a friend of ours. From our experience so far of dealing with Sicilian businesses, we are prepared for this to be a long, slow process."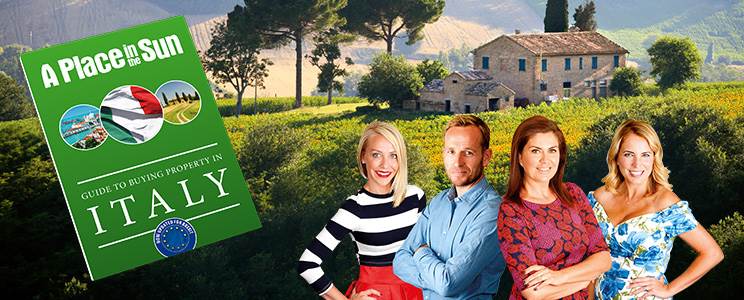 Download our Italy buying guide
"We found Florida such a buyers' market that we ended up buying two properties, one for us and one for pure investment"
David and Shelley Warner from Gidea Park in Essex were featured seeking a home in the Daytona Beach area in the Winter Sun series. After the filming, they bought a four-bed detached home in Flagler Beach for $370,000 (£238,000), completing in August 2012. They then bought a four-bed at Daytona Beach, for £100,000, now renting out. They've just moved to Flagler, reports Dave...
"Our budget was £250,000 for a four-bed, two-bath house near water, and we fell in love with Flagler Beach following the filming: we considered Palm Coast, South Daytona and New Smyrna, but if it wasn't for the show we wouldn't have discovered Flagler. In May/June last year, the US economy suddenly started picking up, and Shelley went out and bought a four-bed, three-bath detached house 200m from the Atlantic Ocean but backing onto a canal. It was a bit over budget, but we saved £20,000 by forward-buying our US dollars the year before.
"It seemed such a great time to buy - it felt like a goldrush - that we bought a rental home too: a four-bed, two-bath home on a gated community in Daytona Beach. With its own pool and tennis court, it feels like a Stepford house. We put in an obscene offer, and ended up paying not much more: £100,000. It was let within five days - 20 couples viewed it - and is bringing in a net return of 8.5 per cent, and that doesn't include capital growth. On 14th Aug we became very proud permanent residents of Florida. The three-stage residency application was a very long and stressful experience but hopefully all worth it. I'm working as the CEO of a security company."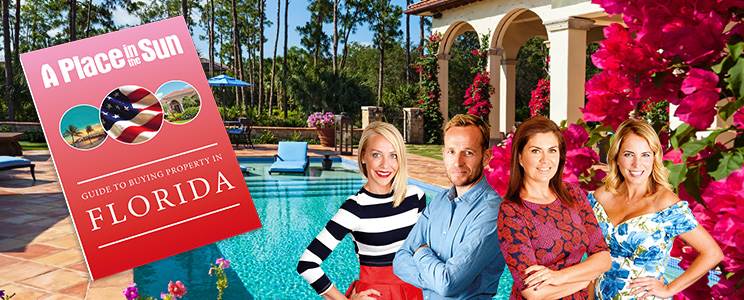 Download our Florida buying guide
"We had no idea we'd end up buying a 24-metre Dutch barge and be cruising through the Canal du Midi"
Mick Tubb and Lisa Alderman ditched the idea of bricks and mortar in southern France and bought a boat there instead (plus three houses in Harlow, Essex). Currently cruising towards Carcasssone 'road-testing' their boat before they run it as a B&B (with the help of some lively Norwegians, below left), the couple are finding life rather good, as Mick reports, glass of wine on hand, from the roof their boat, Wandering Star (wandering-star.moonfruit.com).
"If we hadn't have already owned narrowboats in the UK we would never have contemplated buying a 24 x 4 metre Dutch barge. But after looking at some properties in France on the programme we realized our money would go much further if we bought a boat instead - the barge cost £95k - plus I've always been worried about buying a place in France and then not liking the neighbours! We bought the boat in Ventenac en Minervois, there were no real buying costs and things have gone pretty well so far.
"It's set up well, with two en-suite guest rooms, to run as a B&B and we can get some great rates from guests: boats like ours typically command €3,000 for a six-night stay; five-star ones up to €30,000. I've given up gas-fitting and have no plans to go back. The big plan is to move to central France, which is great for boating, but we can head to Moscow, Bavaria, Poland...there are plenty of options!"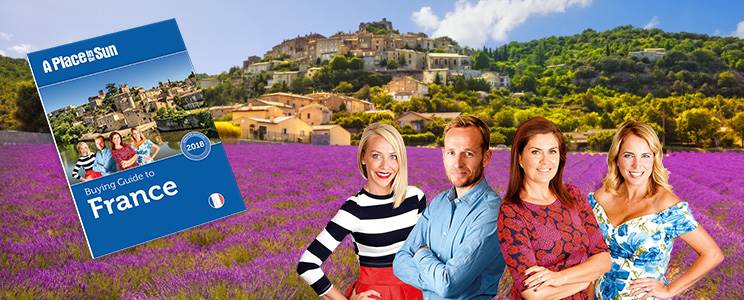 Download our French buying guide
"I've looked at hundreds of homes while we are renting in Portugal, but think we've finally found the one."
Colin Robinson and Tina Drury from Gillingham in Kent are currently living in Portugal after appearing on Home or Away?, deciding between Yorkshire and Portugal's Évora. They opted for a different area of the country, heading north of Lisbon to Tomar, located behind the Silver Coast, where they are renting while property-hunting. Here, Colin brings us up to date.
"We discovered Tomar in central Portugal on a trip we took after the filming, and liked the fact it is certainly not the Algarve (there are far fewer British residents). We spent three months there while we carried on our search, and were lucky to find a two-bed, two-bath house to rent, overlooking a lake, with a lovely Portuguese landlady who now only charges us €280 a month (reduced from €450 after she got to know us).
"I have spent most of the time since January looking at properties, researching all areas around Tomar. I've seen hundreds of properties - it is such a buyer's market - and had narrowed it down to around 16. The latest is that we've found one we are trying to buy: a three-bed home in Ferreira do Zêzere (15km north-east of Tomar) that was advertised at €58,000 (£49,200), but we are hoping to get for €47,000. We've found some builders here to renovate it, and, after three months' work, hope to have a new home for €140,000 (£118,800). In the meantime, it's great fun living here, and we have become minor celebrities here for our TV appearance!"