September 2011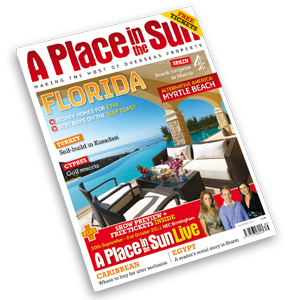 In this issue...

This month we go Florida mad with a trip to the sunshine state to investigate the best buys for your buck, and a property hunt assisting Angie Bicar from North London in finding a holiday let project.
We also investigate Murcia, an area which is becoming popular with developers and property hunters, look into the increasingly common house swap schemes being used by ex pats unable to sell, and find out more about the earth scraper- the world's first upside down sky scraper. Plus, we spend time with B-Movie front man turned wine merchant Steve Hovington on his vineyard in southern France.
Also in the issue we investigate two relatively unexplored yet beautiful areas- Myrtle Beach in South Carolina, and the unspoilt St Vincent and the Grenadines in the Caribbean. And we catch up with Romain De-Lisle who has just completed on his dream home in Turkey, which he found as a result of writing into the magazine and receiving advice from our very own Amanda Lamb.
Finally, this issue marks the end of the road for our Editor Richard Way, who is leaving us after four years for pastures new. Despite our sadness, we're looking forward to welcoming his successor Liz Rowlinson, who combines bucketfuls of experience with unquenchable thirst for overseas property. Enjoy this month's issue.